Display all pictures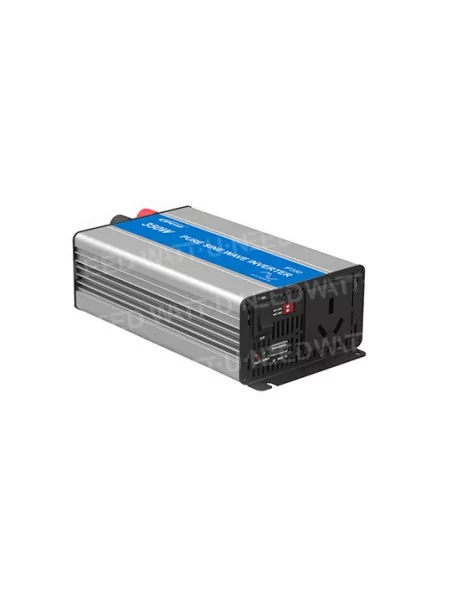 Epever converter IPower 12V 1000VA
Epever
More info
Epever converter IPower 12V 1000VA
The IPower series is a pure sine wave converter that can be converted.
Industrial design, compared to civil design, allows for a wider operation with temperatures, easy installation and operation.
The wide range of input voltage is ideal for solar system applications.
The inverter can be applied in many areas, such as the emergency lighting system of houses, the vehicle-mounted system and the power supply of small fields, etc.
---
Specifications
Safe design with electrical insulation of the entrance and exit
Adoption of advanced SPWM technology, pure sine wave output
Optional output voltage 220/230VAC (or 110/120VAC), to be chosen by DIP switch
LED indicators for defect and operating status
Reducing empty consumption
Maximum efficiency up to 95%
Entry protection: Protection from surges, protection from low voltages
Exit protection: Overload protection, short-circuit protection
Overheating protection: Temperature-controlled fan ventilation;
The inverter automatically stops in case of overheating
5VDC/1A operational USB output
Communication RS485 operational port
---
Characteristics
| | |
| --- | --- |
| model | IP1000-12 |
| Nominal input voltage | 12VDC |
| Entry voltage range | 10.8 - 16VDC |
| Entry surge voltage | <20VDC |
| Exit tension | 220VAC / 230VAC (± 5%) |
| Exit frequency | 50/60±0.1Hz |
| Continuous power output | 800 W |
| Output power 15 min. | 1000 W |
| Power surge | 1600 W |
| Power factor | 0.2-1 (VA lower than continuous output power) |
| Exit wave | Pure sine wave |
| THD Distortion | THD≤3% |
| Max. Efficiency | 94,50% |
| Empty current | <0.8A |
| USB exit port | 5VDC/Max.1A |
| RS485 Com. Port | 5VDC / 200mA |
| Liaison station | $10mm |
| Global size (mm) | 298.3 × 231.5 × 98.5 mm |
| Mounting size | 183 × 220 mm |
| Size of fastening holes | 5.5mm |
| Net weight | 3.9 kg |
| Operating temperature | 20 degrees Celsius - 45 degrees Fahrenheit |
| Storage temperature | -35 C - 70 degrees Fahrenheit |
| humidity | <95% (NC) |
| protection | IP20 |
| altitude | < 5000m (decommissioning to operate to IEC62040 at a height of more than 1000m) |
Data sheets and documentation