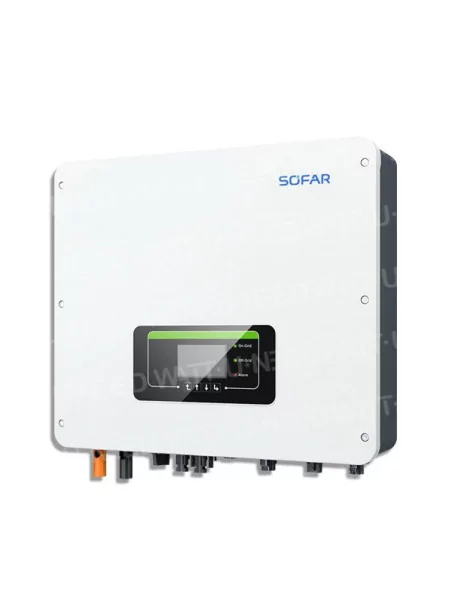 Sofar Solar single-phase hybrid inverter HYD3680-EP
Sofar Solar
More info
Sofar Solar single-phase hybrid inverter HYD3680-EP
Single-phase hybrid inverter - the perfect solution to enable energy storage in your PV plant with on- and off-grid functions.

The HYD 3000...6000-EP is the new multi-talented hybrid inverter for solar and storage applications. During network outages, it can deliver up to 5 kW of backup power supply (EPS) in 10ms thanks to its built-in EPS port. The integrated energy management system has several user-friendly modes, optimizing the user experience, including an automatic self-use mode. The user can also set different time and/or date ranges or rules for the day of the week. All modes can be easily configured on the large LCD screen.
A WiFi key comes with the inverter, to easily connect the inverter to the Sofar monitoring portal.
---
High efficiency
• Maximum efficiency of 99.9%.
• Accurate real-time MPPT algorithm for maximum exploitation
• Wide operating range of input voltage
---
Flexible configuration
The inverter works with lead (GEL) or lithium batteries.
---
Use in backup mode (back-up)
An inverter can be used in "back up" without the need for photovoltaic panels. In this mode, the UPS will assume the role of an inverter to protect your equipment from network interruptions. Therefore, an inverter protects computers and AV equipment or any other sensitive load by providing a constant flow of electrical current. It guarantees a power supply with a failover time of less than 10 ms thanks to the EPS function.
---
Use in stand-alone mode (off-grid)
In this configuration, the inverter combined with batteries uses the panels to power consumers and recharge the batteries when there is sun. The inverter draws current from the battery to provide nighttime power distribution.
---
Use in Hybrid mode
The inverter draws its energy from the grid only when the battery is depleted and solar energy does not produce enough to meet consumption.
---
All in one. Flexible and cost-effective system solution
• Choice of free space thanks to IP65
• Easy installation and maintenance thanks to the "Plug & Play" connection
• Interface selection - Wi-Fi / RS485 /GPRS
• LCD screen + LED
• Built-in zero export function
---
Low maintenance cost
• Detachable cover for easy installation
• Stainless aluminum covers
• A flexible control solution
---
Characteristics
Battery settings
Battery type
Lithium-ion, Lead-acid
Nominal battery voltage
48 V
Battery voltage range
42 – 58 V
Battery capacity
50 – 2000 Ah
Maximum charge/discharge power
4000 W
Max charging current
80 A
Max discharge current
80 A
Charge curve (lithium-ion)
BMS (Battery Management System)
Charge curve (lead-acid)
Adaptive 3-level maintenance
Depth of discharge
Lithium ion: 0 – 90% DOD adjustable, lead acid: 0 – 50% DOD adjustable (depth of charge)
DC input (PV side)
Recommended maximum PV input power
5400 Wp
Maximum DC power for a single MPPT
3500 W
Maximum input voltage
600 V
Starting voltage
100 V
Nominal input voltage
360 V
MPPT Operating Voltage Range
90 – 550 V
MPPT voltage range at full power
180 – 500 V
Number of MPP trackers
2
Maximum input current per MPPT
13 / 13 A
Maximum input short circuit current per MPPT
18 / 18 A
Output / AC Input (Network Side)
AC power rating
3680 W
Maximum AC power output to the power grid
3680 VA
Maximum AC power of the power grid
7360 VA
Max AC current output to the power grid
16 A
Max AC current from the power grid
32 A
Rated network voltage
L / N / PE, 230 Vac
Network voltage range
180 Vac-276 Vac (according to local standard)
Nominal frequency
50 Hz / 60 Hz
Output THDi (at rated output)
< 3%
Power factor
1 default (+/-0.8 adjustable)
AC Output (Emergency Power)
Maximum apparent power
3680 VA
Peak output power, duration
4400 VA, 60s
Maximum output current
16 A
Nominal voltage, frequency
220 V / 230 V, 50 / 60 Hz
THDv (symmetrical @Charge)
< 3%
Switching time
10 ms default
Yield
MPPT Efficiency
99,90%
Maximum efficiency of the solar converter
97,60%
European efficiency of the solar inverter
97,20%
Maximum battery charging efficiency
94,60%
Maximum battery discharge efficiency
94,60%
Protection
PV reverse polarity protection
Yes
PV insulation detection
Yes
Monitoring of soil defects
Yes
Overcurrent protection
Yes
Surge protection
Yes
DC switch
Optional
Firm frequency response function
Optional
Protection SDP
Varistor: Type III standard
General data
Ambient temperature range
-30°C~+60°C (more than 45°C decommissioning)
Self-consumption in standby mode
< 10 W
Topology
High frequency sunstroke (for battery)
Degree of protection
IP65
Permissible relative humidity range
0~100%
Communication
RS485 / WiFi / Bluetooth / CAN2.0 / Ethernet
Protection class
Class I
Maximum operating altitude
4000 m
Connecting the current sensor
External
Noise
<25 dB
Weight (kg)
21.5 kg
Cooling
Natural
Size
482 x 503 x 183 mm
Display
LCD, App via Bluetooth
Guarantee
5 years
Certifications and standards
EMC
EN 61000-6-2, EN 61000-6-3, EN 61000-3-2, EN 61000-3-3, EN 61000-3-11, EN 61000-3-12
Safety standards
IEC 62109-1/2, IEC62040-1, IEC 62116, IEC 61727, IEC 61683, IEC 60068 (1, 2, 14, 30)
Network Standards
VDE V 0124-100, V 0126-1-1, VDE-AR-N 4105, IEC 0-21, EN 50549, G83 / G59 / G98 / G99, UTE C15-712-1, UNE 206 007-1