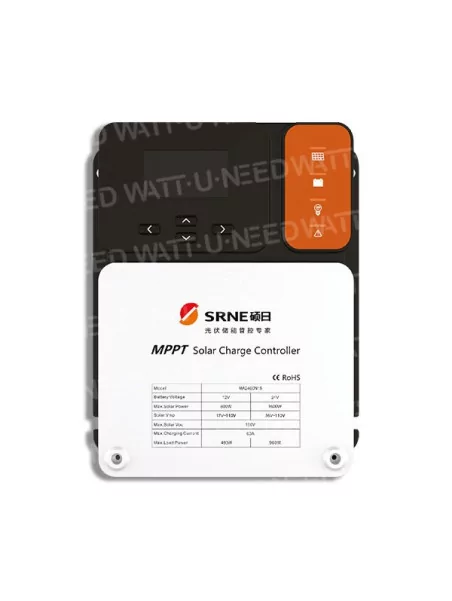 Solar controller SRNE MA Series 12/24V 40A MA2460N15
SRNE
More info
MPPT Solar Charge Controller
• Using MPPT technology, MPPT tracking efficiency can reach 99.9%.
• Support for CAN communication function (optional).
• Support a wide variety of batteries such as sealed, colloidal, open type battery, lithium battery and user-customized battery.
• Support line loss compensation of charging voltage, so that the control of the charging voltage of the battery is more accurate (partial models).
• Support capacitive starting load and inductive load.
• RS485 communication supporting standard Modbus protocol, with adjustable baud rate.
• Support for TTL communication of the standard Modbus protocol, with fixed transmission speed.
• With a perfect mechanism of charge and discharge protection, such as overvoltage, overcurrent, overload, overheating and short circuit.
Characteristics
Static power consumption
≤50mA
Battery type

USE/FLD/GEL/LI.SLD (default)

System voltage
12/24V
Battery operating voltage range
8V-32V
Nominal charging current
60A
Maximum PV input current
53A
Maximum power of the solar panel
800W/12V
1600W/24
Maximum open circuit voltage of pv
150V
MPPT operating voltage range

(Battery voltage +2) ~ 110V

MPPT Performance
>99%
Load conversion efficiency

85%-98% (10%~100% of rated power)

Nominal charging current
40A
Data sheets and documentation