Display all pictures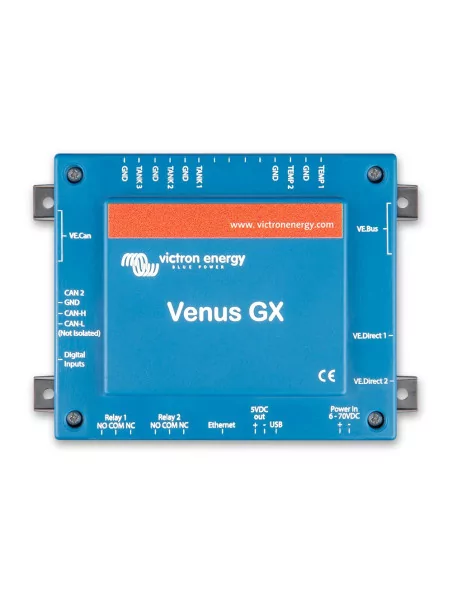 Victron Venus GX control panel
Victron energy
More info

The Venus GX provides intuitive control and monitoring of all Victron electrical systems. The list of Victron products that can be connected is endless: Converters, Multi, Quattro, MPPT solar chargers, BMV battery controllers, Lynx Ion + Shunt, and much more.
Compatible products :
Multi and Quattro, including three-phase and split-phase systems. Monitoring and control (On / Off and current limiter). It is possible to change the configuration (only remotely through the Internet, impossible without an Internet connection).
BlueSolar MPPT solar chargers with VE.Direct port.
BlueSolar MPPT 150/70 and MPPT 150/85 with a VE.Can port. When many BlueSolar MPPTs with VE.Can are used in parallel, all information is grouped into one. See also our blog post about syncing multiple MPPT 150/70 solar chargers.
The BMV-700 family can be connected directly to the VE.Direct ports on the Venus GX. To do this, use the VE.Direct cable.
The BMV-600 family can be connected directly to the VE.Direct ports on the Venus GX. Auxiliary cable needed
Lynx Ion + Shunt
BMS Lynx Ion
Lynx Shunt VE.Can
Skylla-i battery chargers
NMEA2000 tank probes
A USB GPS can be connected to the USB port. The data is sent to the VRM Portal for localization purposes.
The map on the VRM will show the last position.
Fronius PV Converters
If more than two VE-Direct products need to be connected, a USB cable can be used.
---
VRM Online Portal
All readings are transmitted to our free remote monitoring website: the VRM Online Portal. To get an idea, try the demo at https://vrm.victronenergy.com.
With the remote console, you can access the device to configure it and also to monitor it. Whether via the VRM, the built-in Wi-Fi hotspot, or through the LAN / WiFi LAN.
---
Venus GX
Supply voltage range
8 – 70 VCC
Current draw
210 mA @ 12V
110 mA @ 24V
60 mA @ 48V
Communication ports
VE.Direct
2 separate VE.Direct ports - isolated
VE.Can
2 RJ45 connectors in parallel - isolated
CAN
2nd CAN Interface - not isolated
VE.Bus
2 RJ45 connectors in parallel - isolated
USB
2 USB Host ports - uninsulated
Ethernet
RJ45 10/100/1000 MB RJ45 connector - isolated except shielding
Point d'accès Wi-Fi
To connect to the Remote Console
Wi-Fi Client
To connect to the Remote Console
IO
Dry contact
NO/COM/NC – 6 A 250 VCA / 30 VCC
Connections for fuel level
3 x configurable for Europe (0 - 180 Ohm) or US (240 - 30 Ohm)
Connections for temperature
2 x ASS000001000 required
Third party interfaces
Modbus-TCP
Use the Modbus-TCP protocol to monitor and control all products connected to the Venus GX
JSON
Use the VRM JSON API to extract data from the VRM Portal
Others
External dimensions (h x w x d)
45 x 143 x 96
Operating temperature range
-20 to +50°C
Standards
Security
EN 60950
EMC
EN 61000-6-3, EN 55014-1, EN 61000-6-2, EN 61000-6-1, EN 55014-2
Automotive
In progress
Data sheets and documentation