Stand-alone photovoltaic kit class 2.5 Lithium storage
config-ac-36 pan-15 kva-2.5
100% secure payments
This kit includes
36X

Sunpro Power M10 430Wp Solar Panel SPDG430-N108M10

1X

WKS EVO Circle 16.8kVA 48V hybrid inverters + 3 communication kits

6X

2X4mm2 solar cable with Type MC4 (sold by the meter - 20m)

1X

Earth cable 1x6 mm2 20m

6X

Schneider mono 40A circuit breaker

1X

Differential switch type A 2P 63A 300ma

1X

Waterproof case legrand 24 modules

3X

ZJBENY DC dual lightning arrester box 2 inputs and 1 output 1000V 32A + 2m of 16²

1X

Parallel set for Pylontech battery 3 inverters

3X

Battery cable 2x25mm2 - 2m

2X

Pylontech battery connection cable

5X

Pylontech Lithium Battery US3000C +74 - 3.6 kWh

1X

Battery UP monitoring
Select products from the sections below
Your needs, our selection
Store your surplus solar production for later use, get rid of the grid.

This kit can power an isolated site or a small house connected to the grid.
It can operate alternately with the public grid or with a generator.
This semi-autonomous configuration will enable you to gradually free yourself from the public grid.
The basic kit contains 36 solar panels, three WKS EVO Circle 5.6 kVA single-phase inverters, solar cables to connect the panels to the inverter, and an optional panel mounting system. (The mounting system as well as the cabling and protections can be modified to suit your needs).
All our kits are configurable. In the options you can click on the product to choose another model or change the quantities to adapt the kit to your needs. You can also see details of the products you have chosen directly below the price.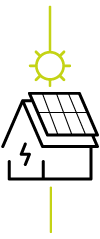 Solar panels



Omnis Cortex Type-N Bifacial Cell 425 Wp
More Energy, Less Cost: This module harnesses light from both sides of each cell, increasing energy production by up to 30% thanks to its innovative bifacial surface.
Guaranteed durability: 30-year service life and 20-year performance guarantee.
Unrivalled performance: N-type cells have higher efficiency (fewer losses) due to their manufacturing method. They offer higher efficiency potential than p-type cells (traditional) due to their structure and properties, such as temperature changes or less sensitivity to degradation over time.

Inverters
Choose the best partner to convert your solar energy.
If you want to maximize the use of your photovoltaic solar energy, the hybrid inverter in combination with domestic storage may be the ideal solution for you.
We've selected the WKS range for their performance and excellent value for money.
It's perfectly possible to install several inverters in the same system to increase the power available.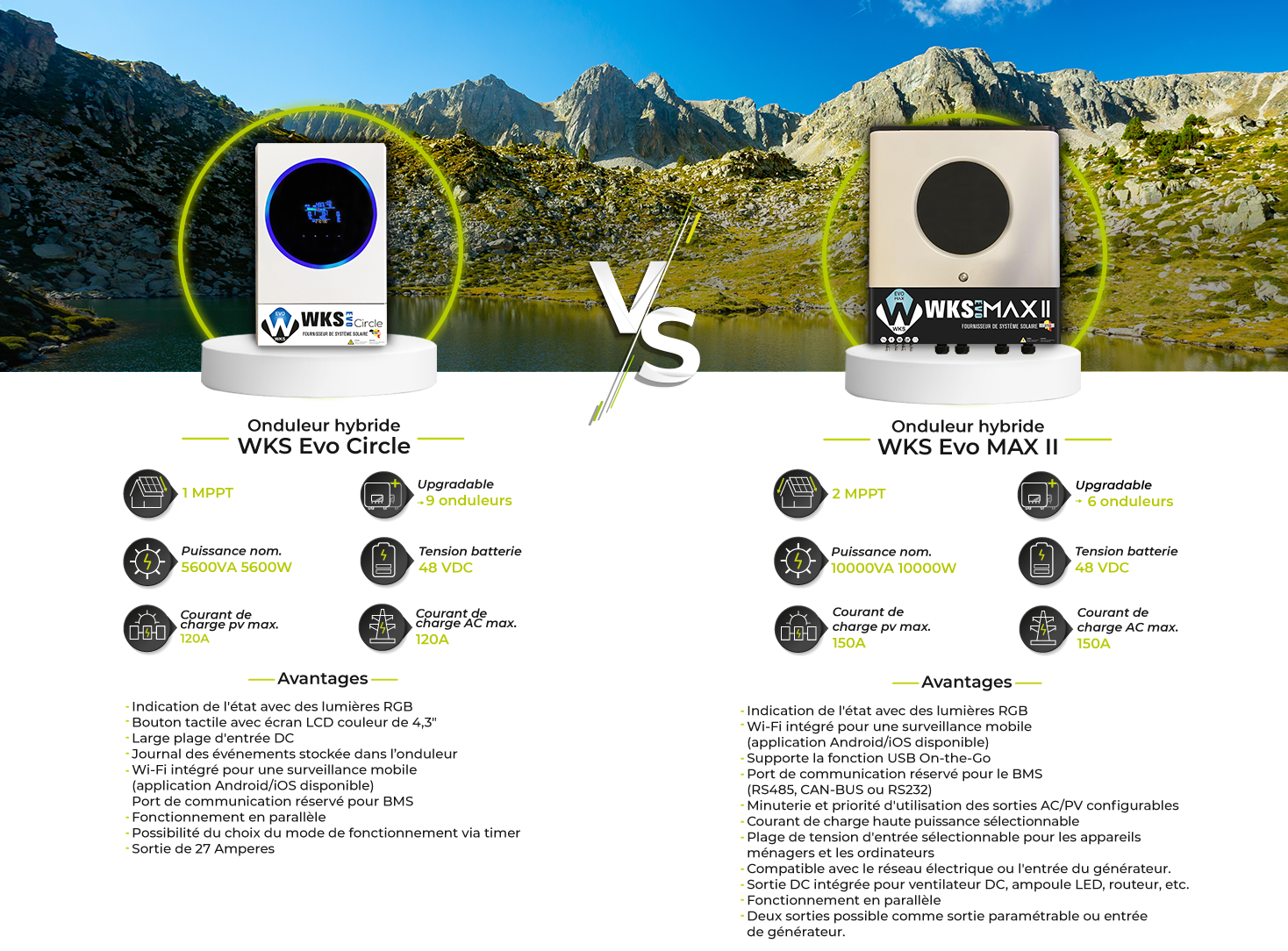 Our battery selection
Optimize your installation by choosing a suitable, high-performance storage solution.
Store your surplus solar production for later use to get rid of the grid.

We chose Pylontech lithium batteries for many reasons:
- 7 to 10-year product warranty;
- Fast charge/discharge speed;
- Possibility of upgrading capacity whenever you want;
- No technical capacity limits.


We offer two different capacities. They are compatible with each other.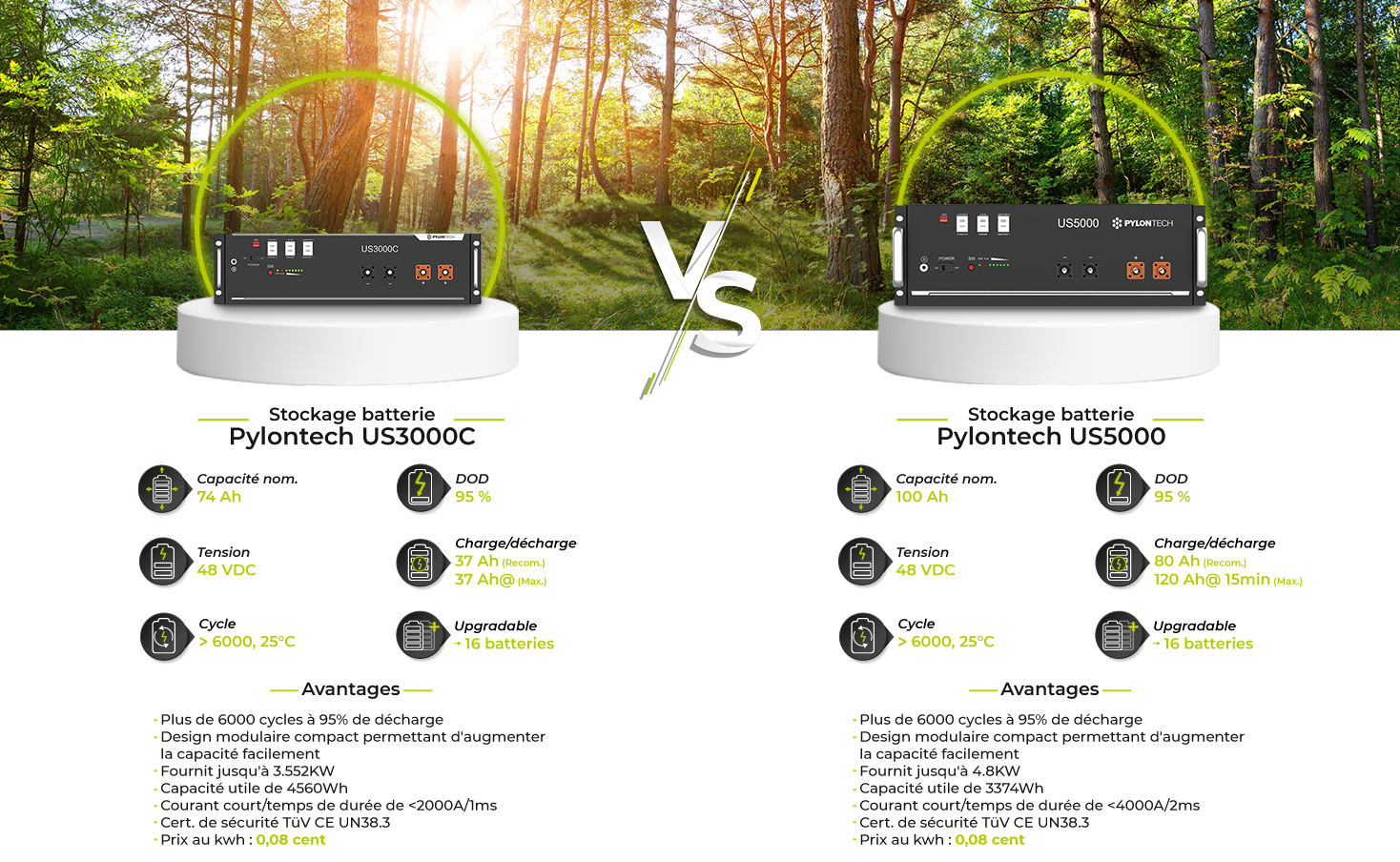 Battery UP
Your intelligent solar optimization solution
Battery UP is a response to the connected object revolution, offering an exciting glimpse into the future. This revolutionary solution lets you monitor and optimize your solar installation with ease.
Efficient optimization: Reduce your costs and maximize the use of solar energy.

Advanced communication and interaction: Connect to the lithium battery management system and interact with your connected devices.

Intelligent anticipation:

Predict your energy use and receive useful information.

Easy installation: Quick set-up accessible to all, supported by an online manual.

Real-time data: Monitor your data in real time, stored in the Cloud.

Ingenious automation: Use IFTTT to automate the management of your consumers

.

Wi-Fi connectivity: Stay connected to your battery status in real time thanks to the Wi-Fi adapter.

IoT

and customization: Integrate Battery UP with other IoT devices for infinite customization.

Monitoring: Access your data wherever you are thanks to the Cloud.

Customized alerts: Set up IFTTT alerts to stay informed on the go

.
Battery UP simplifies the management of your solar installation while giving you total control over your energy. Take advantage of a connected solution for a smarter energy future.
config-ac-36 pan-15 kva-2.5
Data sheet
Solar kit type

Kit 230V AC avec batterie

Inverter power

15000VA

Kit output voltage

230V

Type of need

Off-grid

Battery storage

With storage

Wind turbine

Without

Number of panels

36 panneaux

Voltage

230V

Battery

Kit with battery

Panel type

Rigids

Mains re-injection

off-grid
Specific References
UPC

712971139855

EAN13

0712971139855