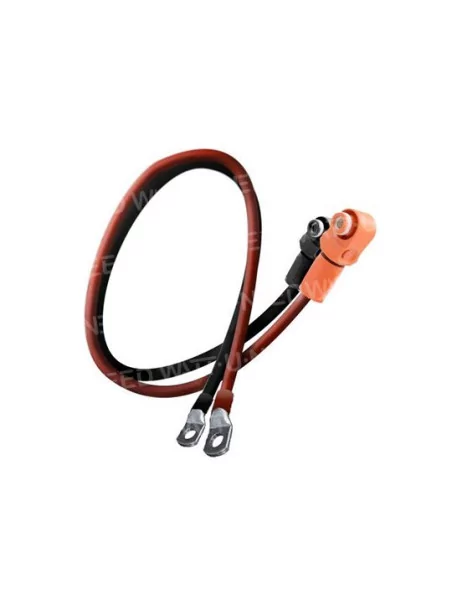 Pylontech battery connection cable
Pylontech
More info
Pylontech battery connection cables
The Pylontech battery cable set contains 2 x 2 meters of cable (plus/minus)
Each with a 25 mm2 section and a data cable with 2 RJ45 plugs.
You need it to connect the Pylontech US2000B/US2000 Plus batteries to the inverter.
Connections 2 x Amphenol (Pylontech)
2 x pod M8
Product Reviews
Number of Reviews : 13
Average Grade : 4.3 /5
G. Jean-Marie
the 05/12/2022
5/5
Conforme à l'information sur le site. J'aurais cependant souhaité trouver des câbles plus longs car j'ai l'intention à l'avenir de déplacer la batterie dans un local dédié, pour réduire le risque en cas d'incendie.
M. Michel
the 27/11/2022
1/5
Non reçu
A. Christophe
the 23/09/2022
5/5
très bien
L. Jean-michel
the 25/07/2022
5/5
Très bien emballé et fonctionne parfaitement
T. Sylvain
the 02/07/2022
2/5
je n'ai aucune nouvelles le client s'impatiente et je ne sais que lui répondre.. je brode sur la confiance...
C. Christophe
the 09/04/2022
5/5
Bon materiel à première vue
P. Jean Michel
the 23/03/2022
5/5
Très bien très simple à mettre en œuvre très efficace
C. Jacques
the 19/01/2022
5/5
conforme à mes attentes
B. Jean
the 29/12/2021
5/5
produit conforme
M. Laurent
the 08/11/2021
5/5
Câbles de bonne qualité.
A. Anonymous
the 21/07/2021
3/5
C'est ma deuxième commande de câble de connexion de Pylontech et cela fait deuxième fois qu'il manque le câble rj45. Ca commence à faire beaucoup.
A. Anonymous
the 10/05/2021
5/5
Produit conforme à la commande
A. Anonymous
the 02/12/2020
5/5
Bonne qualité
Specifications
| | |
| --- | --- |
| Type de câbles | Connexion de batterie |
| Weight | 0,9 kg |