Display all pictures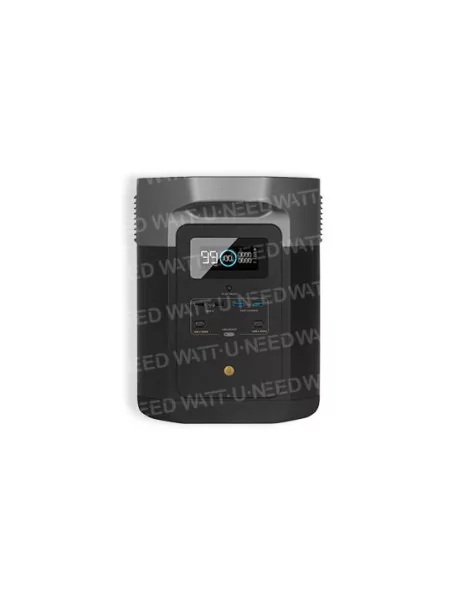 EcoFlow DELTA MAX portable power station DELTA2000-EU
EcoFlow
More info
EcoFlow DELTA MAX portable power Station

Home emergency power supply
DELTA Max can reach up to 6 kWh thanks to additional smart batteries, so your home stays powered in an emergency.
Double fast charging
Charge from 0 to 80% in 1 hour or get a fast charge of up to 3600 W by combining AC charging and the EcoFlow Smart Generator.
Power multiple devices
Do you want to power high-consumption appliances such as your refrigerator and dryer? With X-Boost, DELTA Max easily supports devices up to 3000 W.
Portable solar generator
Benefit from energy available in all circumstances. DELTA Max connects to 2 EcoFlow solar panels of up to 400 W to provide fast solar charging of up to 800 W.
An expandable backup power supply for the home
A single DELTA Max unit has a capacity of 2 kWh, expandable up to 6 kWh with delta Max smart additional batteries. This means that in the event of a power outage, you can continue to power your important household appliances, such as your refrigerator and lamps, for hours.
Convenient and fast dual charging.
The DELTA Max recharges quickly and safely from 0 to 80% in just one hour. And it's even better. If you are looking for an even faster way to charge the DELTA Max, you can combine the AC input with the Smart Generator, with solar, or the Smart Generator with solar.
Power 99% of your home appliances.
Thanks to EcoFlow's X-Boost technology, DELTA Max can power high-power devices up to 3000W. This means that during a power outage or power outage, you can continue to power your fridge, dryer, etc. This is the industry standard of excellence for a portable power plant of this size and capacity.
Harness the power of the sun.
The DELTA Max connects to up to 2 EcoFlow 400W solar panels to offer a solar charging speed of 800W Max. With a voltage range of 11 to 100 V and the Type MC4 connector, you can also connect other solar panels to your DELTA Max. Even in cold or cloudy weather, our intelligent Maximum Power Point Tracking (MPPT) algorithm automatically detects voltage and current in real time to give you optimal solar production throughout the day.
Backload.
Disasters can occur at any time of the year and sometimes last longer than expected. When prolonged breakdowns occur, the EcoFlow Smart Generetor serves as an emergency option that integrates with the DELTA Max. It starts automatically when your DELTA Max reaches a low charge level, recharges your DELTA Max, and stops the engine on its own when your DELTA Max reaches a full charge. This provides you with a reliable backup option that requires minimal use of a generator.
Control, monitor and manage your energy consumption.
Control and monitor your DELTA Max with the EcoFlow app. Dive into the settings to customize your power consumption or control the DELTA Max remotely.
---
Contents in the box
DELTA Max
AC charging cable
car charging cable
solar charging cable
DC5521 to DC5525 cable
user manual
---
Characteristics
Net weight
22 kg
Dimension
497 x 242 x 305 mm
Charging temperature
0 – 45°C
Discharge temperature
-20 to 45°C
Guarantee
24 months
Charging method
AC wall outlet, 12V car adapter, solar panel, smart generator, smart extra battery
Full charging time
1.6 hours (AC)
21 hours (12V car adapter)
5.6 to 11.2 hours (4x110 W of solar panels)
4.2 to 8.4 hours (4x160 W of solar panels)
3.2 to 6.3 hours (2x400 W of solar panels)
Capacity
2016 Wh
Cell chemistry
Lithium-ion
Shelf life
1 year (after full charge)
Lifespan
800 cycles at more than 80% capacity
Management systems
BMS, surge protection, overload protection, overheat protection, short circuit protection, low temperature protection, low voltage protection, overcurrent protection.
Testing and certification
UL CE FCC RoHS Telec
Ac load input power
X-STREAM Charge (2000W max)
AC load input voltage
220-240V~50Hz/60Hz, 10A
Solar charge input
11-100V 10A Max, 800W max
Car charger
Supports 12V/24V batteries, default 8A
Maximum power of the device(s) supported by X-Boost
300W
AC output (x4)
Pure sine wave, 2400W total (peak 4600W), 230V~ (50Hz/60Hz)
USB-A output (x2)
5V, 2.4A,12W Max,per port
USB-A Fast Charge (x2)
5V/2.4A, 9V/2A, 12V/1.5A, 18W Max
USB-C output (x2)
5/9/12/15/20V 5A, 100W max
Cigarette lighter output (x1)
12.6V/10A, 126W max
DC5521 output (x2)
12.6V/3A, per port
Smart extra battery
Accepts up to 2 additional DELTA Max Smart Batteries (sold separately)
Smart Generator
Supported (sold separately)
Wi-Fi
Supported
Data sheets and documentation
Product Reviews
Number of Reviews : 4
Average Grade : 4.5 /5
C. Eric
the 11/08/2022
4/5
Très pratique à l'usage ! Mais je ne suis pas convaincu de la capacité réelle de la batterie ??
T. Robert
the 07/08/2022
5/5
Cet appareil me semble etre le top de cette catégorie ideal pour outdoor et en panne de courant
L. Reginald
the 02/04/2022
4/5
Beau matos, finition soignée et robuste. J'ai hâte de tester ça !
C. Eric
the 13/03/2022
5/5
Très bon appareil.
Specifications
| | |
| --- | --- |
| Voltage | 230V |
| Battery capacity | 1260 Wh |
| Weight | 22 kg |
| Width | 497 mm |
| Height | 305 mm |
| Thickness | 242 mm |