Display all pictures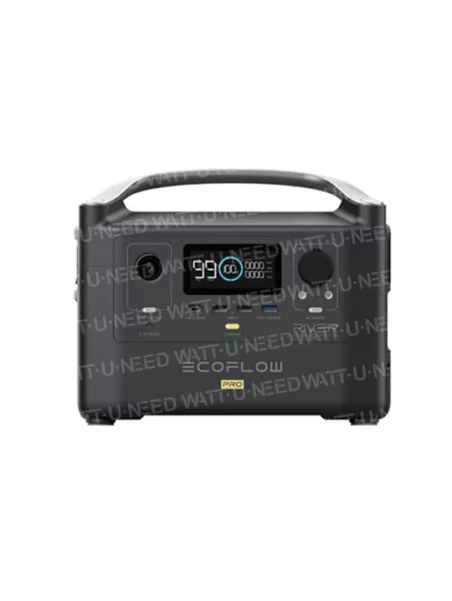 EcoFlow RIVER Pro portable power station RIVER600PRO-EU
EcoFlow
More info
EcoFlow RIVER Pro portable power station
The EcoFlow RIVER Pro is a compact, portable power station designed to allow you to go on an outdoor adventure. Whether you're camping, disembarking or sailing, the RIVER Pro provides reliable food that lets you go on an adventure anywhere.
2 SORTIES AC OF 600W AND CAPACITY OF 720Wh : The RIVER Pro can power up to 10 devices simultaneously with several output options, including 3 AC pure sine wave outputs. It offers up to 720Wh of power and weighs only 7.2kg, making it a portable energy source for adventure on the go.
0-80% RECHARGING IN 1 HOUR : EcoFlow X-Stream's patented technology allows you to charge the RIVER Pro from 0% to 80% in an hour and delivers a full charge in just 1.6 hours.
DOUBLE CAPACITE FROM 720Wh to 1440Wh Add an additional RIVER Pro battery to double the capacity from 720Wh to 1440Wh. It's ideal for situations like travel, camping or outdoor group activities where you need more power for more appliances.
Power a wide range of devices : The RIVER Pro can power some appliances up to 1800W with X-Boost mode enabled, allowing you to power about 80% of essential appliances such as kitchen appliances and DIY tools. Use devices less than 1200W for optimal use of the product.
X-Boost Smart Algorithm
EcoFlow X-Boost technology gives you the 600W inverter to power essential appliances such as kitchen appliances and tools up to 1800W. This unique technology is perfect for outdoor adventures when you need to power your favorite devices on the go. Please do a full test on a case-by-case basis to confirm that X-Boost works with your devices. Use X-Boost with devices under 1200W for the best product experience.
X-Stream loading technology
EcoFlow's X-Stream fast charging technology eliminates the need to carry bulky electrical adapters. The RIVER Pro supports a CA load input of up to 660 W and can load from 0 to 80% in an hour, reaching a full charge in 1.6 hours.
Extra battery for more power
Whether it's a solo trip or a group camping trip, the RIVER Pro has an expandable power that will allow you to experience your weekend adventures. If you're planning a long trip or have more energy-intensive applications in mind, add the additional RIVER Pro battery to double the device's capacity from 720Wh to 1440Wh.
2 AC outings
Go on an adventure with peace of mind with the RIVER Pro. Whether it's an adventure in the garden with the family or an off-grid adventure, the RIVER Pro powers essential devices and devices.
Smart solar charging
The RIVER Pro can be loaded with two 110W solar panels connected in parallel in 4.5 to 9 hours, giving you the freedom to enjoy clean energy wherever you are.
Compact and portable
Weighing just 7.2 kg, the RIVER Pro has an easy-to-carry handle, making it portable and easy to carry. It can easily slip into the trunk of a car, on a campground or inside, giving you the opportunity to take your adventure everywhere.
---
Box content
---
EcoFlow app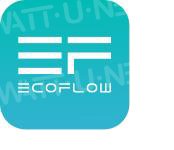 Easily control and monitor your EcoFlow power plant remotely with the EcoFlow app.
You can download the EcoFlow app on android or iOS or by scanning the QR-CODE below: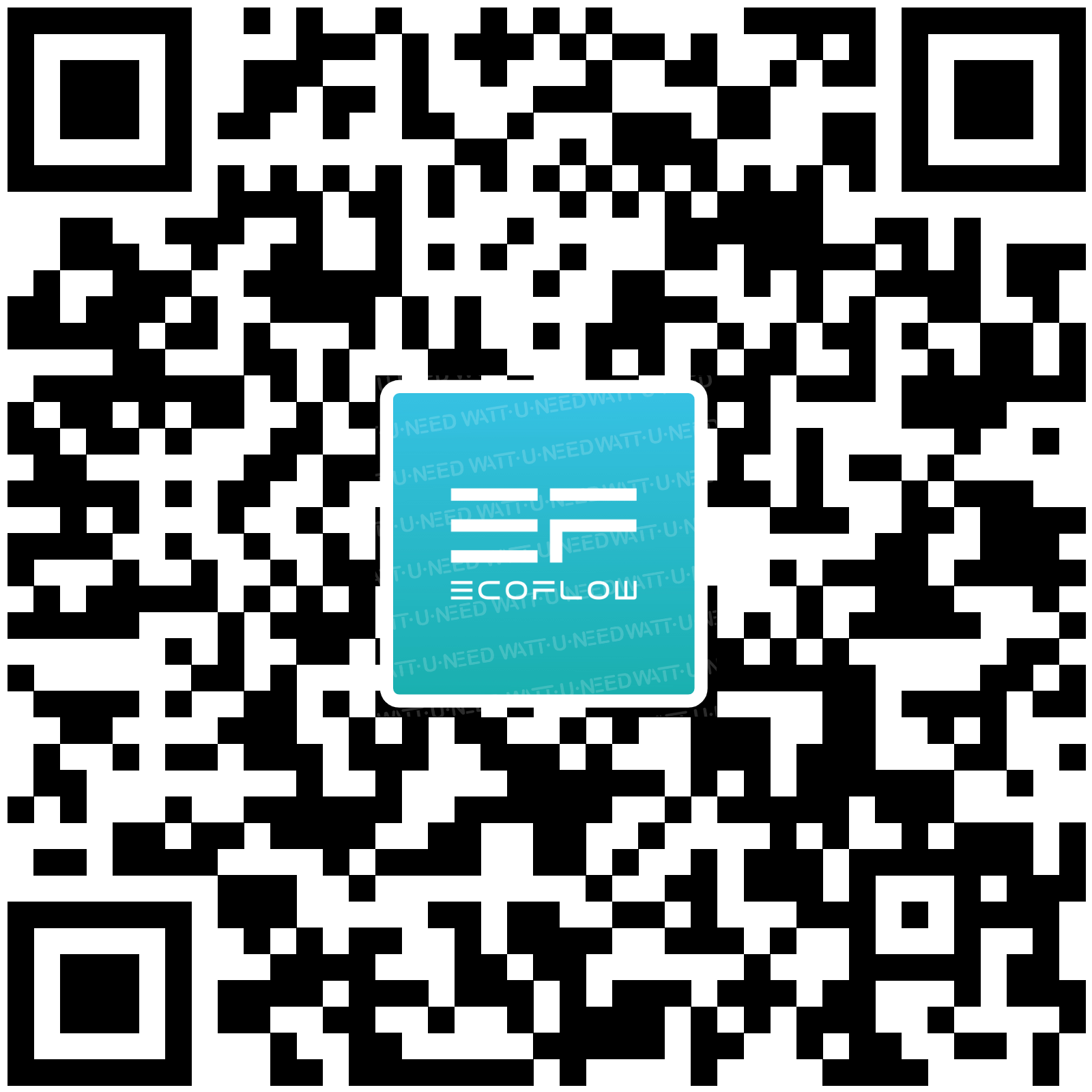 Device connection methods
Indoor fashion
Connect to a home router (supports remote control)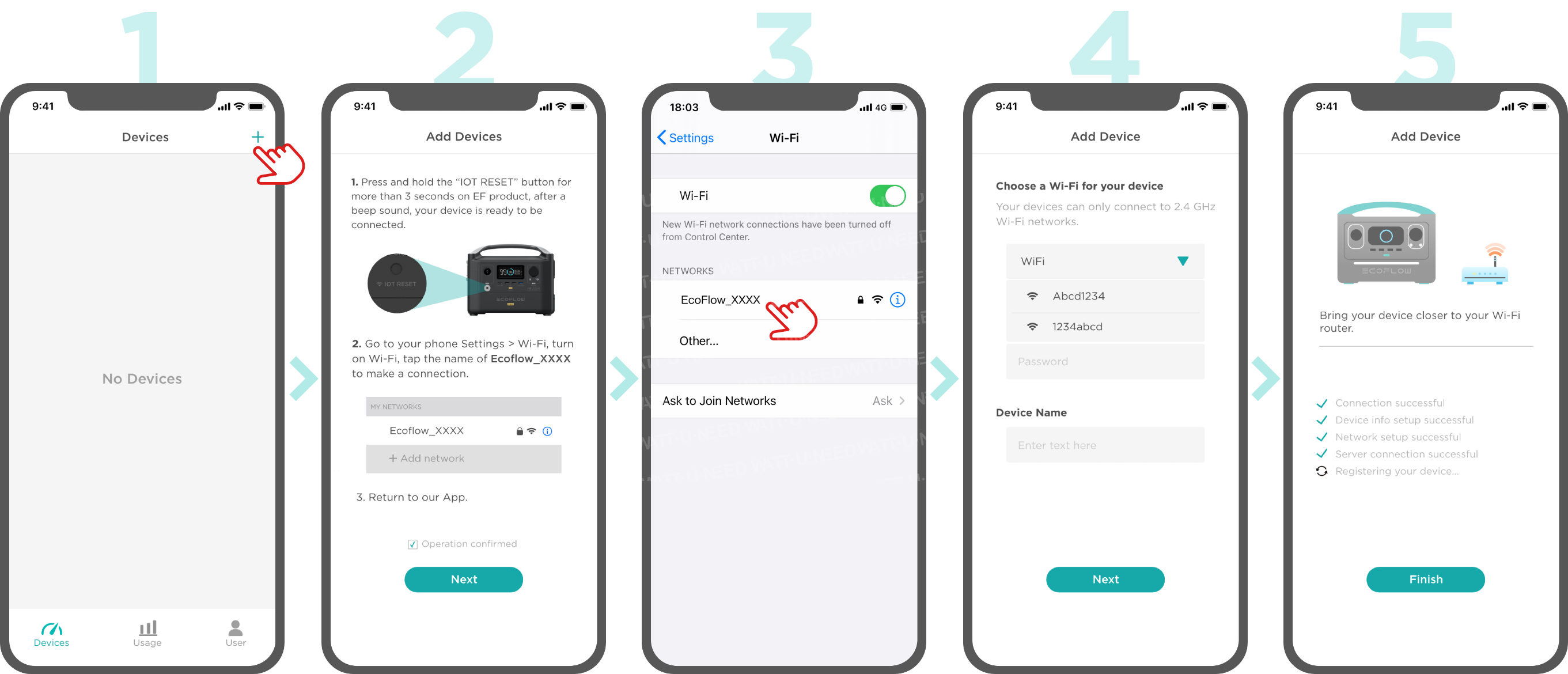 Click the button "+which is at the top right of the device's interface.
Open the "add devices" pages. Complete the device reset operation and connect to a hotspot called EcoFlow_XXXX. Check the box to confirm the operation, then click the "Next" button.
Select the WiFi you want to connect to (Wi-Fi must be able to connect to the Internet, and the device will connect to the EcoFlow server through this WiFi to provide all remote access control functions).
Enter the Wi-Fi password and the name of the device (this name appears in the list of devices).
Click the "Next" button again and wait for the device to connect to the server. Once the connection is successfully made, you can view the device or adjust its settings on the app.
Outdoor mode
Connect to a nearby RIVER 600 hotspot. (Make sure the mobile phone is within range of the hotspot).
In connection mode to a hotspot, a phone will connect directly to a device's hotspot, eliminating the need to control the device through the server. This method is suitable for outdoor use in environments where there is no WiFi network.
Press the EcoFlow device's reset button and hold it down, then release it when the WiFi icon starts flashing.
Open your phone's WiFi settings, and connect to the hotspot named EcoFlow_XXXX. Open the EcoFlow app; The device's interface will show the connected device.
---
What can EcoFlow RIVER Pro power?
Saving the house

Light 10 W 64 hours (DC) - 10 p.m. (AC)

Refrigerator 150 W 4 to 8 hours
Television 110 W 5 to 10 hours

600 W coffee machine 25 to 30 cups
Off-grid life

Telephone 11 Wh 58 times

Laptop 49.9 W 13 times

Camera (GoPro) 7.7 Wh 83 times

Nintendo Switch 16 Wh 40 times

Drone 60 Wh : More than 8 times
---
Characteristics
Net weight
7.2 kg
Dimension
289 x 180 x 235 mm
Charge temperature
0 - 45 degrees Celsius - 3 degrees Fahrenheit
Discharge temperature
-20 - 60 degrees Fahrenheit - 3 degrees Fahrenheit
Color
Cyber Black
Warranty
24 months
Loading
Load method
AC wall socket, 12V car adapter, solar panel
Full recharge time
1.6 hours (AC)
6.5 hours (12/24V car adapter)
4.5 to 9 hours (2x110 W solar panels with sun)
7.5 to 15 hours (1x160 W solar panels with sun)
Battery information
Ability
720 Wh (28.8V)
Cellular Chemistry
Lithium-ion
Preservation time
1 year (after full charge)
Lifespan
800 Cycles (80% plus)
Management systems
BMS, Surge Protection, Overload Protection, Protection from Overheating, Short-circuit Protection Low Temperature Protection, Low Voltage Protection, Overintension Protection
Testing and certification
UL Standard, CE, FCC, RoHS, RCM
Ports of entry
AC load input power
X-STREAM Charge 660W max
AC load input voltage
220-240 Vac (50Hz/60Hz)
Entry of the solar charge
200 W 10 - 25V DC 12A max
Car charger
12 Vdc 8A max
Exit ports
AC output (x2)
600 W (surge 1200W) total, 120Vac (50Hz / 60Hz)
USB-A output (x2)
5V DC, 2.4A,12W Max,per port
USB-A Fast Charge (x1)
5V DC, 9V DC, 12V DC, 2.4A, 28W Max
USB-C output (x1)
5V DC, 9V DC, 12V DC, 15V DC, 20V DC, 5A, 100W Max
Power of the cigar light socket (x1)
136W, 13.6V DC, 10A Max
DC5521 Release (x2)
13.6V DC, 3A Max, per port
Data sheets and documentation
Product Reviews
Number of Reviews : 8
Average Grade : 4.8 /5
D. Stéphane
the 04/08/2022
5/5
Pas encore assez de recule mais très bon produit pour l'instant
L. Gilles
the 15/08/2021
4/5
Très bon produit
D. Christophe
the 07/08/2021
5/5
produit tres bien emballes conforme a la commande,beau désigne,reste plus ka tester...
M. Franck DENIS
the 01/08/2021
5/5
Fidèle a la description
M. Emmanuel
the 26/06/2021
5/5
Superbe design. Très simple à prendre en main. Connection tel/batterie OK. livré à 30% parfait pour la garder longtemps :-). Top produit.
D. Philippe
the 25/06/2021
5/5
mon Ecoflow River Pro est très vite arrivé, transport sans encombres, très bien emballé, charge très rapide sur une prise secteur, comme indiqué, tout a l'air fonctionnel.... Dans l'attente de mon panneau solaire.... Confiant, Merci.
M. David
the 23/04/2021
4/5
Parfait
M. Olivier
the 23/04/2021
5/5
je met 5 étoiles même si je n'ai pas encore bien testé le produit, mais la qualité est bien là et le produit inspire grande confiance
Specifications
| | |
| --- | --- |
| Charge power | 12 A |
| Voltage | 12V |
| Battery capacity | 720 Wh |
| Weight | 7,2 kg |
| Width | 289mm |
| Height | 235 mm |
| Thickness | 180 mm |