Display all pictures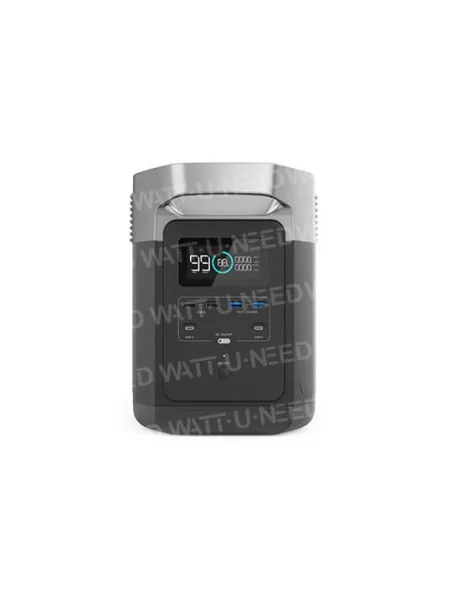 EcoFlow DELTA portable power station DELTA1300-EU
EcoFlow
More info
EcoFlow DELTA portable power station

EcoFlow DELTA portable power plant represents the new standard for battery generators. Compatible with a wide range of devices, you can stay powered for hours, no matter where you are.
RECHARGE 0%--80% IN 1 HOUR The EcoFlow X-Stream Technology patent allows the EcoFlow DELTA power plant to recharge at a speed 10 times faster than most portable power plants on the market.
1800W AC OUTPUTS & 1260Wh BATTERY CAPACITY The high power of the inverter allows EcoFlow DELTA to power most household appliances and heavy DIY tools (less than 1800W), a pure 3300W sine wave.
FASTEST CHARGE BY SOLAR AND CAR The EcoFlow DELTA can be fully recharged by solar panels in about 4 hours, and fully charged by a 12/24V car port in less than 10 hours.
FEEDING 11 DEVICES The EcoFlow DELTA adapts to any port you'll need to power all the devices, wherever you are, so you always feel at home.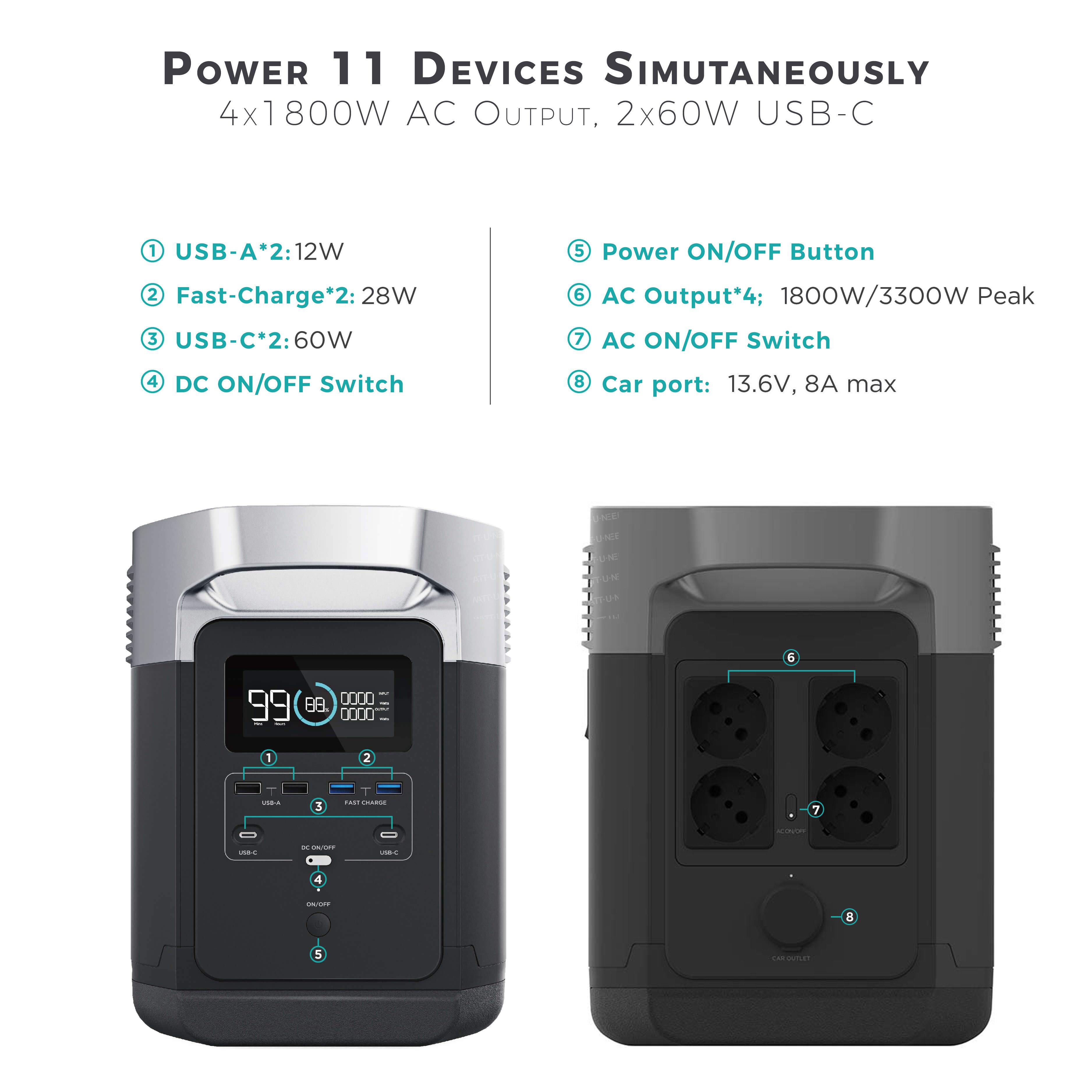 EcoFlow DELTA can power 11 appliances simultaneously: 4x SORTIES AC: Refrigerator, TV, lamp, frying pan, blender and coffee machine; 2x 60W USB-C: MacBook Pro and Nintendo Switch; 4x USB-A: Smart Phones, speaker and tablets; 1x 13.6V CAR PORT: Refrigerator or vacuum cleaner for car.
With an enormous energy storage capacity of 1260Wh, DELTA can operate refrigerators, fixtures, medical devices and other essentials by pressing a simple switch.
Universal solar entry
Harness the power of the sun by charging DELTA with solar energy. With a power of 4 x 110 W of solar panels, DELTA can be fully recharged in four hours under the perfect sun.
---
Content in the box
---
What can EcoFlow DELTA power?
Saving the house

Light 10 W : 36 hours

Refrigerator 150 W 7 to 10 hours

Microwave 1000 W 1 to 1.8 hours
Television 110 W 9 a.m. to 6 p.m.

Hairdryer 1600 W 0.6 to 3.3 hours

600 W coffee machine 50 to 60 cups
Off-grid life

Telephone 3 Ah : More than 100 times

Laptop 60 W : More than 16 hours

Camera 18 Wh : More than 63 times

Electric car 1800 W 5 to 7 km

Electric cooking 1500 W 0.7 to 1.5 hours
Work life
Circular saw 1400 W 0.7 to 1.4 hours
Drill-Drill 1080 W 1 to 2 hours

975 W Air Compressor 1 hour
---
Characteristics
Net weight
14 kg
Dimension
400 x 210 x 270 mm
Charge temperature
0 - 45 degrees Celsius
Discharge temperature
-20 - 60oC
Color
Grey and black
Warranty
24 months
Loading
Load method
AC wall socket, 12V car adapter, solar panel
Full recharge time
1.6 hours (AC)
10 - 12 hours (12/24V car adapter)
4 hours (4x110 W solar panels with sun)
Battery information
Ability
1260Wh
Cellular Chemistry
Lithium-ion
Preservation time
1 year (after full charge)
Lifespan
800 Cycles
Management systems
BMS, Surge Protection, Overload Protection, Protection from Overheating, Short-circuit Protection Low Temperature Protection, Low Voltage Protection, Overintension Protection
Testing and certification
UL CE FCC RoHS PSE
Cell type
18650
Ports of entry
AC load input power
X-STREAM Charge 1200W max
AC load input voltage
220-240 Vac (50Hz/60Hz)
Entry of the solar charge
400 W 10 - 65 V DC 10A max
Car charger
12/24 V DC 10A max
Exit ports
Ac output (x4)
1800W (surge 3300W) total, 230Vac (50Hz / 60Hz)
USB-A output (x2)
5V DC, 2.4A,12W Max,per port
USB-A Fast Charge (x2)
5V DC, 9V DC, 12V DC, 2.4A, 28W Max, per port
USB-C output (x2)
5V DC, 9V DC, 15V DC, 20V DC, 3A, 60W Max, per port
Power of the cigar light socket (x1)
108.8W,13.6V DC,8A max
Data sheets and documentation
Product Reviews
Number of Reviews : 13
Average Grade : 4.8 /5
L. Michel
the 15/07/2022
4/5
pas de problème , mais je n'ai essayé que quelques possibilité
R. Franck
the 25/11/2021
4/5
Pour l'instant, 4 étoiles concernant le packaging, la qualité et les panneaux solaires. Un peu énervé par un mode d'emploi écrit en caractères de fourmis !! C'est rell petit que c'est éprouvant. Et je n'ai aucun pro de vue !
B. Jacques
the 05/11/2021
5/5
la charge indiquait 29% quand j'ai reçu la centrale. pourquoi n'était-elle pas chargée à 100%, ce qui est conseillé si on veut la faire durer le plus possible ?
T. Tissam
the 15/10/2021
5/5
Livraison comme convenu, professionnalisme du vendeur mais je n'ai pas encore ouvert la boite.
A. Anonymous
the 18/07/2021
5/5
conforme à mes attentes sauf les entrées de grsees prises qui sont américaines et du coup quand je branches ça ne fonctionne pas, il faut des adaptateurs
A. Anonymous
the 21/05/2021
5/5
Pratique et robuste
A. Anonymous
the 12/05/2021
5/5
Produit de très belle fabrication
A. Anonymous
the 07/05/2021
5/5
A peine reçu, pas encore eu l'occasion de tester sa capacité mais elle m'a l'air prometteuse. Bon packaging, bien emballé. Quand au Ecoflow Delta lui même , de bonne facture, bonne fabrication. Paraît bien résistant et de bonne qualité.
A. Anonymous
the 07/05/2021
5/5
très pratique pour mon van
A. Anonymous
the 29/04/2021
5/5
Compact
A. Anonymous
the 22/04/2021
5/5
Très bien conforme à mes attentes.
A. Anonymous
the 08/04/2021
5/5
The missing link in a campervan for the Senseo coffee brewer and microwave oven. Le chaînon manquant dans un camping-car pour une machine à café Senseo et un four à micro-ondes. De ontbrekende schakel in een camper voor een Senseo koffiebrouwer en microgolfoven.
A. Anonymous
the 10/03/2021
4/5
En attente pour une évaluation après utilisation
Specifications
| | |
| --- | --- |
| Charge power | 10A |
| Voltage | 230V |
| Battery capacity | 1260 Wh |
| Weight | 14 Kg |
| Width | 400 mm |
| Height | 270 mm |
| Thickness | 210 mm |