Display all pictures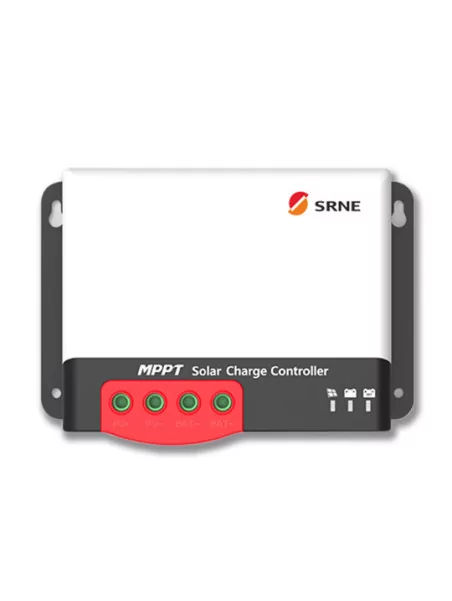 Solar Regulator SRNE MPPT 12/24V 30A
SRNE
More info

Its strengths
♦ PowerCatcher technology, followed by the maximum power point, allows the controller to track the maximum power point of solar panels, even in a complex environment. Compared to traditional MPPT tracking technology, it offers faster response speed and greater tracking efficiency.
An integrated MPPT (Maximum Power Point Tracking) algorithm significantly increases the energy efficiency of the photovoltaic system, which is about 15% to 20% higher than the traditional PWM load.
It offers an active control function of load voltage. When the battery is in an open circuit or the BMS lithium battery overload protection is activated, the controller's battery terminal delivers the face value of the charge voltage.
The effectiveness of MPPT tracking is 99.9%.
Thanks to advanced digital power technology, the circuit's energy conversion efficiency can reach 98%.
Available for several types of batteries. It supports charging procedures for different types of batteries such as lithium batteries, colloidal batteries, sealed batteries, ventilated batteries, etc.
A limited current charging mode is available. When the power of the solar panel is too high and the charge current is greater than the nominal power of the valve, the regulator automatically reduces the charge power so that the solar panel can operate with the current nominal load.
Supports automatic identification of lead-acid battery voltage.
It is possible to connect an external LCD screen or Bluetooth module to view the operating data and the condition of the equipment, and changes to the controller's settings are possible.
Support for the standard Modbus protocol to meet communication needs on a variety of occasions.
A built-in overheating protection mechanism ensures that when the temperature exceeds the device's set value, the load current decreases linearly with temperature.
---
Characteristics
| | |
| --- | --- |
| Articles | Parameter |
| model | MC2430N10 |
| System tension | 12/24V |
| Zero load loss | 10mA |
| Battery voltage | 9V-32V |
| Maximum open circuit PV voltage | 92V (25oC); 100V (Lowest ambient temperature) |
| Maximum voltage range from power point | 30A |
| Nominal load current | 550W/12V 1100W/24V |
| Maximum PV input power | |
| Load conversion return | 99% |
| Temperature compensation coefficient | -3mv/C/2V (defect); Lithium battery without temperature compensation |
| Running temperature | -35C / '60C' |
| IP rating | Ip32 |
| Device weight | 830g |
| How to communicate | Communication series TTL |
| Altitude | |
| Dimensions (mm) | 150-105.6-67.5 |
Data sheets and documentation
Product Reviews
Number of Reviews : 2
Average Grade : 4.5 /5
A. Anonymous
the 09/01/2021
4/5
Viserie un peu fragile
A. Anonymous
the 26/08/2019
5/5
fonctionne bien, facile de pose avec les bonnes sections de fil , parfait . Sauf que ... notice en anglais pas très facile a comprendre, j'ai dû traduire pour interpréter les cadences de clignotement, j'ai compris que le fixe rouge à l'extrême droit signifiait que la batterie était au plomb( gel pour celle en place) et que cela passerait au bleu quand je mettrai celle au lithium, mais je n'ai pas compris les - de la notice pour le voltage à part 14v sur la ligne "Boost charge voltage" aucune autre indication pour celle au lithium , en revanche mon voltmètre indique bien 13,88v a la ligne Floating charge voltage , c'est donc conforme a la batterie au plomb . je recommande .
Specifications
| | |
| --- | --- |
| Charge power | 30A |
| Voltage | 12V / 24V |
| MPPT/PWM | MPPT |
| Weight | 0,7 kg |
| Width | 150 mm |
| Height | 105,6 mm |
| Thickness | 67,5 mm |