Display all pictures
Pylontech Lithium Battery + 50 - 2.4 kWh
Pylontech
More info

The new generation battery
The battery is charged during the day thanks to the production of photovoltaic panels.
It is discharged during the day when production is lower than consumption and at night in order to limit energy discharges into the distribution network to the strict minimum.
---
The US 2000 series is an ideal solution for residential storage applications, with a standard specification of 48V/50AH, up to 90% usable capacity and a guarantee of 6000 life cycles.
---
Latest HESS battery model from Pylontech+
This model of Lithium battery already powers more than 20,000 homes. Exceptional service life, quality energy. Design design makes it easy to install and expand your system. This battery reflects all the real requirements of end users and the highest technical capabilities of Pylontech.
You can find the 5-year warranty in the attached files. Save it to the Pylontech website allows you to extend the warranty to 10 years.
---
Why a battery storage system for the home?
Energy demand is high in the morning and evening.
But solar production is more sufficient in the middle of the day.
Battery storage system balances power and demand
---
Operating diagram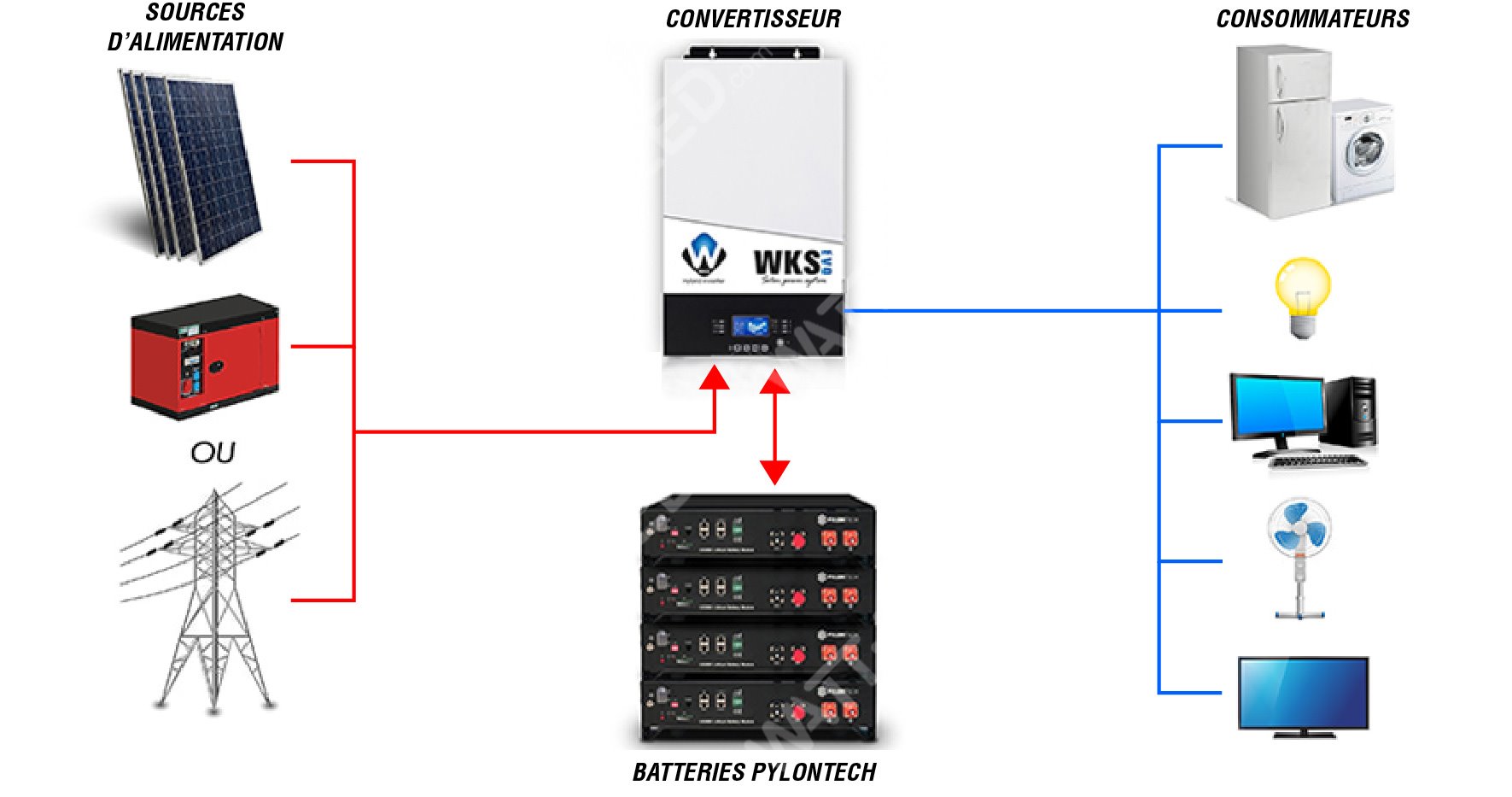 ---
Exceptional service life
Advertised for more than 6000 cycles considering a depth of discharge of 90%
Pylontech batteries will accompany you for more than 10 years.
---
Delivers more than 5kW per module
The rated power per element is 2.5kW, but they can give 5kW to cope with high starting currents
---
Modular design
Pylontech batteries can be upgraded very easily
It is quite possible to start with one or two elements, and then increase according to your needs.
---
Compatible with most converters
Any charge regulator or inverter whose charging voltages can be set is compatible with Pylontech batteries
---
Compact and easy storage
Pylontech batteries can be stacked very easily, and also be placed horizontally
It is also possible to place them in any 19' rack
---
Safety Cert.TÜV, CE, UN38.3, TLC

---
Loss of capacity depending on the number of discharges

Vertically: State of health
Horizontal: Number of cycles (flow capacity / nameplate)
Find the full ITP report by clicking here.
---
Lithium battery test performed by an independent body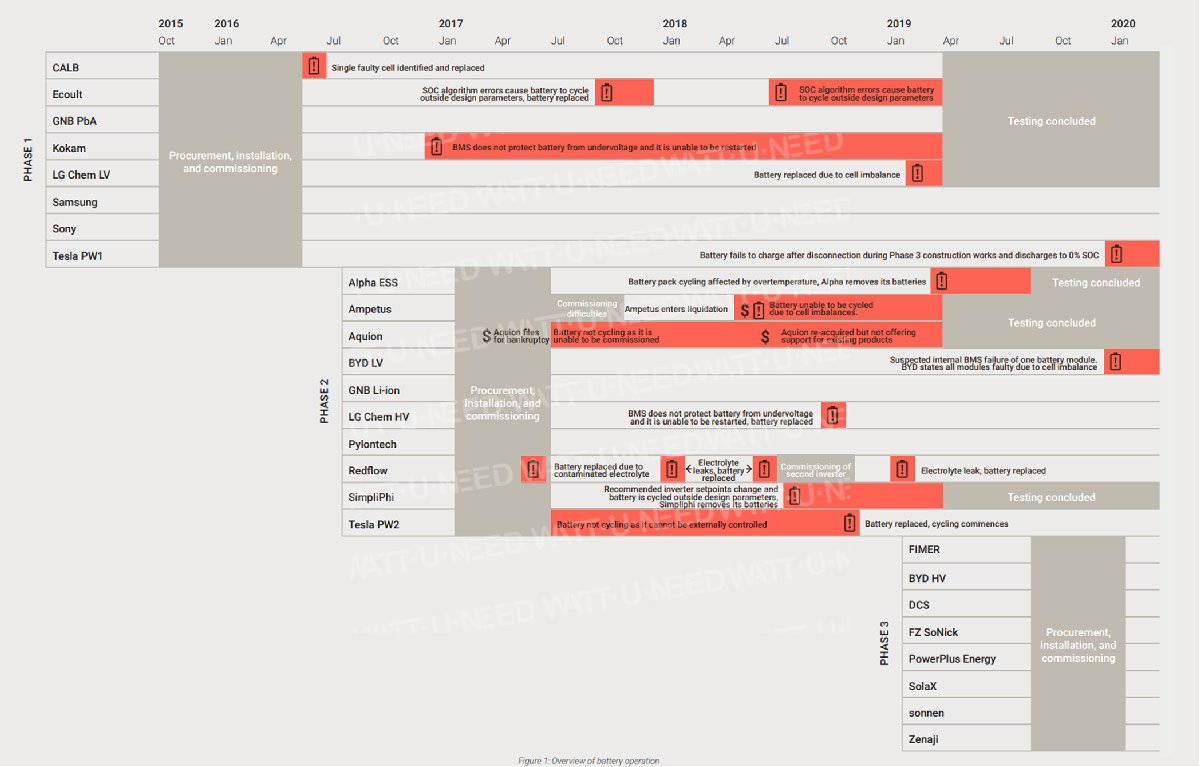 Find the link of the site by clicking here.
---
Specifications
PARAMETERS
PYLONTECH + 50
Nominal
Rated voltage (V)
48
Physics
Rated capacity (Ah)
50
Electric
Dimensions (mm)
440*410*89
Other
Weight(Kg)
24
Discharge voltage(V)
45~54
Charging voltage (V)
52.5 ~ 54
Maximum discharge power (kW)
5kW@1Min
Maximum charging power (kW)
5kW@1Min
Communication
RS232, RS485, CAN
Temperature
0°C~50°C
-10°C~50°C
Shelf temperature
-20°C~60°C
Certification
TÜV / CE / UN38.3 / TLC
Lifespan
10+ Years (25°C/77°F)
Number of reload cycles
>6000 (25°C, 90% DoD)
---
Product Reviews
Number of Reviews : 24
Average Grade : 4.6 /5
C. Thierry
the 12/07/2022
4/5
Bon produit facile à utiliser bien qu onéreux. reste à savoir ce qu il donnera au fil du temps.
T. Sylvain
the 02/07/2022
2/5
je n'ai aucune nouvelles le client s'impatiente et je ne sais que lui répondre.. je brode sur la confiance...
N. Joel
the 21/05/2022
4/5
Dans l'attente de la réception de la batterie
C. Christophe
the 09/04/2022
5/5
Impatient de l installer.
R. Julien
the 10/02/2022
5/5
Bon matériel facile à installer sur mon wks evo
V. Didier
the 20/05/2021
5/5
Produit conforme a mes attentes!!.Très bien, conforme à mes attentes, je recommande !Très bien, conforme à mes attentes, je recommande !
E. Claude
the 23/04/2021
5/5
RAS , prix convenable, fabrication ultra récente tout juste sortie d'usine
A. Anonymous
the 09/10/2020
5/5
Très bon produit ! Le prix est élevé mais la qualité est au rdv.
A. Anonymous
the 04/08/2020
5/5
excellente performance
A. Anonymous
the 29/07/2020
5/5
Batteries super performantes, elles me permettent de faire fonctionner toute ma ferme qui représente 60 moutons et chèvres ajoutez à cela 30 chiens et ainsi que ma maison sans devoir allumer le groupe électrogène qui tournait avant 10h par jour.Pour plus d'infos : duboisauxelfes.be
A. Anonymous
the 17/07/2020
5/5
Conforme
A. Anonymous
the 30/05/2020
4/5
Commandé Pylontech 50 reçu Pylontech US 2000 qui ne se fait plus mais en réalité c'est un US 2000 . Erreur d'étiquette ... paraît il que c'est la même chose pour ces trois appareils. Mais je suis très satisfait de l'US 2000 qui rempli parfaitement sa mission ( dommage que le câble rj 45 spécifique ne fait pas parti de la livraison). Mais pourquoi l'appelle t il Pylontech 50 ??
A. Anonymous
the 18/05/2020
5/5
Ces batteries sont super performantes et me permettent de vivre en site isolé.Je les utilise pour tout mon exploitation agricole,j'ai plus de cent animaux. J'ai des frigos et utilise des lampes chauffantes ainsi que ma pompe à eau pour mon puit artésien.2 batteries me donne une autonomie de 2 jours et je n'ai que 900w de panneaux Hanovre solair sur un toit de 15° orienté sud ouest.Merci à Max et à toute l'équipe,je vous recommande vivement.Benoit de la Ferme Noel.
A. Anonymous
the 02/05/2020
5/5
Pour le "qualité prix" il faudra attendre la mise en fonction, mais aucune raison que cela n'aille pas, design très agréable, et pas trop lourd, ce n'est pas de la paille non plus!
A. Anonymous
the 23/04/2020
3/5
Il est difficile d'obtenir les bon câbles de connexion entre les batteries et l'onduleur.
A. Anonymous
the 18/04/2020
5/5
4 eme batterie pour notre maison, 2 années d'utilisation très content du produit.
A. Anonymous
the 09/04/2020
5/5
pas fini d'installer
A. Anonymous
the 21/02/2020
4/5
Bon produit, satisfait depuis 2 ans !
A. Anonymous
the 03/10/2019
5/5
J'ai pu comparé par rapport à la concurrence, le bas prix est toujours au rendez-vous ! Quand à la qualité... rendez-vous dans 10 ans :D
A. Anonymous
the 12/09/2019
5/5
Batterie chargé à 100% à la reception
A. Anonymous
the 11/06/2019
5/5
Matériel conforme à mes attentes
A. Anonymous
the 17/06/2018
5/5
Rapide pour envoyé j attend lundi mais pour l instant vraiment top et pourtant je suis un concurrent energie66. Fr mais la franchement très pro votre site
A. Anonymous
the 12/05/2018
5/5
Facile d'installation
More reviews...
Specifications
| | |
| --- | --- |
| Voltage | 48V |
| Technology | Lithium |
| Battery capacity | 50 Ah |
| Weight | 24 kg |