Display all pictures
Hybrid inverter Sermatec 5kVa 48V SMT-5K-TL-LV
Sermatec
More info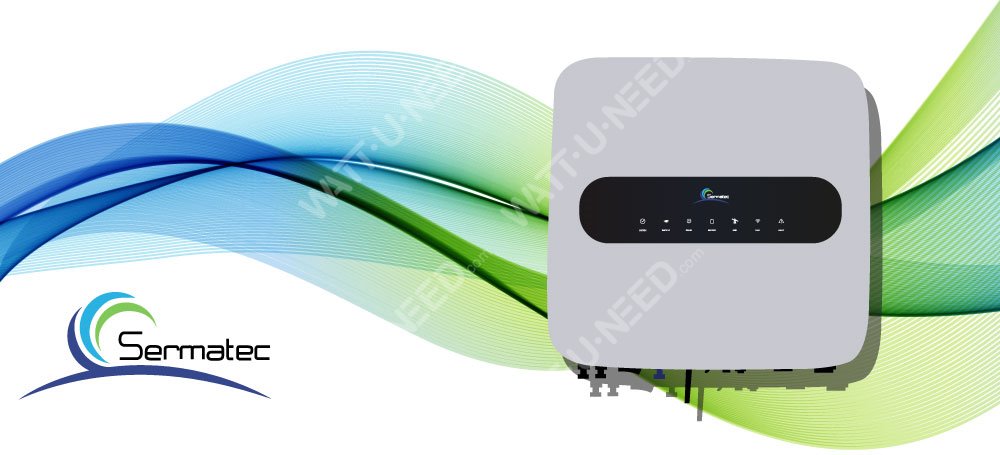 Application Sermatec Cloud. AVAILABLE ONLY ON ANDROID!
With the development of the energy storage market, traditional grid-connected inverters have been unable to meet customer needs.
Depending on the different application scenarios, there is a need for grid-connected functions, as well as off-grid functions, especially in the home energy storage market. In grid-connected and off-grid states, the inverter must provide power to the load.
It allows users to produce their own energy, to obtain certain economic benefits.
When solar power is sufficient, the inverter draws energy from the PV station to power consumers, and the remaining power will charge the energy from the batteries. The inverter automatically powers the battery charge.
When the battery energy runs out, the inverter takes power from the grid, powers consumers, and recharges the battery.
This all-or-nothing network inverter can be installed indoors or outdoors.

• Automatic matching
• Multi languages
• Self-diagnosis, maintenance-free
---
Simple installation

• User manual and installation video
• Modular installation
• International standard cables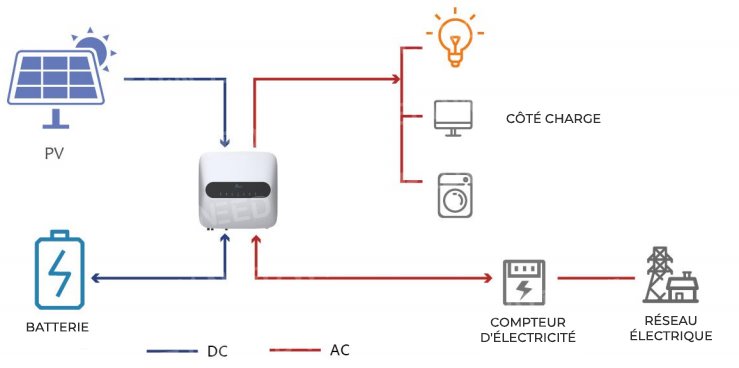 ---
Variety

• Compatible with various input sources
• Pylontech compatible
• Solar access, grid and generator
• Soon, the possibility of putting several inverters in parallel (under development)
• On & Off-grid mode switching time less than 10ms, can be used as UPS
• Single-phase and three-phase output for residential and commercial applications
---
Efficiency
• 99% high efficiency
• Advanced tracking technology to improve PV station efficiency
• High precision MPPT control algorithm and INV algorithm allowing grid connection with high efficiency and autonomous energy conversion.
---
Security

• Self-protection technology
• Wide voltage and frequency input
• IP65 protection
• Automatic air cooling
• Stable operation at altitude, high temperature and very humid environment
---
Intelligence

• Intelligent management system requires self-operation
• WIFI, CAN, RS485, USB (optional), GPRS (optional) Multiple monitoring modes
---
New Sermatec: AC Coupling
Maximize your self-consumption even for old installations
The Sermatec hybrid inverter is connected in parallel to the network inverter. Photovoltaic energy is first used to power the charges, then to charge the battery, and any excess photovoltaic energy can be reinjected into the grid.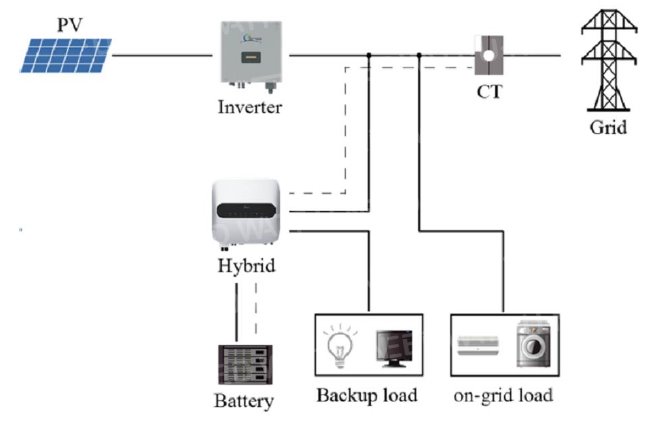 ---
View daily and total consumption status

---
You can look at the consumption coming from your installation

There is an asymmetry between our electricity needs and the production of our solar installation.
As can be seen, theohybrid ndurator allows via batteries, storage of unused production during the day (red line down).
So you benefit in the morning and evening from the energy produced throughout the day (red line upwards).
The yellow highlight indicates the production of energy via the solar panels.
The electricity consumption used on the network is indicated in blue (blue line down).
The reinjection of electricity produced by the panels is injected into the network (blue line upwards).
We will observe a consumption over a day Whole

At 04:00 we use the public network for our energy needs
At 10:00 a.m.: the panels produce 3002 W and the batteries recharge.
At 2:35 p.m.: We produce (3170 W), the battery consumes 10.60 W and we inject 2665 W on the public network.
At 9:00 p.m.: Use of the battery to meet our energy needs.
---
Visualize the charge level of your batteries
Configurable battery charging range
At 8am on 20/09 the battery east to 30% of its capacity of charge, the inverter will engage the recharge of the battery, the recharge is carried out at times configurable from the inverter, so we can choose the time slots where we decide to recharge the batteries, once 100% the inverter no longer sends the energy to the battery but sends the unused energy to the public grid. From 7pm, the battery begins to drain. We then use the energy of the battery to meet our energy needs.
---
Software
Application Sermatec Cloud to download in the first place. AVAILABLE ONLY ON ANDROID!
Download the app directly by clicking here!
You can find the installation steps in the data sheets & documents. "Manual of param Sermatec-FR"
---
Connection to Pylontech US-2000 C
CAREFUL: When connecting your Sermatec inverter to Pylontech US-2000C battery, cut the White/Orange, Orange, and White/Green cables.
Connect the cable to the RS485 port on the master battery.
---
Example of current and voltage wiring
---
Characteristics
Model
SMT-5K-TL-UN
PV INPUT (DC)
Max DC power supply recommended
6000
Rated power DC (W)
5000
DC voltage (V)
580 V
MPPT voltage range (V)
125~550 V
Starting voltage (V)
125
Maximum input current (A)
11 A
Maximum current protection (A)
15
Number of MPPT trackers
2
DC Output (Battery)
Battery type
Li-Ion or Lead-acid
Rated battery voltage (V)
48
Battery voltage range (V)
40-58
Battery Capacity (Ah)
Programmable as needed
Load curve
3 steps
Charging voltage (V)
60
Charging current (A)
70
Overcurrent protection (A)
100
Maximum charging power (W)
4600 configurable
Maximum charging efficiency (%)
95
Maximum discharge current (A)
100
Maximum discharge power (W)
4600
Maximum discharge efficiency (%)
96
Input (AC)
Network voltage range (V)
170V~280V AC
Network frequency (Hz)
50Hz/60Hz
Network input power (W)
6000
Maximum input current (A)
15
Output (AC)
Grid type
Phase
Rated network power (W)
5000
Peak power (off-grid)
110% charge: 30 minutes charge 120%: 5 minutes 150% charge: 5S
Nominal output
50/60Hz; 230Vac
Output range
45~55Hz/55~65Hz; 180~270Vac
Maximum output current (A)
22.8
Overcurrent protection (A)
32
Total harmonic distortion (THD, rated power) (%)
<3
Displacement power factor
-0.9 - 0.9
Backup output (with battery)
Grid type
Single phase
Standby rated power (W)
4600
Nominal output
50/60Hz; 230Vac
Output range
45~55Hz/55~65Hz; 180~270Vac
Maximum output current (A)
15
Peak output power (W)
4800W 5Mins 6000W 5S
Total harmonic distortion (THD, rated power) (%)
<3
Displacement power factor
-0.9 - 0.9
Instant recovery time
<=20ms
Peak factor
03:01:00
UPS Switching Time (MS)
<10ms
Efficiency
MPPT efficiency (%)
99,9
Efficiency of Europe (%)
97
Max efficiency
97,6
Battery charge/discharge efficiency (%)
>95
Protection
Anti-islanding protection
Integrated
DC (PV) switch
Integrated (optical)
Protection against overcurrent of output current
Integrated
Protection against output short circuits
Integrated
Output surge protection
Integrated
Certifications and standards
Network regulation
VDE 0126/VDE-AR-N4105/G83-2/ AS 4777.2/EN50438/IEC 0 -21
Safety regulations
IEC/EN 62109-1, IEC/EN62109-2
Emc
IEC/EN 61000-6-2, IEC/EN 61000-6-3
General data
Size (Width*Height*Depth mm)
495*516*152
Weight (kg)
25
Assembly
Wall mount
Ambient temperature range
-25~60°C
Relative humidity
0~95%
Max operation Altitude (m)
4000(>3000m decommissioning)
Degree of protection
IP65
Environment Category
Exterior and interior
Degree of environmental pollution
Degree1,2,3
Topology
Without transformer
Cooling
Natural convection
Noise (db)
<25
Display screen
LED & APP
Communication style
Wi-Fi, RS485, CAN
Standard warranty
5 years
Product Reviews
Number of Reviews : 3
Average Grade : 5 /5
L. Denis
the 23/12/2021
5/5
Conforme a mes attentes.
T. Steeve
the 16/12/2021
5/5
Très bon produit
A. Anonymous
the 10/05/2021
5/5
Produit conforme à la commande
Specifications
| | |
| --- | --- |
| Type of need | Prosumer |
| Voltage | 48V |
| MPPT/PWM | MPPT |
| Power | 5 kW |
| Nombre de MPPT | 2 MPPT |
| Protection IP | IP65 |