Display all pictures
3kW hybrid inlecor network injection - WKS i3 storage
WKS
More info
---
Store your solar production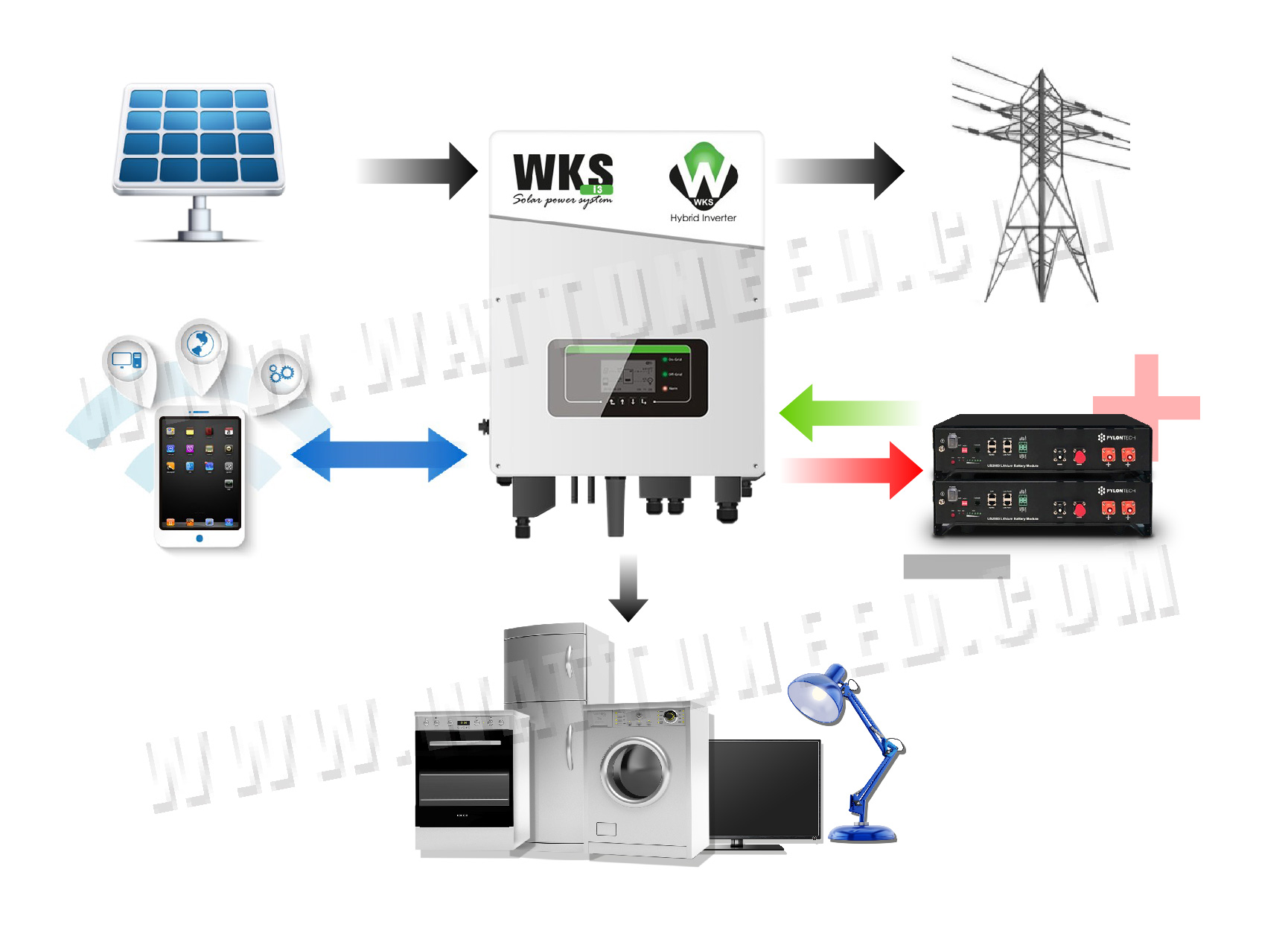 ---
Warranty extension

The warranty extension available in the options only covers the troubleshooting of the inverter by the manufacturer and not the transport costs of the device.
Transport is at the expense of the purchaser.
---
High performance
Accurate real-time MPPT algorithm for maximum energy production

Wide operating range of input voltage

Double independent monitoring of MPPT, flexible solar roof system design
---
Reliable and safe
High efficiency, low energy loss, reduced maintenance

High-frequency insulation between battery and PV/network

Advanced battery management technology to protect battery life
---
Easier operation
Free site selection with IP65

Clear, easy-to-read 4'LCD screen

Easy monitoring by phone (APP) and PC (Web)
---
Multiple working methods
PV - storage, all in one, increases self-consumption to 80%, reduces dependence on the electricity grid, reduces electricity bill

The self-contained mode (such as the inunnator) available ensures that critical loads work safely

Selecting multiple modes of operation: automatic mode, mode of use, sync mode, passive mode, etc.
---
Smart network management
Reactive power capacity

Limits CA output when network frequency is too high or too low

Limits CA output when network voltage is too high

Integrated zero export function (optional)
---
Easy installation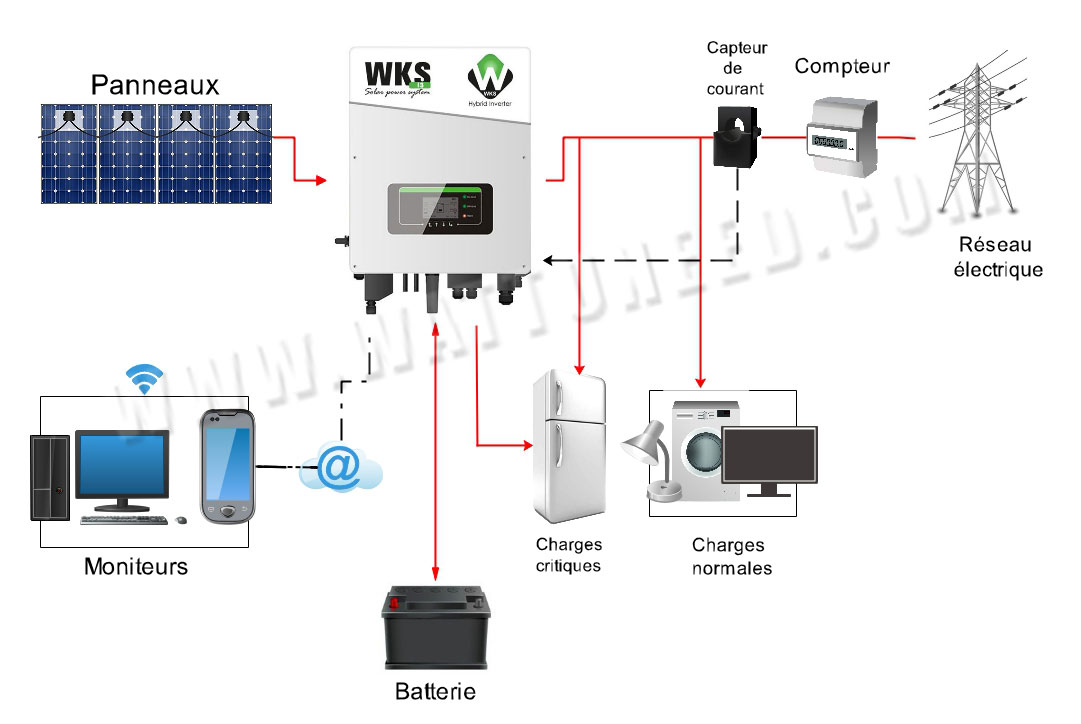 ---
Characteristics
model
WKS I3
WKS I4
WKS I5
WKS I6
Battery settings
Battery type
Lead-acid, Lithium-ion
Rated battery voltage
48V
Battery voltage range
42-58V
Minimum discharge voltage
Lithium: (according to BMS), Max 58V
Acid lead: 44.0V
Maximum charge voltage
Lithium-ion (according to BMS), Max 58V
Acid lead: 58V
Recommended battery
200Ah (100-500 Ah optional)
Recommended storage
9.6 kWh
Max charge current.
60A
Charge current range
0-65A programmable
Load curve
3-scene adaptive with maintenance
Maximum discharge current
0-70A programmable
Battery protection
Surge protection / Over-intensity protection/ Overheating protection
Discharge depth
Lithium: 0-80% adjustable DOD
Acid lead:0-50% doD adjustable
PV settings
Maximum input power
3500W
4400W
5500W
6600W
DC power maxi for simple MPPT
2000W (160V-520V)
2600W (200V-520V)
3000W (250V-520V)
3500W (300V-520V)
The DC max input voltage.
600v
Continuous start-up tension
120v
Nominal CC tension
360V
MPPT service tension
90-580V
Tension range continues at full charge
160V-520V
200V-520V
300V-520V
Number of MPTPs
2
The DC max input current.
12A/12A
The short circuit of the DC max entrance.
15A/15A
AC settings
The short circuit of the DC max entrance.
3000W
4000W
5000W
6000W
Maximum output current.
13.7A
18.2A
22.8A
27.3A
Nominal voltage and frequency of the network
220V, 230V, 240V, 44-55Hz or 54 -66Hz
Alternative voltage range
180-2876V (as required by local authorities)
Thd
3 per cent
Power factor
1 default (up/0.8 adjustable)
Call current
0.8A/1us
Maximum output defect current.
100A/1us
System settings
Maximum efficiency
Charge:94.1% / discharge 94.3%
Losses on hold
5W (PV SPS)
Topology
High-frequency insulation
Intrusion Protection Indexes
IP 65
Security protection
Anti-islanding, RCMU, ground defect monitoring
communication
Wi-Fi/GPRS, RS485, SD, CAN2.0
Environmental data
Room temperature
30C - 60C (Decommissioning above 45C)
Relative humidity range
0% - 100% (no condensation)
Protective class
Class I
Maximum operating altitude
2000m
Connecting the power transformer
with cable tv
General data
noise
25 dB
weight
20.5 kg
cooling
Natural convection
Dimensions (L-H-P)
566x394x173 mm
Display screen
Lcd
Warranty
5 years or more
EPS (Emergency Power Supply) data
EPS rated power
3000VA
EpS rated voltage/frequency
230V.50/60Hz
EpS rated current
13A
Thd
3 per cent
Switching time
10 mS by default
Product Reviews
Number of Reviews : 1
Average Grade : 5 /5
A. Anonymous
the 03/05/2020
5/5
Super produit qui permet de d'abord autoconsommation avant de réinjecter le surplus en optimisant l'utilisation des batteries.