Display all pictures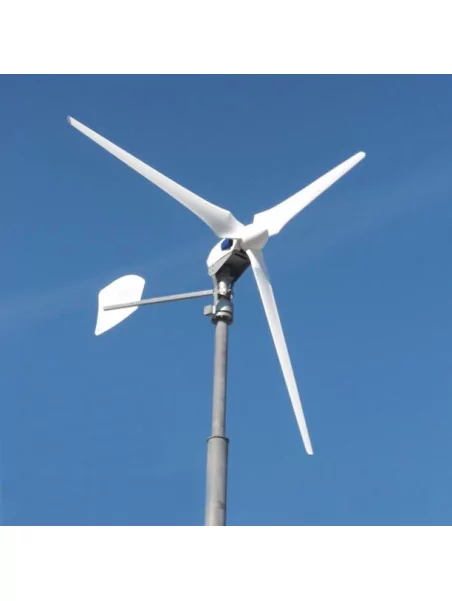 Wind turbine ANTARIS 2.5 kW connected to the grid
Braun
More info
Wind turbine ANTARIS 2.5 kW connected to the grid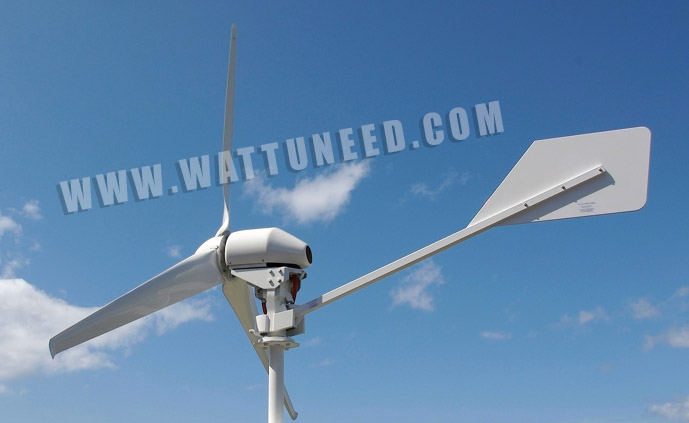 The Antaris wind turbine is specially adapted to sites inland. It is specially designed for network connection, charging batteries (24VDC / 48 VDC etc.) and powering heating systems. Because of its robust design, the Antaris wind turbine is also suitable for storm-prone locations.
The rotor blades are laminated by hand and benefit from a computer-designed aerodynamic profile, they are also balanced statically and dynamically. Each blade has an identification number and comes with its appropriate documentation. The highest importance has been to ensure the speed and simplicity of installation of this wind turbine.
Thanks to its robust and careful design, the Antaris wind turbine has excellent efficiency and is offered at a highly attractive price. It starts very quickly (starting already at a wind speed of 2.2 m/s) and operates silently (43 dB). This wind turbine can therefore be installed in residential areas.
Connection to the grid requires the use of two inverters programmed specifically to operate with Antaris wind turbines as well as according to local wind conditions. In less windy areas, it is possible to connect the wind turbine to the grid via a single inverter. The inverters come with a declaration of compliance. The ENS (Electronic grid guard system) is integrated into the inverter.
---
---
Technical features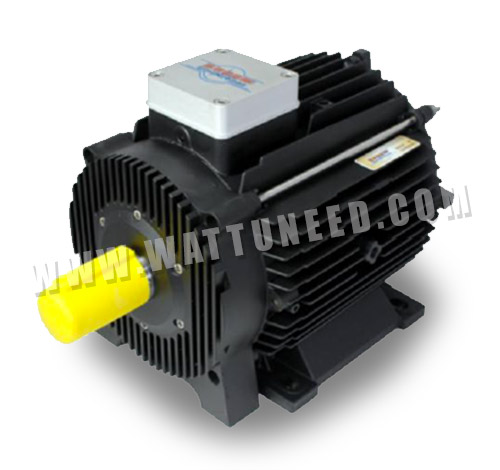 Generic
Permanent magnet rotor without brooms and gears. Doesn't require maintenance!
NdFeBo permanent magnets very powerful for great efficiency, resists up to 150°C
Phase
Separate lifter
Rotation in both directions
Tension 0-400 V
Starts production at about 145 t/mn
Power: 2,700 watts at 450 t/mn and 330V
Linear power curve
Weight: 30kg
Carter aluminum, cooling of the surface and the fastening base
Protection IP56
---
Rotor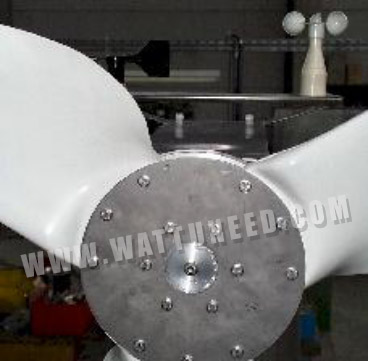 Connection hubs with aluminum strap and overpressure plate
Stainless steel fitting screws and counter-nuts
Fiberglass rotor blades and laminated carbon fiber
Computer-designed aerodynamic profile
Noise reduction on the end of the blades
3m in diameter (2.35m optional)
Blade weight: 3.2 kg
Dynamically balanced
Anti-clockwise rotational sense
Rotation speed up to 450 t/mn
GRP spinner cap
The colour of the rotor of your choice
---
Chassis
Weather-resistant HDPE Girouette
Support Element: Stainless Steel Square Tube
All threaded fittings are made of stainless steel and equipped with nuts
Steel support for the generator, configured for plug-in in the azimut bearing frame, fully galvanized
Protected by a patented rotor-blade positioning system
Mast adapter with bridle connector (114.3 mm tube)
---
Storm protection
Switching the pale rotor to the "helicopter" position
Electronic control of turbines
---
Control cabinet
Control system with voltage monitor
Electronic control of turbines with regulator
Connector protections against polarity inversions
Controlling the phases of the alternator during the turbine mode
Emergency shutdown switch
Key switch re-initializer (removable)
3 kW braking resistance
---
ABB chain inverters - UNO-DM-3.3kW

Unique format

This lightweight and compact new solution, based on ABB's engineering and quality principles, is based on technological choices optimized for facilities characterized by different orientations.
Regardless of their power, all models have the same dimensions, record maximum performance in a small space, and have a dual MPPT (Maximum Power Point Tracker) system.

Easy to install, quick to put into service

With wireless communication features and plug-and-play connectors on the DC and AC side, the inverter installs easily, quickly and safely without being
necessary to open its front face. The simplified commissioning routine frees you from the long configuration processes and thus reduces installation costs and times.
The user experience is total thanks to the built-in interface that allows access to features (setting up the advanced configuration of the inverter, dynamic control of the injection of electricity into the network, charge management ...) from all WLAN devices (smartphone, tablet or PC).

Smart features

Integrated data recording and real-time data transfer over the Internet (via Ethernet or WLAN) enable customers to optimize their use of the Aurora Vision remote monitoring system®
. The comprehensive communication interface (WLAN, Ethernet, RS485) combined with SunSpec (TCP/RTU) compliance ensures simplified and immediate integration with other manufacturers' devices within buildings and smart grids.
The inverter is ready for the self-consumption market thanks to a dynamic control of the injection of electricity into the grid allowing the "Zero injection".
Key features

WiFi communication
Simplified commissioning
Zero injection mode for self-consumption (with optional meter)
WebUI user interface
Ready for integration with buildings and smart grids
Modbus SunSpec Protocol (TCP/RTU)
Remote monitoring and update via Aurora Vision®
Two DC entries (2 MPPT)
Model
UNO-DM-3.3-TL-PLUS
As a starter
Absolute maximum DC input voltage (Vmax,abs)
600v
Start-up DC input voltage (Vstart)
200V (aj.120.... 350V)
DC operating input voltage range (Vdcmin... Vdcmax)
0.7 x Vstart ... 580V (min90V)
DC rated input voltage (Vdcr)
360V
Nominal DC Input Power (Pdcr)
3500W
Number of independent MPPT
200V (aj.120.... 350V)
Maximum DC input power for each MPPT (PMPPTmax)
2000W
Maximum entry DC voltage with parallel MPPT configuration at Pacr
170...530V
DC power limitation with parallel MPPT configuration
Linear decommissioning of the maxi. At Zero [530V-VMPPT-580V]
DC power limitation for each MPPT with independent MPPT configuration at Pacr, example of maximum imbalance
2,000 W [200 V-V-VMPPT-530 V]
The other channel:
Pdcr-2000 W
[112 V-V-VMPPT-530 V
Maximum DC Input Intensity (Idcmax) / for each MPPT (IMPPTmax)
20.0 / 10.0
Maximum intensity of short-circuit entry for each MPPT
12.5 / 25.0 A
Number of pairs of DC entries for each MPPT
12.5 / 25.0 A
Dc Connection Type 1)
Fast photovoltaic connector
Data sheets and documentation