Hoppecke Battery OPzV solar.power
Hoppecke
More info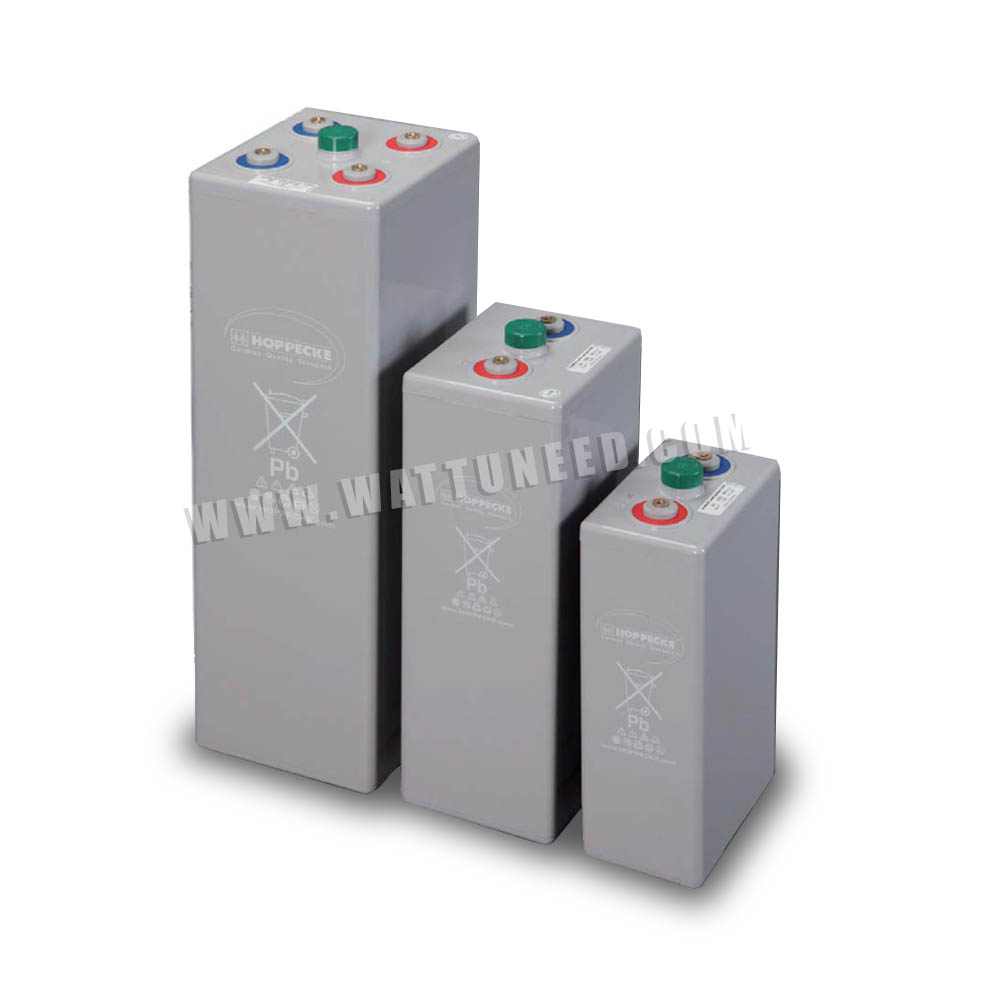 The 'linkpopup id'opzv' batteries are based on the electrolyte-fixing tubular plate technology in the form of gel. These batteries are maintenance-free thanks to their sealed construction. Tubular plates offer a very high life expectancy to these batteries.
The product range 'linkpopup id'opzv'
is optimal for application in high-release areas such as solar systems as well as for long discharge operations for example in IT/telecom. or security lighting applications.
---
Benefits
Use of optimal space - by horizontal and vertical setting
No maintenance in water filling - by innovative gel technology
Very good cycle stability during use in PSoC1 - by tubular plate design allows for an efficient charging current
Maximum compatibility - measures compliant with DIN 40742
Short-circuit security reinforced from assembly - by the use of HOPPECKE system connectors
---
Applications
On-grid and off-grid energy use

Drinking water treatment system

Medical treatment equipment

Signage, lighting

Mobile radio stations

BTS Stations

Off-grid/networked energy processing systems
---
Cycling
Life expectancy up to 1500 cycles at 80% discharge depth.
---
Duration of cycle retention depending on the capacity taken
---
Technical features
Battery type
C100/1.85V
ah

C50/1.85V
ah

C24/1.83V
ah
C10/1.80V
ah
C5/1.77V
ah
Max weight Kg
Length L max. Mr
Width l max.Mr
Height H max. Mr
Fig.
4 OPzV solar.power 250
286.9
263.5
243.0
204.1
188.7
18.3
105
208
420
Has
5 OPzV solar.power 310
358.6
329.3
303.8
255.1
235.8
22.3
126th
208
420
Has
6 OPzV solar.power 370
430.3
395.2
364.6
306.1
283.0
26.5
147
208
420
Has
5 OPzV solar.power 420
478.2
452.9
427.8
391.4
346.1
29.9
126th
208
535
Has
6 OPzV solar.power 520
573.9
543.4
513.4
469.7
415.3
35.1
147
208
535
Has
7 OPzV solar.power 620
669.5
634.0
599.0
548.0
484.5
42.1
168
208
535
Has
6 OPzV solar.power 750
847.3
802.2
762.1
682.0
595.0
48.7
147
208
710
Has
8 OPzV solar.power 1000
1129.8
1069.6
1016.2
909.3
793.3
65.9
215
193
710
b
10 OPzV solar.power 1250
1412.2
1337.0
1270.2
1136.7
991.7
80.5
215
235
710
b
12 OPzV solar.power 1500
1694.7
1604.4
1524.2
1364.0
1190.0
94.6
215
277
710
b
10 OPzV solar.power 1700
1955.0
1870.0
1784.9
1544.6
1371.9
110.0
215
277
855
b
16 OPzV solar.power 2300
2606.7
2493.3
2379.8
2059.5
1829.2
152.9
215
400
815
c
20 OPzV solar.power 2900
3258.3
3116.7
2974.8
2574.3
2286.5
186.5
215
490
815
D
24 OPzV solar.power 3500
3910.0
3740.0
3569.8
3089.2
2743.8
222.3
215
580
815
D
C100, C50, C24, C10 and C5 - 100, 50, 24, 10 and 5 hours
- in accordance with DIN 40742 these data are to be understood as the maximum values
Data sheets and documentation