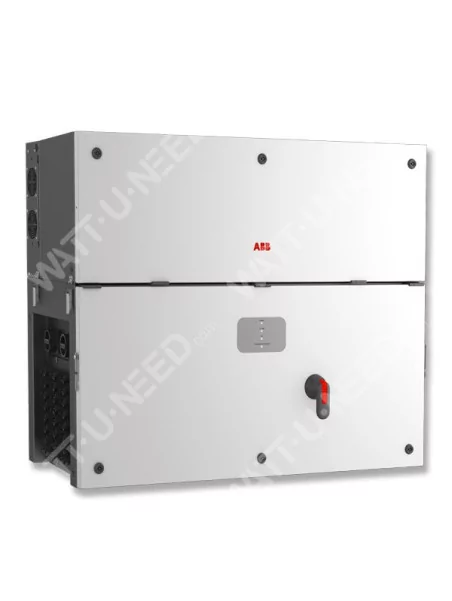 Three-phase ABB PVS 100TL Inverter
ABB
More info
PVS-100
The PVS-100/120 inverter is the three-phase inverter connected to the cloud that meets your performance and flexibility needs both for your 400V connected roofing projects but also for your projects of PV power plants connected to the HTA network.
---
Modular design
The high power of the inverter reduces the total number of units, directly reducing your installation, logistics and maintenance costs. Thanks to its compact size and versatile mount, it can be easily installed either flat (e.g. behind a roof acrotery) or vertically against a wall. The inverter and its adjoining cabinet with all the necessary protections allow you to achieve significant savings both on the DC side (no other case needed) and on the AC side (TGBT).
---
Design flexibility
The double-decker topology and six MPTPs ensure sizing flexibility and optimal performance, regardless of the number and model of PV modules used, and regardless of their fouling and shading conditions.
---
Strengths
6 independent MPPT
Double-storey topology
High performance and IP66 protection index
Powers: 100kW (400Vac)
Ethernet Datalogger / Built-in Wifi
Fast commissioning and maintenance
DC/AC box incorporating all protections
Vertical or horizontal installation
Remote monitoring and update via Aurora Vision®
Communication Modbus TCP/RTU Sunspec
---
Characteristics
Model

PVS 100 TL
As a starter
Absolute maximum DC input voltage (Vmax,abs)
1000v
Start-up DC input voltage (Vstart)
420V (400... 500 V)
DC operating input voltage range (Vdcmin... Vdcmax)
360... 1000 V
DC rated input voltage (Vdcr)
620V
Nominal DC Input Power (Pdcr)
102,000W
Number of independent MPPT
6
DC voltage range (VMPPTmin... VMPPTmax) in Pacr
480... 850V
Maximum ™-in power for each MPPT (PMPPT,max)
17500 W [480V≤VMPPT≤850V]
Maximum DC input intensity for each MPPT (Idcmax)
36 A
Maximum short-entry current (Iscmax) for each MPPT
50 A 1)
Number of pairs of DC entries for each MPPT
4
DC Connection Type
Connectors 2)
Entry protection
Protection against polarity reversal
Yes, from a limited power source
Protection against entry surges of each MPPT - Parafoudres
Type 2 with surveillance
Isolation control of the photovoltaic field
According to IEC62109
DC Switch Features for Each MPPT
50 A / 1000 V
Fuses
15 A / 1000 V 3)
Monitoring chain currents
SX2: Monitoring of 24 SX input currents: Monitoring of the 6 MPPT currents
On the way out
Type of ac-network connection
Triphasé 3P-PE or 3P-N-PE
Rated AC Power (Pacr @cos-1)
100,000 W
Maximum AC Output Power (Pacmax @cos-1)
100,000 W
Maximum AC Output Power (Pacmax @cos-1)
100,000 VA
Rated AC network voltage (Vac,r)
400 V
AC voltage range
320...480 V 4)
Maximum AC output intensity (Iac,max)
145 A
Nominal network frequency
50 Hz / 60 Hz
Network frequency range (fmin... fmax)
45...55 Hz / 55... 65 Hz 5)
Nominal power factor and setting range
> 0.995, 0... 1 inductive/capacitive with maxi. Smax
Total harmonic distortion rate
< 3%
Maximum section allowed
185mm2 Cu or Alu
AC connection type
Alu/Cu beach connection, 4x PE M40 - 1x PE M25 for individual unipolar cables (or optional 1x PE M63 for a multipolar cable)
Exit protection
Anti-island protection
According to local standards
Maximum caliber of AC external protection
225 A
Surge protection - replaceable PF modules
Type 2 with surveillance
Operational performance
Maximum return (maximum)
98.4%
Weighted return (EURO)
98.2%
Communication
Integrated communication interface
1x RS485, 2x Ethernet (RJ45), WLAN (IEEE802.11 b/g/n - 2.4 Ghz)
User Interface
4 LEDs, User Web Interface
Communication protocols
Modbus RTU/TCP (Sunspec)
Monitoring
Web Interface, Mobile Application
Remote monitoring services
Access to the Aurora Vision monitoring portal
Advanced features
Integrated Datalogger, Data Transfer to the ABB Cloud
Environmental settings
Room temperature range
-25...-60 degrees Celsius power reduction > 40 degrees Celsius
Relative humidity
4%... 100% condensation
Noise emissions level
68dB(A) - 1m
Maximum operating altitude
2000m
General features
Environmental Protection Index
IP66 (IP54 fan block)
Cooling
Forced air
Dimensions (H x l x P)
869x1086x419 mm
Weight
70kg power module; 55kg DC/AC box set
Fixing sriers
For a "wall" or "ground" pose
Security
Isolation level
No transformer
Marking
This
CEM and safety standards
IEC/EN 62109-1, IEC/EN 62109-2
Network standards (check availability with your sales channel)
DIN VDE 0126-1-1A1 VFR2014, CEI 0-16, IEC 61727, IEC 62116, IEC 60068, IEC 61683
Variations available (Module/Box)
Power module
PVS-100-TL-POWERMODULE-400
24 fuse-protected DC entries on the two polarities - inter-dry DC - monitoring of the 24 DC entries - inter-dry AC - DC and AC Type 2
WB-SX2-PVS-100/120-TL
24 fuse-protected DC entries on a single pole - inter-dry DC - monitoring of the 6 MPPT - DC and AC Type 2
WB-SX-PVS-100/120-TL
Option available
Multipolar AC Cable Plate 1x PE M63 - 1x PE M25
MULTICORE AC PLATE
Data sheets and documentation
Specifications
| | |
| --- | --- |
| Maximum PV input voltage | 1000 V |
| Weight | 70 Kg |
| Power | 100000 VA |
| Monophasé / Triphasé | Triphasé |
| Nombre de MPPT | 6 MPPT |