Display all pictures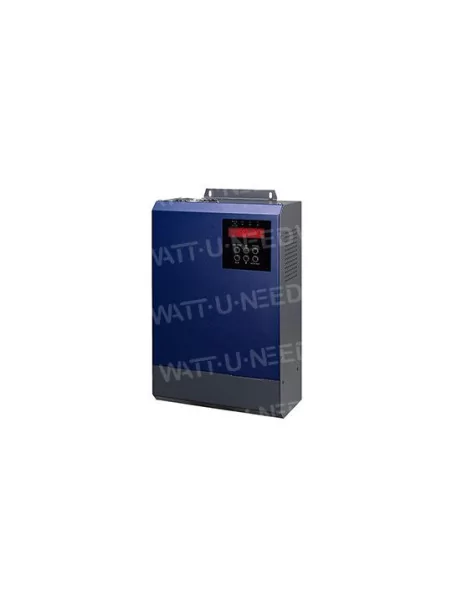 Solar pump inverter 2.2kW to 15kW
Wattuneed
More info
The three-phase in and out solar pump inverter is environmentally friendly, with a long lifespan and reduced maintenance costs.
The built-in MPPT ensures you get the best output power and optimizes the performance of the water pump throughout the day as it automatically starts and stops depending on the intensity of the solar radiation.
---
Key features
Built-in MPPT solar charger
Supports single-phased or three-phase asynchronous motors depending on the model
Supports a single-phase CA input when PV energy is not sufficient (only for the 2.2KW LS model)
Integrated and self-diagnosis full protection
The progressive start function prevents the battering effect and prolongs the system's life cycle
LED and full display screen for real-time system status
Remote monitoring by RS-485
This solar inverter is specially designed to power the water pump. The following illustration shows the basic application for this inverter. It also includes PV modules and remote float switches for a complete operating system.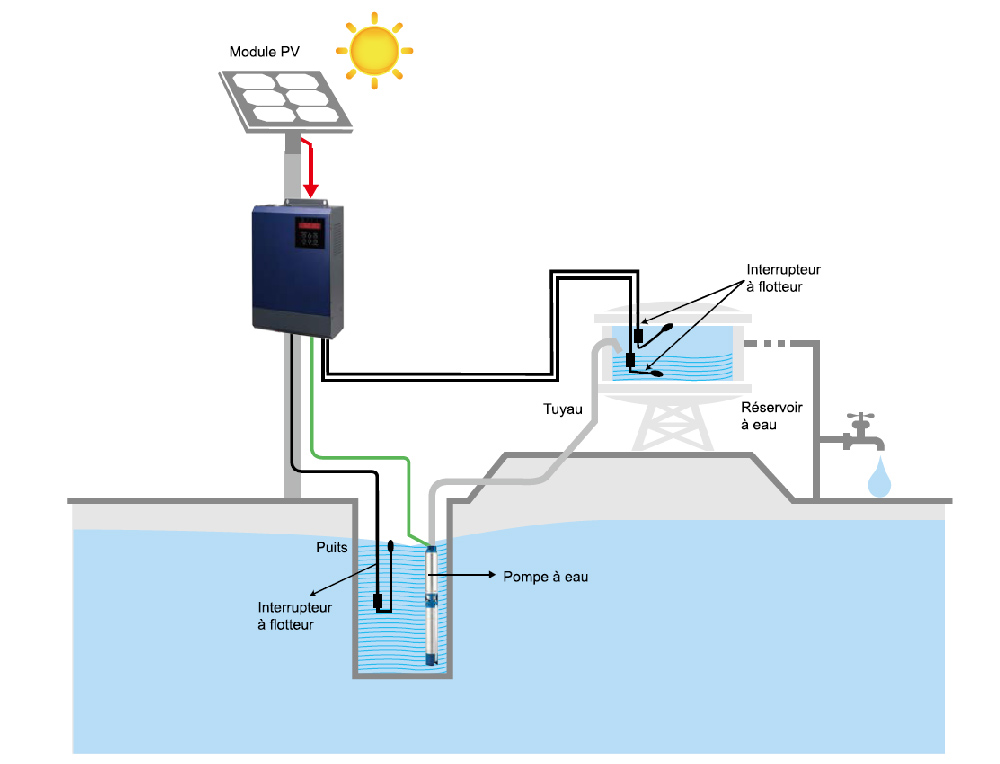 ---
Characteristics
Model
2.2KW LS
2.2 KW
7.5 KW
11th KW
15 KW
Nominal output power
2200 W (3HP); (supports a 0.75-3HP water pump)
7500 W (10HP)
(Supports a water pump of 3-10HP)
11000 W (15HP)
(Supports a 10-15 HP water pump)
15000 W (20HP)
(Supports a 10-20HP water pump)
PV ENTRY (DC)
Nominal continuous tension / Maximum continuous tension
320 VDC / 450 VDC
540 VDC / 800 VDC
800 VDC
Start-up tension
120 VDC
250 VDC
MPPT voltage range
120 VDC - 420 VDC
250 VDC - 780 VDC
500 VDC - 600 VDC
Number of MPP trackers
1
AC INPUT
Entry tension
220 / 230 / 240 VAC (-15%-10%)
N/A
Frequency of entry
47 Hz - 63 Hz
N/A
OUTPUT
Nominal tension
220 / 230 / 240 VAC
3 x 380 / 400 / 415 / 440 VAC
Efficiency
> 97%
Nominal output current
14 A
5 A
15 A
22 A
29 A
Engine type
Phase
Three-phase asynchronous engine
Frequency accuracy
0.2%
Protection
Total protection
Protection against phase losses, dry pumping, engine locking, low sunlight, surge, under-voltage, over-intensity, surge, overheating and short circuits
Environment
-20C - 45C to 100% of total load, 46C - 60C power reduction
Operating humidity
< 95% HR (without condensation)
Physical
Dimension L x l x h
110 x 230 x 342 mm
205 x 218 x 320 mm
Net weight
5
5,5
6
6,5
6
Type of mechanical protection
IP20
Interface
Communication port
RS-232 / RS-485
Data sheets and documentation
Specifications
| | |
| --- | --- |
| MPPT/PWM | MPPT |
| Nombre de MPPT | 1 MPPT |