Display all pictures
Inverter for solar pump 2,2kW to 11kW
Wattuneed
More info
The interest in renewable energies has increased in recent years due to solar energy becoming more profitable and environmentally friendly. This is a solar inverter that switches the DC power supply from the solar panels to the AC power needed to control the pump. With the solar inverter, pumps can adapt to solar energy sources rather than traditional power supplies or generators.
The 3-phase in, 3-phase out solar pump inverter is environmentally friendly with a long lifetime and lower maintenance costs. Built-in MPPT ensures you to get the best output power and optimizes the performance of water pump solar Inverter along the day as it starts and stops automatically based on the intensity of solar radiation. In addition, it is easy to install with a low maintenance cost. It becomes an environmentally friendly solution for rural areas where electricity is expensive and unreliable.
---
Main features
Built-in MPPT solar charger


Supports three-phase asynchronous motor


Built-in full protection and self-diagnosis


Soft start function prevents water hammer effect and extends system lifecycle


Comprehensive LEDs and display screen for real-time system status


Remote monitoring through RS-485


Optional remote panel available
This solar inverter is specially designed to power the water pump. The following illustration shows the basic application for this inverter. It also includes PV modules and remote float switches for a complete operating system.


---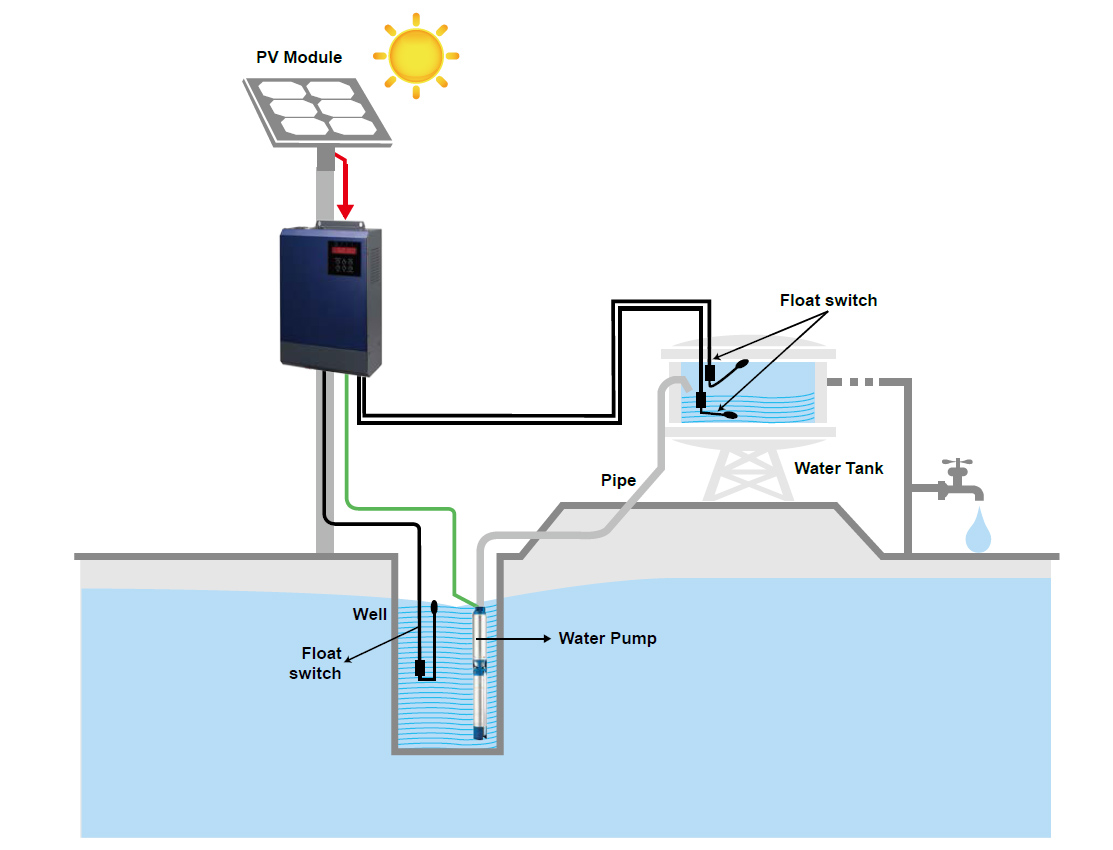 Model
2.2KW
7.5KW
11KW
RATED OUTPUT POWER
2200 W(3HP) (supports 0.75~3HP water pump)
7500 W(10HP) (supports 3~10HP water pump)
11000 W(15HP)(supports 10~15 HPwater pump)
PV INPUT (DC)
Nominal DC Voltage / Maximum DC Voltage
540 VDC / 800 VDC
Start-up Voltage
250 VDC
MPPT Voltage Range
250 VDC ~ 780VDC
Number of MPP Trackers
1
AC INPUT
Input Voltage
N/A
Input Frequency
N/A
OUTPUT
Nominal Voltage
3 x 380/400/415/440 VAC
Efficiency
> 97%
Nominal Output Current
5.0 A
15 A
22 A
Motor Type
Three-phase asynchronous motor
Frequency Precision
±0.2%
PROTECTION
Full Protection
Phase lost, dry pumping, motor locked, weak sunlight, over-voltage, under-voltage, over-current, surge, overtemperature and short circuit protection
PHYSICAL
Dimension, D x W x H (mm)
110 x 230 x 342
Net Weight (kgs)
5.5
6
6.5
Type of Mechanical Protection
IP20
INTERFACE
Communication Port
RS-232/RS-485
ENVIRONMENT
Humidity
< 95% RH(Non-condensing)
Operating Temperature
-20°C ~ 45°C at 100% full load, 46°C ~ 60°C power derating
Data sheets and documentation