Display all pictures
SMA Sunny Boy 3.6 SB3.6-1 AV-41 single-phase inverter
SMA
More info
ABSOLUTE COMFORT WITH SUNNY BOY 3.6
The new Sunny Boy 3.0–6.0 guarantees maximum energy production for households.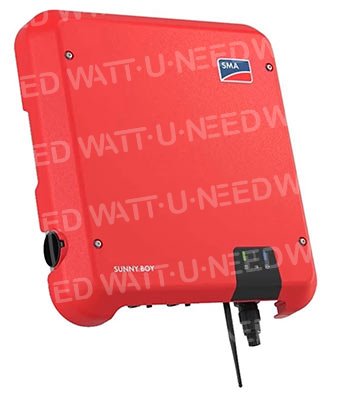 The new Sunny Boy 3.0–5.0, successor to the Sunny Boy 3000–5000TL successfully used worldwide, is much more than a photovoltaic inverter:
The Sunny Boy 3.0–5.0 is ideal for solar energy production for single-family homes.
---

Quick and easy installation
With its low weight, the Sunny Boy is quick to install and compact.
Quick assembly by one person thanks to the low weight of 17.5 kg
Minimal footprint thanks to its compact design
Quick assembly thanks to external connections
---
Intelligent optimization of energy production
Proven functionalities and integrated software solutions ensure that energy production is optimised throughout the lifetime of the installations. Even in case of shading. SMA ShadeFix is a patented software integrated into inverters to optimize energy production in almost any situation. In case of larger shading or complex roofs, the TS4-R optimizers, whose installation is simple and selective, make it possible to obtain an optimal production.
SMA ShadeFix is an integrated software to optimize energy production
Dynamic limitation of active power: direct use of excess energy, less energy taken from the grid
Integrated TS4-R communication for selective production optimization of heavily shaded panels
---

Expansion possible at any time
With the Sunny Boy, owners of photovoltaic systems always benefit from maximum production of their photovoltaic system. Should the use of solar electricity in the home increase, installations with the Sunny Boy can be equipped with intelligent energy management and SMA storage solutions at any time.
---
Technical data
Sunny Boy 3.0
Sunny Boy 3.6
Sunny Boy 4.0
Sunny Boy 5.0
Input (DC)
Max DC power (when cos φ =1)
3,200 W
3,880 W
4,200 W
5,250 W*
Max input voltage
600 V
MPP voltage range
110 V to 500 V
130 V to 500 V
140 V to 500 V
175 V to 500 V
Rated input voltage
365 V
Min. input voltage / starting input voltage
100 V / 125 V
Max. input current input A / input B
15 A / 15 A
Max. input current per string input A / input B
15 A / 15 A
Number of independent MPP entries / strings per MPP entry
2 / A:2; B:2
Output (AC)
Rated power (for 230 V, 50 Hz)
3,000 W
3,680 W
4,000 W
5,000 W**
Apparent power AC max.
3,000 VA
3,680 VA
4,000 VA
5,000 VA**
AC rated voltage/range
220 V, 230 V, 240 V / 180 V to 280 V
AC network frequency / range
50 Hz, 60 Hz / −5 Hz to +5 Hz
Rated network frequency / rated network voltage
50 Hz / 230 V
Max output current
16 A
16 A
22 A***
22 A***
Power factor for rated power
1
Adjustable phase shift factor
0.8 inductive to 0.8 capacitive
Injection phases / connection phases
1 / 1
Yield
Max. yield / European yield
97,0 % / 96,4 %
97,0 % / 96,5 %
97,0 % / 96,5 %
97,0 % / 96,5 %
Protective devices
DC side disconnection device
●
Ground fault monitoring / network monitoring
● / ●
DC reverse polarity protection / AC short circuit resistance / galvanic separation
● / ● / -
Fault current monitoring unit, sensitive to all currents
●
Protection class (according to IEC 62103) / overvoltage category (according to IEC 60664-1)
I / III
General characteristics
Dimensions (W/H/D)
435 mm / 470 mm / 176 mm (17.1 inches / 18.5 inches / 6.9 inches)
Weight
16 kg (35.3 lb)
Operating temperature range
−25 °C to +60 °C (−13°F to +140 °F)
Noise emission, typical
25 dB(A)
Self-consumption (night)
1.0 W
Topology
Without transformer
Cooling system
Convection
Protection class (according to IEC 60529)
IP65
Climate class (according to IEC 60721-3-4)
4K4H
Maximum permissible value of relative humidity of air (non-condensing)
100 %
Equipment
DC connection / AC connection
SUNCLIX / AC plug
Warranty: 5 / 10 years
● / ○
Certifications and approvals (other on request)
AS 4777, C10/11, CE, CEI 0-21, EN 50438, G59/3, G83/2, DIN EN 62109 / IEC 62109, NEN-EN50438, VDE-AR-N 4105, VDE0126-1-1
Certifications and approvals (planned)
IEC 61727, RD1699, RD 661, SI 4777, UTE C15-712, VFR 2014, NRS 097-2-1
● Standard equipment ○ Optional equipment — Not available
Data in nominal conditions Version: January 2017
1) 4,825 W for VDE-AR-N 4105
2) 4,600 W / 4,600 VA for VDE-AR-N 4105
3) AS 4777: 21.7 A
Type designation
SB3.0-1AV-40
SB3.6-1AV-40
SB4.0-1AV-40
SB5.0-1AV-40
Specifications
| | |
| --- | --- |
| Weight | 16 kg |
| Power | 4000 VA |
| Monophasé / Triphasé | Monophasé |
| Nombre de MPPT | 2 MPPT |