Display all pictures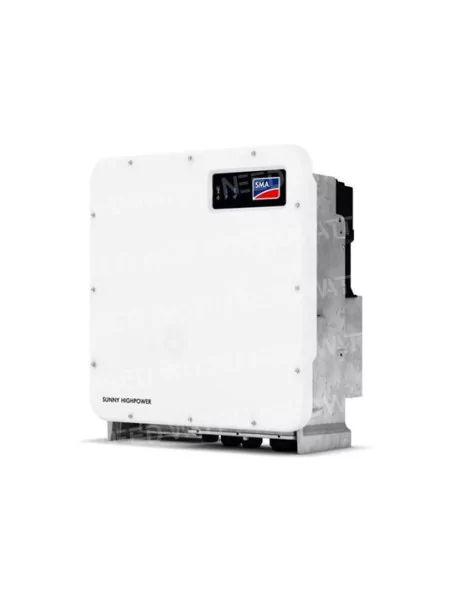 SMA Sunny HighPower PEAK3
SMA
More info
SUNNY HIGHPOWER PEAK3 Dressed for tomorrow, today.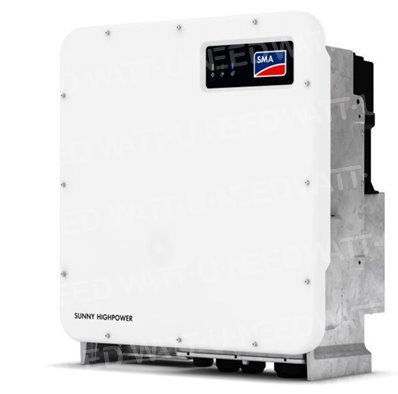 Simple construction and operation of large photovoltaic plants
1500 VDC, 150 KW, Compact Design
PEAK3 guarantees maximum power, even in extreme conditions. Because of its compact design, the inverter offers maximum power density, which is optimal performance with a light weight. The benefits: more economical transportation and simpler installation. In combination with DC cabinets specific to each project, an oversize of the photovoltaic installation up to 150% is possible. The Data Manager complements the system and allows, among other things, to meet all the requirements of the network manager.
---
Maximum safety and reliability
The PEAK3 inverter focuses on the essentials, namely maximum performance and availability. All functions and components are custom-designed to reduce potential sources of errors with minimal weight and increase efficiency. In addition, proven technologies such as the SMA OptiCool active cooling system guarantee a long lifespan of inverters.
---
Flexible and easily modular installation size
The PEAK3 system solution combines the advantages of a decentralized installation design with those of the central inverter concept. With the DC Combine Box, it is also possible to plan efficiently and easily expand large photovoltaic installations, including on heterogeneous terrain. Thanks to the modular approach, projects can be adjusted not only in terms of power but also functionally. This allows maximum flexibility in planning.
---
Greened for the digital energy world of tomorrow
The PEAK3 system solution is supported by ennexOS, SMA's promising digital platform. ennexOS aggregates data from all relevant energy sectors to create modern, forward-looking solutions in the energy sector. The platform is being developed as it progresses and now offers high-performance functions as well as satellite-assisted production monitoring.
---
Simple and fast installation and commissioning
The PEAK3 system solution offers smart features for faster and safer installation of all inverters. Ergonomic handles and built-in wall support make it easy to assemble inverters. Large rigid DC cables are passed through a removable mounting plate and can be easily connected to the device. With a single Data Manager, it is possible to centrally put up to 200 inverters into service in just a few minutes.
---
Effective piloting and comfortable monitoring
Each device can be directly controlled via reliable and fast Ethernet communication between the Data Manager and the inverter. Monitoring of all devices is done centrally via the new Sunny Portal powered by ennexOS. Configuration changes on different photovoltaic installations are also feasible without the need for multiple VPN connections. Additional monitoring systems can access all devices via the system's open Modbus/TCP interface.
---
A promising solution that can be easily stretched
The development of the PEAK3 system solution is the result of more than 20 years of experience in the field of large photovoltaic plants (Utility). Central steering, decentralized system and modular concept: these are the elements that make the PEAK3 solution so convincing. Our powerful add-ons help you become more efficient in managing large photovoltaic installations.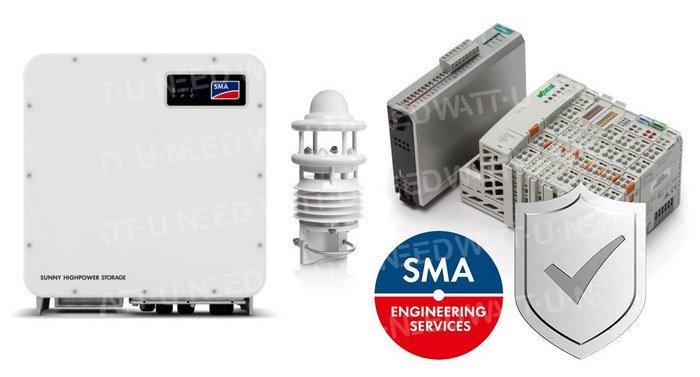 ---
PEAK3 - Ideal solution to meet the strictest maximum production requirements
SMART CONNECTED for photovoltaic power plants
Free and automatic monitoring of SMA inverters
Proactive email communication in case of malfunctions
Reduced operating costs - No on-site diagnosis required
---
Decentralized solution of up to 150 kW for large-scale photovoltaic plants
Thanks to an intelligent system structure, all inverters and the Data Manager are installed centrally. The DC Combiner Boxes are spread across the field. Result: maximum performance, simplified installation and maintenance and reduced wiring costs.
---
Characteristics
Sunny Highpower 100-20
Sunny Highpower 150-20
Entry (DC)

Maximum power of the photovoltaic generator

150,000 Wc

225,000 Toilet

Maximum input voltage.

1000 V

1500 V

MPP voltage range / Assigned input voltage

590 V to 1000 V / 590 V

880 V to 1450 V / 880 V

Max entry/short-circuit current,

180 A / 325 A

180 A / 325 A

Number of independent MPP trackers

1

Number of entries

1 or 2 (optional) for external connecting boxes for the photovoltaic generator

Exit (AC)

Power assigned to nominal voltage

100,000 W

150,000 W

Apparent power AC max.

100,000 VA

150,000 VA

Rated voltage AC / AC voltage range

400 V / 304 V to 477 V

600 V / 480 V to 690 V

Frequency of AC/Beach

50 Hz / 44 Hz to 55 Hz

50 Hz / 44 Hz to 55 Hz

60 Hz / 54 Hz to 66 Hz

60 Hz / 54 Hz to 66 Hz

Assigned network frequency

50 Hz

Outfing current max.

151 A

Harmonic distortion rate (THD)

3%

Injection phases / AC connection

3/3-PE

Performance

Maximum/European Yield

98,8 % / 98,6 %

99,1 % / 98,8 %

General features

Dimensions (L/H/P)

770 mm / 830 mm / 444 mm

Weight

98 kg

Operating temperature range

From 25C to 60C

Typical sound emissions

69 dB

Self-consumption (night)

5 W

Topology

without a transformer

Cooling system

OptiCool, active cooling system, regulated speed fan

Protection Index (according to CIS 60529)

IP69

Maximum allowable value for relative air humidity (without condensation)

100,00%

Equipment / Function / Accessories

DC Connection / AC Connection

End pod (up to 300 mm2)/Screw-bound (up to 150 mm2)

LED display (state/error/communication)

Yes

Interface Ethernet

2 ports

Type of assembly

Rack mounting
Specifications
| | |
| --- | --- |
| MPPT/PWM | MPPT |
| Maximum PV input voltage | 1500 V |
| Weight | 98 kg |
| Power | 150000 VA |
| Nombre de MPPT | 1 MPPT |
| Max. Power - Wp | 225000 Wc |
| Width | 770 mm |
| Height | 830 mm |
| Thickness | 440 mm |
| AC output rated power | 150000 W |