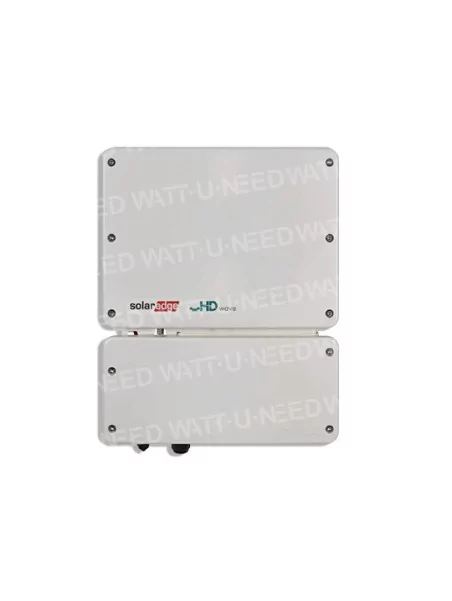 SolarEdge SE3000H hybrid inverter at 6000H-RWS HD-WAVE
SolarEdge
More info

Inverter with HD-Wave technology
SolarEdge's single-phase inverter with HD-Wave technology breaks the pattern of traditional inverters. Winner of the prestigious 2016 Intersolar Award and the renowned Edison Awards 2018, the single-phase inverter is specially designed to work with SolarEdge power optimizers and offers a standard 12-year warranty, extendable to 20 or 25 years.
---
Optimized for network applications
• A single unit that manages photovoltaics, household consumption and battery power
• Simple installation and inventory management
• Allows the connection of certain battery suppliers such as the LG Chem RESU
• Fast and easy inverter service directly from a smartphone with the SolarEdge SetApp
• Record efficiency
• High reliability
• Integrated module-level monitoring
• Designed to eliminate continuous voltage and current during installation, maintenance or firefighting
• Fixed-voltage inverter for long chains
• Installation outdoors and indoors
---
The innovative topology of SolarEdge inverters

Because THE MPPT and voltage management are managed separately for each module, the inverter only handles the DC/AC conversion. This makes it a simpler, more economical and more reliable solar inverter. Fixed chain voltage ensures optimal operation at all times, regardless of the length and temperature of the chain.
In addition to its DC-optimized inverter functionality, the single-phase inverter also manages battery and system energy as part of SolarEdge's StorEdge solution.
---

HD-Wave technology: A new era for PV inverters

SolarEdge's latest generation of single-phase inverters is designed to use a new power conversion technology based on distributed switching and powerful DSP processing. The single-phase inverter is capable of synthesising a clean sine wave that leads to a dramatic reduction in magnetic components and heavy cooling elements. Therefore, one person is enough to install this compact, lightweight inverter that also allows for simplified transport and storage. The record 99% return on energy production provides a better return on investment.
---
Easy start-up with SetApp

SolarEdge single-phase inverters now have a new intelligent commissioning method. The inverter is put into service directly via a smartphone using the intuitive SetApp mobile app. Switch to the new standard for commissioning your inverters. Learn more about SetApp.
---
Inverter features

• Solar inverters specially designed to work with SolarEdge power optimizers
• Range of inverters from 2.2 kW to 6 kW
• 99% weighted efficiency (33% - 50% less than the market standard)
• Small, light and easy to install
• Up to 155% oversize allowed
• Advanced security features including arc defect protection
• Standard 12-year warranty (extendable to 20 or 25 years)
• Integrated supervisory receiver at module level
• Internet communication via an Ethernet or wireless connection (using Wi-Fi, ZigBee® or cellular plug-ins as an option)
• Manages PV production, battery storage and smart energy products
• IP65 - Installation outdoors and indoors
---
Technical data
Model
SE 3000H-RWS
SE 4000H-RWS
SE 5000H-RWS
SE 6000H-RWS
Production
Nominal CA output power
3000
4000
5000
6000
Maximum CA output power
3000
4000
5000
6000
CA Output Tension - Line to Line /Neutral Line (nominal)
220/230
CA-Line exit voltage with neutral range
184-264,5
Ca frequency
50/60 --5
Maximum continuous output current (per phase)
14
18,5
23
27,5
Total harmonic distortion (THD)
3
Power factor
1, adjustable from -0.9 to 0.9
Monitoring of public services, protection of lotage, configurable power factor, country-configurable thresholds
Yes
Charge AC battery
Yes, IYes
PV entry
Maximum CC power (STC module)
4650
6200
7750
9300
No transformer, no grounding
Yes
Maximum input voltage
480
Nominal CC input voltage
380
Maximum input current
9
11,5
13,5
16,5
Protection against polarity reversal
Yes
Protection from polarity
Yes
Isolation detection of defect to the ground
600
Maximum inverter efficiency
99,2
European weighted efficiency
98,8
98,8
99
99
Battery input
Compatible batteries
LG Chem RESU7H or LG Chem RESU10H
Number of batteries per inverter
1
Continuous maximum battery charge and discharge
5000
Maximum battery charge and discharge (10s)
7000
Maximum input voltage
480
Maximum continuous current

14
Data sheets and documentation
Specifications
| | |
| --- | --- |
| Monophasé / Triphasé | Monophasé |
| Inverter power | 4000VA |