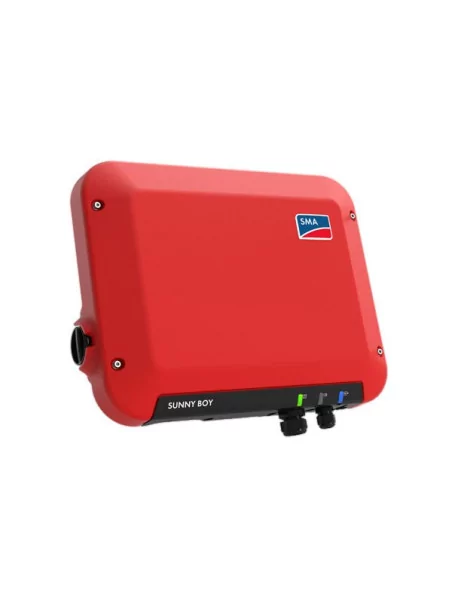 SMA Sunny Boy 1.5
SMA
More info
" Sunny Boy 1.5 and 2.5 : The new reference for small PV systems "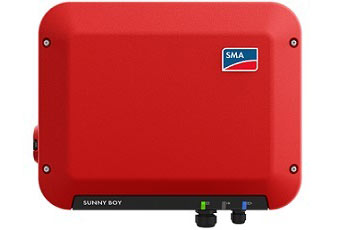 Description
The new 1.5 and 2.5 Sunny Boy inverter are ideal for small photovoltaic installations.
Easy to install, the inverter is compatible with a wide range of photovoltaic panels thanks to its wide voltage range (80 - 600V) which makes it very flexible while displaying excellent efficiency.
white its small dimensions and very lightweight, it integrates easily everywhere.
---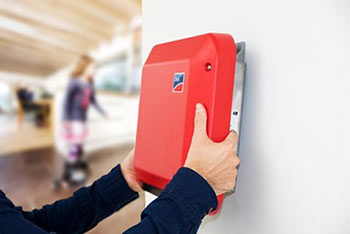 Characteristics
• REfficiency up to 97,2 %
• Transformerless
• Maintenance free
• SDC SUNCLIX Plug-in System
• Easy to install, light-weight
• Broad input voltage range
• WLAN and Speedwire Interface included
• System data monitoring possible on smartphone / tablet (interface WebUI)
---
Performance curve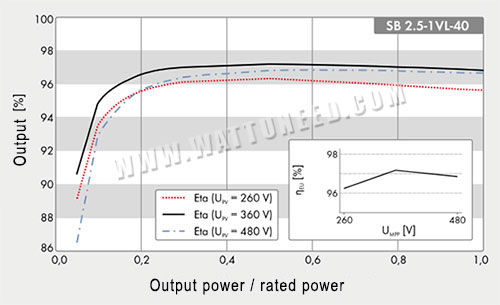 ---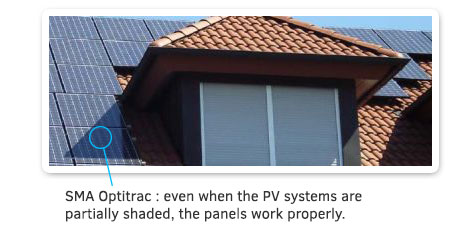 Optitrac
OptiTrac Global Peak is an additional function of the MPP tracker for operation in partially-shaded PV plants.
This specialized operation management system ensures that the modules are constantly operated at the point of maxi- mum power even when there are multiple maximum power points (in the case of photovoltaic systems partially shaded), without causing measurable yield loss (loss < 0.2 percent). In other words, even if the shading panels work properly.
---
Installation and Commissioning
---
Configuration via WebUI
---
Technical characteristics
SUNNY BOY
SB 1.5
SB 2.5
Input (DC)
Max. DC power (@cos ϕ = 1)
1600 W
2650 W
Max. input voltage
600 V
MPP voltage range / Rated input voltage
160 V to 500 V / 360 V
260 V to 500 V / 360 V
Min. input voltage / initial input voltage
50 V / 80 V
50 V / 80 V
Max. input current / Max. input current per string
10 A/10 A
10 A/ 10 A
Courant d'entrée max. par string
12 A
Number of independent MPP inputs / strings per MPP input
1 / 1
1 / 1
Output (AC)
Rated power (at 230 V, 50 Hz
1500 W
2500 W
Max. apparent AC power
1500 VA
2500 VA
Nominal AC voltage range
180 V to 280 V
Nominal AC voltage
220 V / 230 V / 240 V
AC power frequency/range
50 Hz, 60 Hz1
-6 Hz ... +5 Hz
Rated power frequency/rated grid voltage
50 Hz / 230 V
Max. output current
7 A
11 A
Power factor at rated power
1
Feed-in phases/connection phases
1/1
Efficiency
Max. efficiency / European weighted efficiency
97,2 % / 96,1 %
97,2 % / 96,7 %
Protective Devices
DC-side disconnection point
yes
Ground fault monitoring / grid monitoring
yes / yes
All-pole sensitive residual-current monitoring unit
yes
Protection class (according to IEC 62103) / overvoltage category (according to IEC 60664-1)
I / III
General Data
Dimensions (L / H / P)
460 / 357 / 122 mm
Weight
9.2 kg
Self-consumption (at night)
2,0 W
Degree of protection (according to IEC 60529)
IP65
Cooling method
Convection
Operating temperature range
-40°C to +60°C
Specifications
| | |
| --- | --- |
| Maximum PV input voltage | 600 V |
| Power | 1500 VA à 2500 VA |
| Monophasé / Triphasé | Monophasé |
| Nombre de MPPT | 1 MPPT |