Display all pictures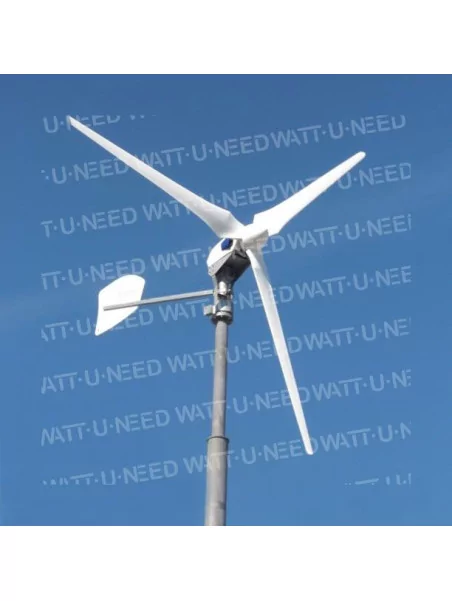 Wind turbine ANTARIS 12 kW network and water heater
Braun
More info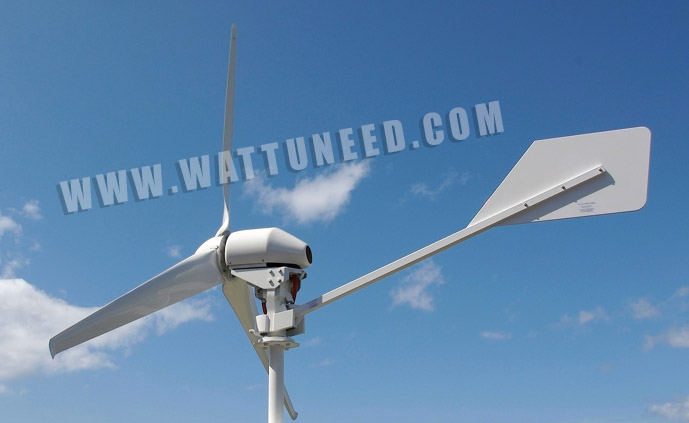 The Antaris wind turbine is specially adapted to sites located inland. It allows you to charge a fleet of batteries in 24 VDC or 48 VDC and power heating systems. Due to its robust design, the Antaris wind turbine is also suitable for places exposed to storms.
The rotor blades are hand-stratified and benefit from a computer-designed aerodynamic profile, they are also statically and dynamically balanced. Each blade bears an identification number and is supplied with its appropriate documentation. The utmost importance has been attached to ensuring the speed and simplicity of installation of this wind turbine.
Thanks to its robust and studied design, the antar wind turbine has an excellent performance and is offered at a highly attractive price. It starts very quickly (starting already at a wind speed of 2.2 m/s) and operates silently (43 dB). This wind turbine can therefore be installed in residential areas.
---
---
Technical specifications
Start of power at 2.5 m / s wind speed after starting, depending on the repellent. Wind power plant especially for indoor areas with low to moderate wind conditions. From an average wind speed greater than 6.0 m / sec. a repellent with a diameter of 5.8 m is used.

generator
• Permanent magnet rotor, brushless, gear-free, maintenance-free
• high efficiency thanks to extremely powerful permanent magnets (NdFeBo permanent magnets, resistant to temperatures up to 150 °)
• Special ball bearings for safe reception of radials and axial forces
• Three-phase three-phase
• Separate rectifier
• Any direction of rotation
• Voltage 0-1000 VDC
• Power supply starts at about 65 rpm
• Power: 12,000 watts at 255 rpm u. 500 VDC
• Ever-increasing performance curve
• Weight: 160kg
• Aluminum housing, surface cooling, standing mounting
• Degree of protection IP56
---

rotor
• Hub connection with aluminum flange and pressure disc
• Stainless steel screw fittings with counter nuts
• 3 rotor blades in fiberglass / carbon fiber laminate
• Computer-assisted, hand-rolled aerodynamic profile with edge protection
• Noise reduction thanks to the fins on the blade tips
• 6.50 m in diameter (optional 5.80 m> 6.0 m / s average wind speed)
• Weight of a sheet: about 14.0 kg
• balanced dynamically and statically
• Direction of rotation before "straight"
• Max speed 255 rpm.
• GRP spinner cap
• Rotor color according to customer requirements
---

Support element
• Weather vane (weather-resistant HDPE "natural white", slightly transparent)
• Square stainless steel tube as a support element
• All stainless steel screw fittings and supplied with locking nuts
• Steel support as a support element for generator, supplied as a pluggable connection with azimuthal ball bearing, fully galvanized
• Patented helicopter padlock
• Mast adapter with flange connection (220 mm tube)
---

Storm protection
• Helicopter position
• Voltage monitoring with braking resistance of 18.0 kW
• Short circuit of the generator
• Monitoring the temperature of the generator and inverter
---

Control Chamber
• Three-phase generator and network monitoring
• Three-phase parallel operation with Smart! Wind 10.0 kW
• Control electronics for turbine control
• Connections protected against polarity reversals / connectors
• Monitoring of generator phases in turbine operation
• Emergency switch
• Reset switch with key (removable)
• Rectifier, display, ...
• Braking resistance of 18.0 kW
Battery charger monitoring in 48 VDC