Display all pictures
Wind turbine ANTARIS 3.5 kW for standalone site
Braun
More info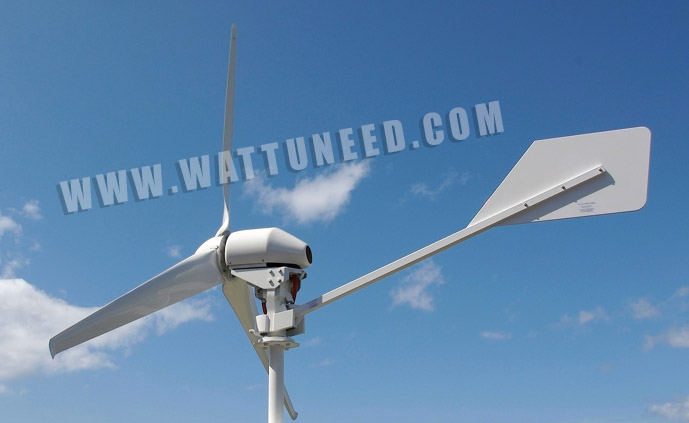 The Antaris wind turbine is specially adapted to sites inland. It can charge a battery pack in 24 VDCs or 48 VDCs and power heating systems. Because of its robust design, the Antaris wind turbine is also suitable for storm-prone locations.
The rotor blades are laminated by hand and benefit from a computer-designed aerodynamic profile, they are also balanced statically and dynamically. Each blade has an identification number and comes with its appropriate documentation. The highest importance has been to ensure the speed and simplicity of installation of this wind turbine.
Thanks to its robust and careful design, the antaris wind turbine has an excellent efficiency and is offered at a highly attractive price. It starts very quickly (starting already at a wind speed of 2.2 m/s) and operates silently (43 dB). This wind turbine can therefore be installed in residential areas.
---
---
Technical features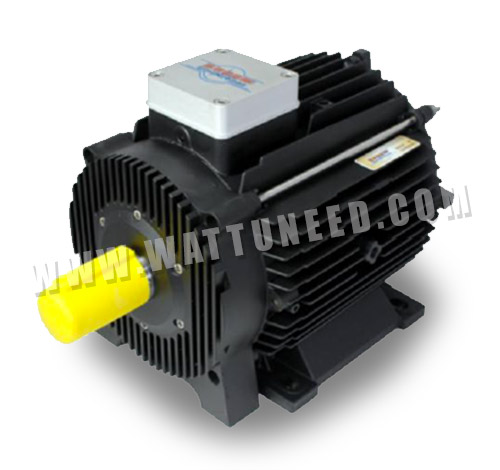 Generic
Permanent magnet rotor without brooms and gears. Doesn't require maintenance!
NdFeBo permanent magnets very powerful for great efficiency, resists up to 150oC
Phase
Separate lifter
Rotation in both directions
Tension 0-1000 V
Starts production at about 100 t/mn
Power: 6000 watts at 380 t/mn and 400V
Linear power curve
Weight: 31kg
Carter aluminum, cooling of the surface and the fastening base
Protection IP56
---
Rotor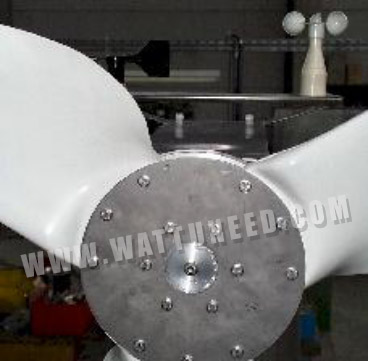 Connection hubs with aluminum strap and overpressure plate
Stainless steel fitting screws and counter-nuts
Fiberglass rotor blades and laminated carbon fiber
Computer-designed aerodynamic profile
Noise reduction on the end of the blades
4m in diameter
Blade weight: 4.3 kg
Dynamically balanced
Anti-clockwise rotational sense
Rotation speed up to 300 t/mn
GRP spinner cap
The colour of the rotor of your choice
---
Chassis
Weather-resistant HDPE Girouette
Support element: stainless steel square tube
All threaded fittings are made of stainless steel and equipped with nuts
Steel support for the generator, configured for plug-in in the azimut bearing frame, fully galvanized
Protected by a patented rotor-blade positioning system
Mast adapter with bridle connector (114.3 mm tube)
---
Storm protection
Switching the pale rotor to the "helicopter" position
Electronic control of turbines
---
Control cabinet
Control system with voltage monitor
Electronic control of turbines with regulator
Connector protections against polarity inversions
Controlling the phases of the alternator during the turbine mode
Emergency shutdown switch
Key switch re-initializer (removable)
2 x 3 Kw braking resistance
---
Monitoring the battery charger in 48 VDC

---
Smart Power Electronics inverter
MODERN - FLEXIBLE - POWERFUL
Max. 20 kW wind turbine load (SW-10)
Pairing the three-phase network with 10 kW (SW-10)
Flexible and intelligent management of clean power, heating, battery and discharge charges through 4 separate CC energy outlets
Energy counter for power and heating
Control of reactive power
Battery buffer interface - optional
PROFITABLE - SURE
Built-in control functions for a wind turbine Intelligent and finely resolute control of the characteristic curve for optimal wind use
Characteristic curve freely selectable depending on voltage or speed
Many monitoring functions, such as wind speed or speed
Switch to shut down KWEA with other safety features
Compact
Direct connection of the particle generator without additional equipment
Wide range of input voltage for particle generators
Compact design of the case with a separate aperture connection area
Passive convection cooling on a wide range of performance
Integrated network/system protection (NA protection according to VDE AR-N 4105)
Communicative
Built-in graphic display
Built-in web server
Practical PC Smart!wind Explorer use and set-up interface
APPLICATION AREAS
Small wind turbines
Small hydroelectric power plants
Mini-cogeneration
---
Data sheets and documentation