Display all pictures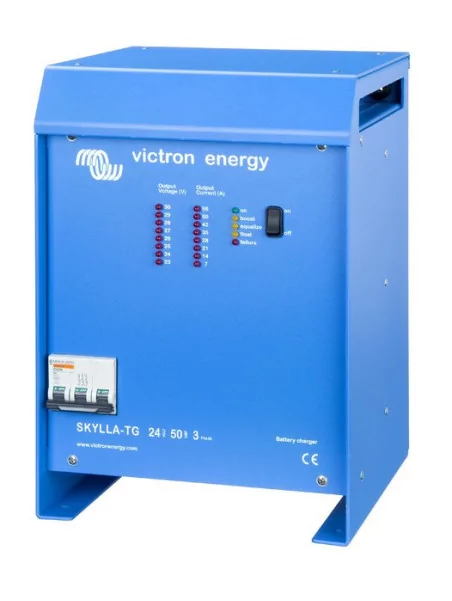 Victron Skylla-TG 24V / 48V battery charger
Victron energy
More info
Perfect chargers for all batteries
Skylla TG chargers are compact and lightweight thanks to HF technology. The charge voltage is precisely adjustable to match all types of batteries, open or waterproof. Maintenance-free waterproof batteries require a particularly precise charge for a good lifetime. Any surge would cause excessive gassing followed by drying out and then premature failure.
3-step regulated charge
The three charging steps of Skylla TG chargers are precisely controlled by microprocessor. The IUoUo charge curve provides the fastest and safest charge for all battery types. The absorption time is adjustable by switch. The "Intelligent Startup" feature avoids engaging a full charge cycle on an already charged battery.
Useable as a power supply
Their perfectly stabilized output voltage allows Skylla TG chargers to be used as a power supply, without the need for batteries or capacitor benches.
Two outputs to charge 2 battery benches (model24V only)
The TG chargers all have two insulated exits. The second output for the maintenance charge of a starter or auxiliary battery is limited to about 4 amps under a slightly lower voltage.
For better battery life: temperature compensation
Each Skylla TG charger comes with a battery temperature probe that will automatically reduce the charge voltage when the battery temperature rises. This function is essential especially to avoid overloading batteries without maintenance.
Battery voltage probe
To further improve the quality of the charge, a device that directly measures voltage at battery terminals compensates for voltage losses in the main wiring.
---
Characteristics
Skylla-TG Charger
30/24 TG
24/50 TG
24/50 TG
Phase
80/24 TG
100/24 TG
100/24 TG
Phase
48/25 TG
48/50 TG
Power voltage (V AC)
230
3X400
230
230
3x400
230
230
Power voltage range (V AC)
185-264
320-450
185-264
185-264
320-450
185-264
185-264
Power voltage range (V DC)
180-400
Not
180-400
180-400
Not
180-400
180-400
Frequency (Hz)
45-65
Power factor
1
'Absorption' charge voltage (V DC)
28,5
57
'float' charge voltage (V DC)
26,5
53
Main load current (A)
30/50
50
80
100
25
50
Auxiliary load current (A)
4
Not
Not
Load feature
IUoUo (3 charging steps)
Battery capacity (Ah)
150-500
250-500
400-800
500-1000
500-1000
125-250
250-500
Temperature battery measurement probe
√
Useable as a power supply

√

Remote alarm
Dry fault carry-over contacts 60V / 1A (1x NO and 1x NC)
Forced ventilation regulated

√

Protections
a,b,c,d
Running temperature
-40 to 50 degrees Celsius (-40 - 122 degrees Fahrenheit)
Humidity (without runoff)
Max 95%
Box
Material and colour
aluminium (blue RAL 5012)
Battery connection
M8 Bolts
Connection 230 V AC
2.5 mm2 screw terminals (AWG 6)
Degree of protection
IP21
Weight (kg)
5,5 (12.1)
13(28)
10(22)
10(22)
23(48)
5,5(12.1)
10(12,1)
Dimensions (hxlxp in mm)
365x250x147
(14.4x9.9x5.8)
515x260x265
(20x10.2x10.4)
365x250x147
(14.4x9.9x5.8)
365x250x257
(14.4x9.9x10.1)