Display all pictures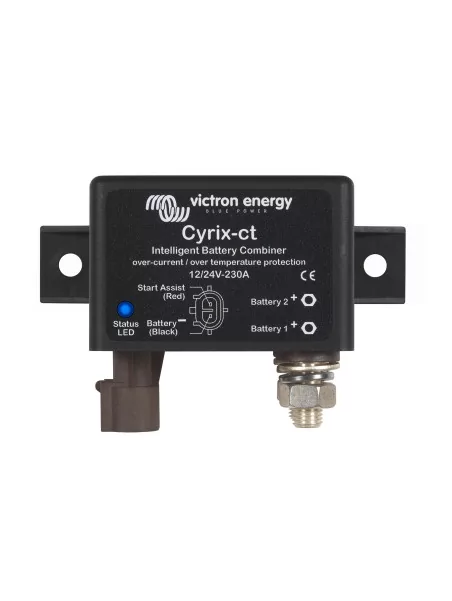 Victron Cyrix Battery Combiner - 120A / 230A / 400A
Victron energy
More info
" Cyrix Battery Combiner "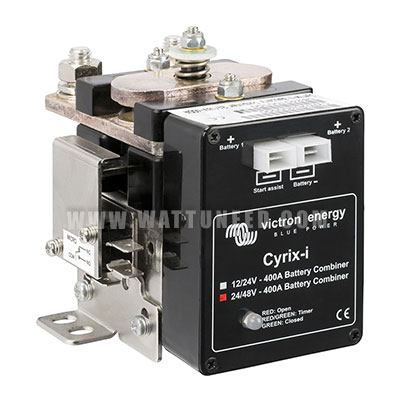 Smart battery management
This Victron battery Combiner is equipped with a microprocessor which is used to connect automatically the batteries in parallel when a battery is being charged. The disconnect happens automatically when battery is in "discharge" mode, ie when the voltage is below FLOAT level.
Automatic detection 12/24V and 24/48V
LED indicator - for model 12/24 230 only
The 12/24 230 Cyrixis equipped with a LED light indicating the sytem status (connection, disconnection, overheating,...)
Prevents voltage drops
Thanks to management by microprocessor, the combiner prevents voltage drops and thus the correction of charging voltages of battery chargers and alternators. It perfectly replace the diode isolators.
Cyrix 120, 230 and 400 - Technical characteristics
Victron Cyrix

Cyrix-ct 12/24-120

Cyrix-ct 12/24-230

Cyrix-ct 24/48-400

LED status indication

NO

YES

YES
LED bi-colore

Continuous current

120 A

230 A

400 A

Cranking rating (5 seconds)

180 A

500 A

See table in the datasheet

Connect voltage

From 13V to 13,8V and 26 to 27,6V
with intelligent trend detection

See table in the datasheet

Disconnect voltage

From 11V to 12,8V and 22 to 25,7V
with intelligent trend detection

See table in the datasheet

Current consumption when open

< 4 mA

4 mA

Current consumption when closed

12 V : 220 mA 24 V : 120 mA

12 V : 320 mA 24 V : 180 mA

StartAssist

YES

YES

YES

Control cable included (length 1 m)

NO

YES

YES

Protection category

IP54

IP54

IP54

Weight kg

0,11 kg

0,27 kg

0,9 kg

Dimensions h x w x d in mm

46 x 46 x 80 mm

65 x 100 x 50 mm

78 x 102 x 110 mm
Victron Cyrix 12/24 - 120 connexion diagram