Victron EasyPlus C 12/1600/70 converter/controller
Victron EasyPlus 12/1600/70 inverter and charge controller.
The EasyPlus is a multifunctional energy system consisting of
a powerful

sine wave inverter,

a sophisticated battery charger,

a high-speed AC transfer switch

and AC distribution ,

in a single, lightweight, compact package.
100% secure payments
"EasyPlus C 12/1600/70: the all-in-one solar energy solution "
Technical specifications

12V 1600VA sine wave inverter (peak power: 3000W)

70A charger included

4A
maintenance load for starter battery


Unique PowerAssist® technology protects the generator from overloading by increasing inverter power when needed.



Adaptive 4-step charging for fast, optimized battery charging


The AC distributor consists of an RCD ( 30mA / 16A) and four AC outputs protected by two 10A and two 16A circuit breakers


One 16A output is controlled by the AC input: it will switch on only when AC power is available.
RCD ( 30mA / 16A ) on AC system output


No system break: uninterrupted switching between ground/generator and inverter


Battery cables included
---
Dimensions :
Height: 510mm
Width: 214mm
Depth: 110mm
Weight: 11.7kg
---
Standard installation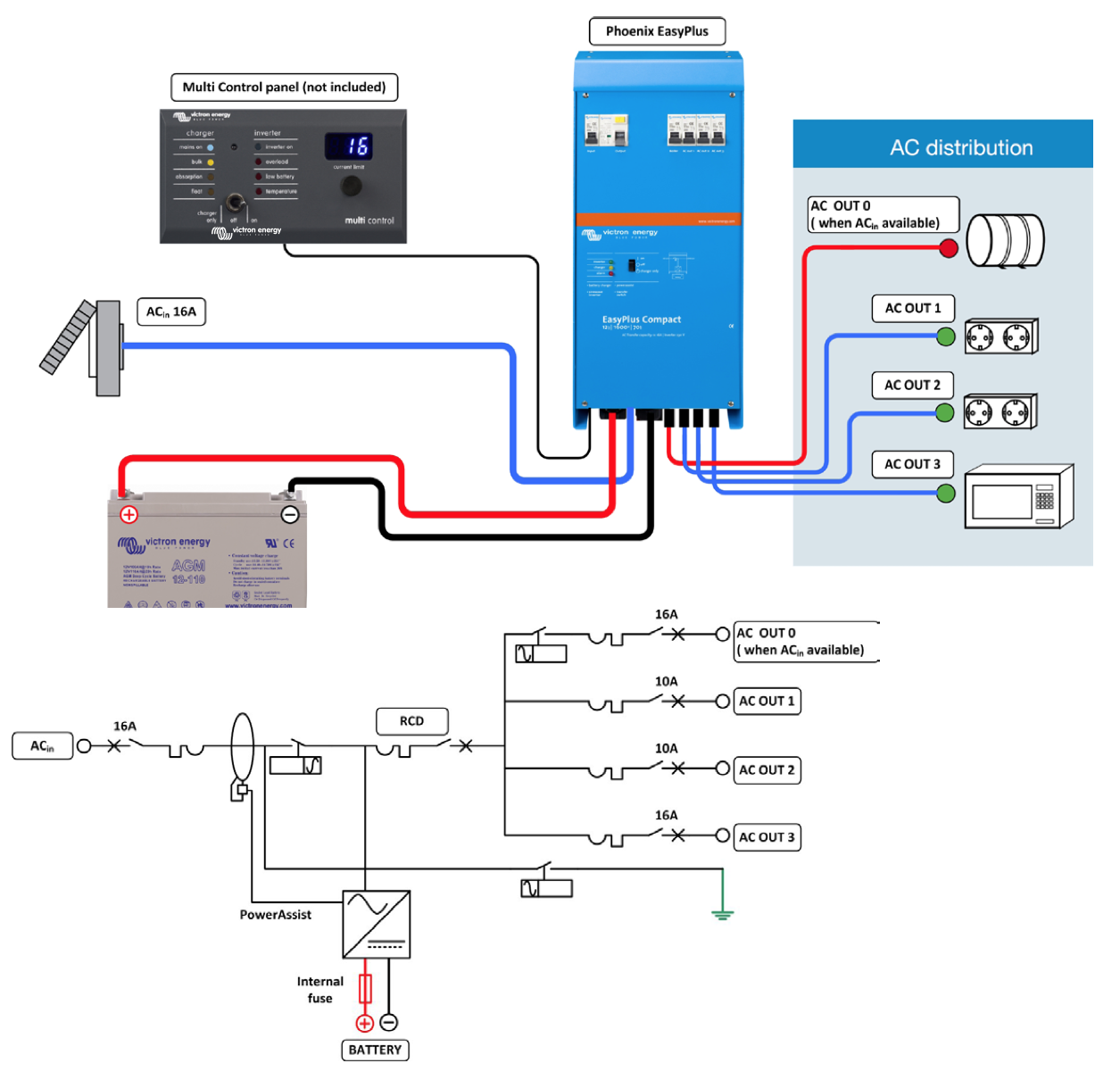 ---
5-step installation: quick and easy
EasyPlus takes its name from its simplicity of installation and operation. The system can be installed in five simple steps, saving both time and space. The Easy Plus comes complete with AC connectors and sockets, and is supplied with battery cables already fitted, so you can save installation time.

Step 1. Choose a suitable location for the EasyPlus (as close as possible to the batteries) and install the wall bracket. Attach the EasyPlus to the bracket and secure it with the screws supplied.

Step 2. Connect the genset/generator input and output circuits
(including the water heater's dedicated power supply) to the Easy Plus.

Step 3. Connect the control panel (optional) with the UTP connection cable.

Step 4. Connect battery and temperature sensor cables for batteries
(Also supplied as standard).

Step 5. Switch on RCD, AC distribution, charger/inverter and
the system is ready for use.

Data sheet
Charging power

70A

Voltage

12V

Power

1600 AV
Specific References
UPC

712971128217

EAN13

0712971128217