Display all pictures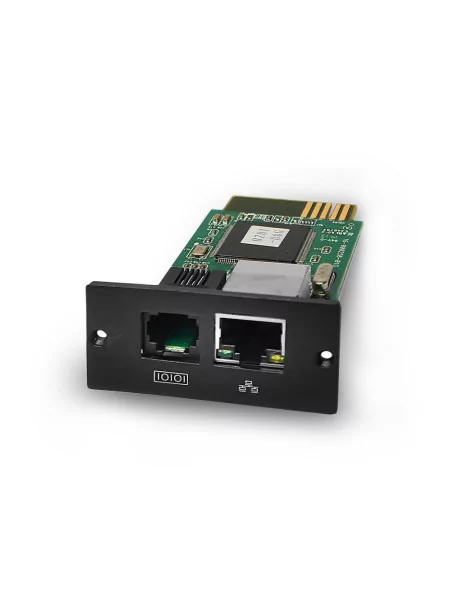 SNMP manager for MultiSolar inverter
Wattuneed
More info
" SNMP Manager to remotely manage your PV system "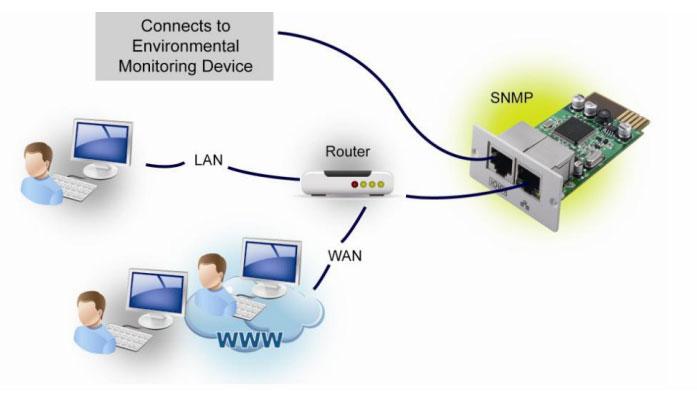 ---
Description
The kit includes a card (to install on your UPS MultiSolar) and a software to manage your inverter's data.
With the SNMP Manager, you manage the operations of your system remotely via an Internet connection ! You no longer need to be directly connected to the inverter via cable !
The Manager has two ports : a sensor port and an Ethernet port that will be connected to a router.
LED indicators on the outside part of the product indicates the connection status of your Manager to the network.
---
SolarPower Pro software
A software for the management of your inverter is supplied with the NNMP Card. Easy to install, it will allow you to remotely manage all the data from your MultiPlus.
To install, insert the software CD provided in your computer and follow the instructions on the screen.
---
Compatibility
The manager can be used with the MultiSolar Inverter(Wattuneed)
Data sheets and documentation
Product Reviews
Number of Reviews : 3
Average Grade : 3.3 /5
A. Anonymous
the 08/02/2019
5/5
parfait
A. Anonymous
the 23/01/2019
1/5
deviner pourquoi je donne 1 seul étoile Vous demandé mon avis le voici j'ai reçu cette carte et elle fonction pour l'envoi c'est rapide mais pour le suivi des commandes c'est 0. J'ai commandé un onduleur avec une première carte qui fonctionne pas et est intenable et donne aucune adresse ip et bien que signaler sur votre site vous écouté pas et ne répondez même pas au mail étant donné que j'ai dû recommandé une deuxième carte je suis mécontent car renvoyer la première qui est défectueuse, est plus cher que payé une deuxième carte surtout avec un site qui se souci que vendre et est inexistant pour aider en suite. En deuxième j'ai demandé des renseignements pour l'installation de l'onduleur et vous ne répondez même pas, avec vous le service après-vente est insistant. 1er carte 0784 Manager SNMP pour onduleur MultiSolar avec commande NTBMIOASD fonctionne pas et donne pas d'adresse IP a donné une adresse est suite à la première modification de l'onduleur est devenu inatteignable a fonctionné 5 minute. 2eme carte 0784 Manager SNMP pour onduleur MultiSolar avec commande DVSBVFHJA elle fonctionne bien mais j'ai dû payé deux foi pour avoir du matériel qui fonctionne vu que la première est défectueuse et que vous avez pas de service après-vente pour renseigner les personne sur le matériel que vous vendez. Met pour l'onduleur c'est démérdez vous avec notre matériel que vous avez acheté ont fait pas deux fois la même erreur. Vous ne répondez même pas au mail quand on a des problèmes. Et je ne vais pas payé deux francs suisse la minute pour téléphoné.
A. Anonymous
the 19/05/2016
4/5
Bien