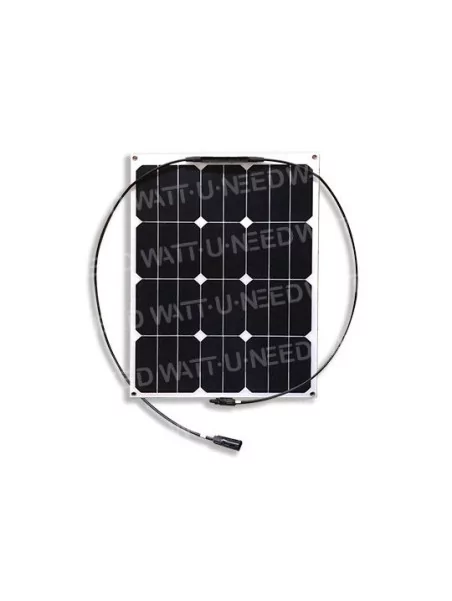 Solar panel 12V MX FLEX 35Wc Back Contact
MX FLEX PROTECT
More info
Multi-use: marine, nomadic or isolated site
MX FLEX 30Wc Full black flexible solar panels are suitable for marine, camping or nomadic use.
You can also use them in other circumstances such as on isolated sites or for professional use.

Perfect for recharging your boat's batteries, camping car or powering a standalone system.
Ultra flexible and really light, they are very resistant to salty, wet environments, bad weather and even trampling!
The MXFLEX panels will fit perfectly and simply wherever you want to place them.
---
Our MX FLEX panels can be custom-made
The panel fits perfectly for your boat or vehicle.
Interesting from 10 pieces.
Contact us by phone, email or chat to find out the price of our custom panels.
Allow 3 weeks for manufacturing.
---
Technical features
Model type
EYE35-18SP

Maximum peak power
(Pmax)
35w
Maximum Power Point Tension
(Vmpp)
17.6V
Current maximum power point
(Impp)
1.99A

Open-circuit tension
(Voc)
21.6V
Short-circuit current
(Isc)
2.18A
Normal cell operating temperature
(NOCT)
45/-2oC
Weight
Kg
0.64
Maximum system voltage
700V
Fuse caliber
5A
Ranking in the fire
Class C
Size
Mr
540*370*2.5

On-site wiring
MC4 Connector Output Isolated at 90 C min.
---
Easy to install, the panel adapts to the support
Thanks to its flexibility and extremely light weight, you can easily attach it to the roof of a boat, the roof of a motorhome or even the hood of a car... its limits are those of your imagination.
The waterproof junction box attached to the front of the panel and its 'linkpopup id'mc4' connectors will make it easy and easy to connect.
---
Solar cells "Back Contact"
With its high-efficiency Back Contact monocrystalline cells (22%), MX FLEX panels have the best in photovoltaic technology!
This type of cell optimizes the performance of the panel when it is in low light conditions, which optimizes panel performance regardless of weather conditions throughout the year.
Back Contact cell solar panels are particularly suitable for installations not connected to the grid thanks to their optimized efficiency.
Fixing carnations located on the four corners will allow you to fix it very simply or you want it
---
Cables and connections
MX Flex panels are equipped with 80cm of cable with Type mc4 connectors
at the ends
---
Examples of use:
Specifications
| | |
| --- | --- |
| Voltage | 12V |
| Weight | 0.64kg |
| Couleur | Classical |
| Panel type | Souples |
| Cells | Monocrystalline |
| Max. Power - Wp | 35 |
| Open circuit voltage (Voc) | 21.6V |
| Short circuit current (Isc) | 2,18A |
| Max. power current (Imp) | 1.99A |
| Max. power voltage | 17,6 V |
| Width | 370 mm |
| Height | 540 mm |
| Thickness | 3 mm |