Display all pictures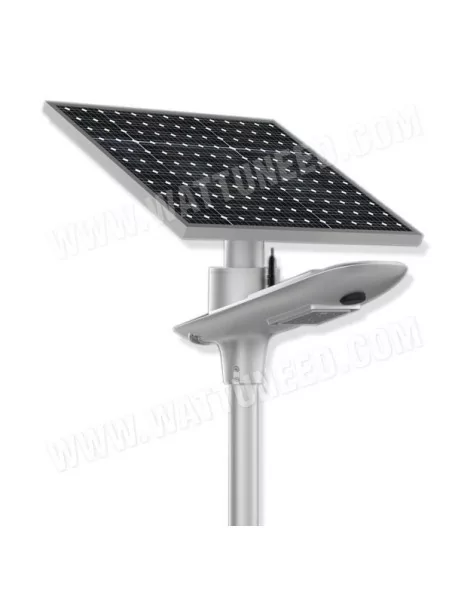 Solar lamp - standalone LED WE 20W 5V - 80Wc panel
More info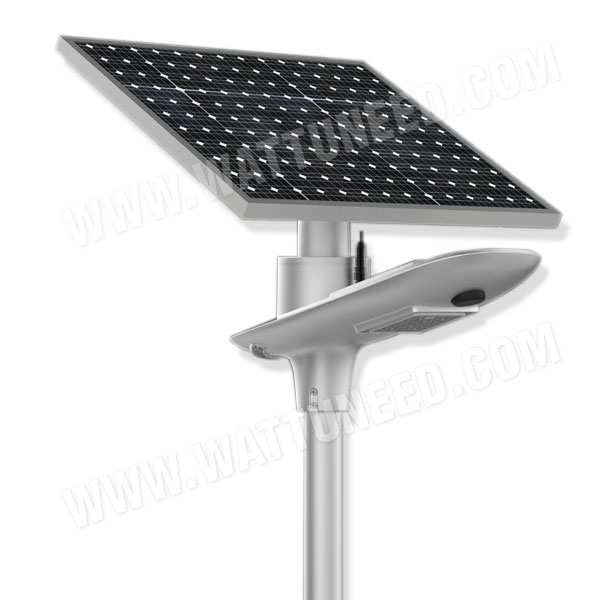 Solar lamp - STANDalone LED WE15W 5V
Complete system which combines a solar panel, a body LEDone load controller and a battery to ensure that autonomy off-grid to the lighting of your choice (street, parking...), it is Easy to install and maintain.
The solar panel, placed above the battery, protects the more fragile components from heat and extends the life of the material. The panel can also be manually adjusted on the vertical and horizontal axis, guaranteeing maximum efficiency of solar energy.
---
Characteristics

Turning solar panel
Solar panel adjustable in height and horizontal direction

Precise installation
Incorporate the compass into the body of the lighting

Microwave motion detector
Radar-controlled, called the Doppler effect, smarter, more energy efficient

Management of the control mode
6 ways to work

Load and discharge management
Protect the battery with software and hardware, supporting battery charge at 0v
Battery Program Update
Integrated single-chain control technology. More stable and longer lifespan.

Unique integration design
Easy to transport, install and store
---
Technical fact sheet
type
WE 50
WE 65
WE 80
Power of the lamp
10W
15W
500
solar panel
50W/5V
65W/5V
80W/18V
Lithium
138WH/3.7V
166WH/3.7V
275WH/11.1V
luminous flux
1700-1800lm
2500-2700lm
3300-3600lm
LED qty
36pcs
Charge time (full sun)
5hrs
LED chip
Bridgelux
Color temperature
3000-6500K
cry
≥70Ra
Light control tension
1V
Light distribution
Polarized light
Lighting time
2-3 days
Sensor distance
5-10m
Sensor time
20-30s
Temperature of use
-20C-60C
Lifespan
≥50,000 hours
hardware
Aluminium alloy
Diameter of the top of the post
60mm
Mounting height
5-6m
Mounting distance
10-30m
Data sheets and documentation
Specifications
| | |
| --- | --- |
| Type of need | Self-Use Lighting Kits |
| Type de kit solaire | kit éclairage autonome |
| Number of panels | 1 panel |
| Type de LED | Kit éclairage autonome |
| Lighting power | 10W |
| Type of lighting | LED Bulb |
| Power | 50W/5V |
| Panel type | Rigids |
| Cells | Monocrystalline |