Display all pictures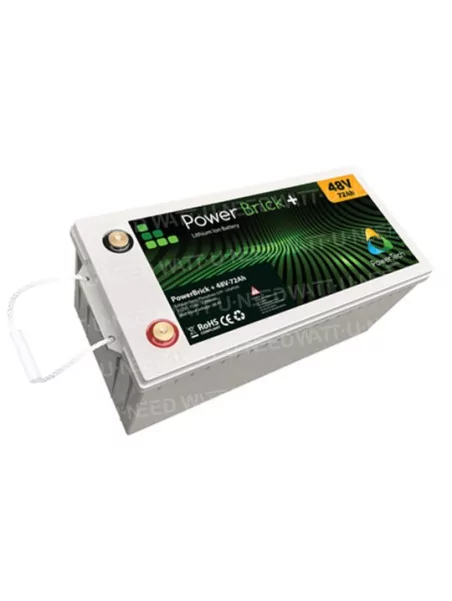 PowerBrick+ Lithium Battery 48V 105Ah PB+48/105
PowerTech Systems
More info

Lithium PowerBrick Battery 48V 105Ah
The Lithium-Ion PowerBrick 48V-105Ah battery offers great security through the use of cylindrical cells in Lithium Ferro Phosphate (LiFePO4 or LFP) technology.
The PowerBrick 48V-105Ah incorporates an innovative control system (BMS) into its case to ensure a very high level of safety for use. The BMS constantly controls and balances battery cells to protect the battery and increase its lifespan. The BMS also protects the battery from mishandling: deep discharge, too high charge voltage, etc.
The PowerBrick range has been designed to replace Lead batteries, offering a quadruple energy density for equal weight and footprint.
Because of its technology, the PowerBrick 48V-105Ah lithium battery can be installed in any position (vertically, lying on the side or upside down).
The electrical parameters of the PowerBrick 48V-105Ah lithium battery are compatible in all respects with those of a 48V AGM lead battery. In the vast majority of cases, the charging system can be kept the same and no additional accessories are required to make the replacement.
Because a PowerBrick battery can be discharged at 100% of its capacity, an AGM lead battery can be replaced by PowerBrick with a 2x capacity less than the lead battery (e.g., a PowerBrick 50Ah replaces an AGM 100Ah battery).
The Lithium PowerBrick battery - 48V-105Ah has a rated voltage of 51.2V. It can be easily assembled in series (up to 4 battery in series) and in parallel (up to 15 batteries).
The voltage of the final assembly can be 48V and up to 192V (for 4 packs assembled in series), which meets the needs of almost all electrical applications of traction, solar or wind storage, easement, robotics, trolleys, etc.
The battery is protected by a waterproof ABS case, resistant to water projections and dust (IP65 Protection Index).
PowerBrick products are lightweight, compact, efficient and can be used for all types of uses and applications. The PowerBricktm directly replaces older-generation batteries (LEAD VRLA, AGM or OPZ batteries) in 48V, which are inefficient and harmful to the environment (heavy metal use and recycling complexity).
The PowerBrick range has a 2-year commercial warranty, extendable to 5 years
Batteries Lithium LiFePo 105 Ah
Very high lifespan: from 3000 cycles to several tens of thousands
Possible deep discharges (up to 100%)
Lithium Iron Phosphate technology completely secure (no risk of explosion or self-ignition)
BMS (Battery Management System) built into the case: maximizes battery life AND secures battery life
No lead, no rare earths, no acid, no degassing
Calendar life > 10 years
Excellent temperature hold (-20 to 60 degrees Fahrenheit)
Flexible system: up to 16 packs in parallel and 4 in series
Constant power throughout discharge (low internal resistance)
Very low Losses from Peukert (energy efficiency >98%)
Very low self-discharge (<3% per month)
No memory effect
Weight gain > 50% and 40% reduced footprint compared to lead batteries
Certification: CE, RoHS, UN 38.3
---
Important points
48V-105Ah Battery Pack in Technology - Lithium Iron Phosphate (LiFePO4 - LFP)
Nominal voltage: 51.2V
Stored energy: 5.38 kWh
New high-performance waterproof cylindrical cell
3000 cycles at 100% DoD - 1C (see technical graphs)
4500 cycles at 80% DoD - 1C (see technical graphs)
98% energy efficiency
Weight: 37.5Kg
Dimensions: 500mm x 239mm x 217mm
Instant peak discharge current: 500A ±50A (max 280mS)
Continuous discharge current: 120A (6.15kW)
Maximum discharge current (< 30s): 200A (10.24kW)
Maximum charge current: 100A
Total security provided by a BMS (Battery Management System) built into the case
Monitoring of the current and tension of cells, temperature, balancing of cells, etc.
Intelligent balancing algorithm
100% maintenance-free
Series assembly from 48V to 192V (1 to 4 units in series)
Parallel assembly up to 16 units (48V-1680Ah / 86.0kWh)
Robust design in an insulated and waterproof case (Protection Index: IP65)
Use temperature in charge: from 0 to 60 degrees Celsius
Landfill operating temperature: from -20C to 60C
Waterproof ABS case (IP65)
CE, RoHS and UN38.3 Certification
2-year commercial warranty in standard, extendable to 5 years
---
size
---
Characteristics
Electrical

Nominal tension

51.2 V

Nominal capacity

105 Ah

Energy

5.38 Wh

Internal resistance

≤ 50m

Number of cycles

>3000 cycles

Self-unloading

< 3% per month

energy efficiency

> 98%

CHARGE STANDARD

Charge tension

59.2 V - 0.4V

Charge mode

CC/CV: Constant Current / Constant Voltage

Standard charge current (Continuous maxi current)

50 A / 100 A

BMS cut-off voltage

59.2 V - 0.4V

STANDARD DISCHARGE

Instant peak discharge current

500 A - 50 A (max 280mS)

Continuous discharge current

120 A (6.14 kW)

Maximum discharge current (< 30s)

200 A (10.24 kW)

BMS cut-off voltage

40 V

environment

Charge temperature

0C to 60C

Discharge temperature

-20C to 60C

Storage temperature

0C to 50C -60±25% relative humidity

Protection IP

IP 66

mechanics

Cell type

prismatic

package

ABS

Dimensions (L x P x H)

500 x 239 x 217

weight

37.5 kg

terminal

Bolt M8
Data sheets and documentation
Product Reviews
Number of Reviews : 1
Average Grade : 5 /5
A. Anonymous
the 26/03/2021
5/5
This (to) expensive battery with excellent properties was replaced by a different brand, Pylontech, offering the same capacity for the half price. The stackable Pylontech 19' rack Li batteries are comunicating very well with the WKS Evo 5 kVA 48V. It's important not to forget to set its front dipswitch position 1 to ON, if not you get the warning 61 followed by a shutdown. The cable connections between batteries and UPS are the most easy handling I ever saw. Excellent product, but not protected for liquids.
Specifications
| | |
| --- | --- |
| Voltage | 48V |
| Technology | Lithium |
| Battery capacity | 105 Ah |
| Weight | 37,5 kg |
| Width | 500 mm |
| Height | 217 mm |
| Thickness | 239 mm |
| Charging current | 50 A |
| Courant continu de décharge | 200 A (10,24 kW) |
| Protection IP | IP 66 |