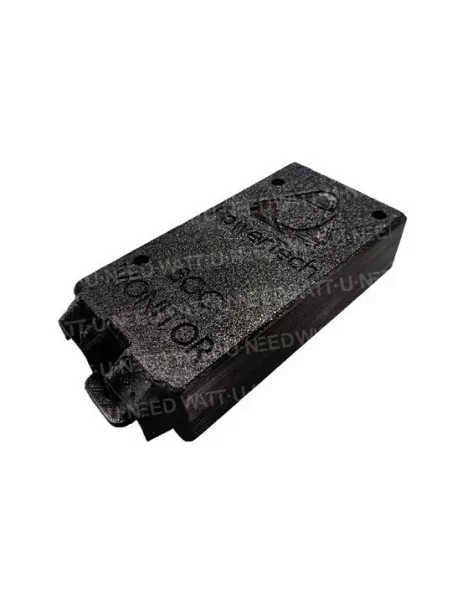 SOC Monitor PowerTech
PowerTech Systems
More info
SOC Monitor PowerTech
The SOC Monitor is a monitoring device for lithium batteries. It incorporates a precision shunt (0.2 milliohm) that provides better accuracy than Hall-effect sensors. This device can be used to measure voltage and current with great accuracy and estimate the SOC (State of charge) of a battery with great accuracy. battery with great precision.

All information (tension, current, SOC) is sent to an external controller via several communication protocols. external controller. Settings such as the rated capacity of the battery can be configured by sending a simple command to the device.
Features
Measuring the current

The device incorporates a high-precision shunt resistance that allows you to measure both small currents and larger ones.
bigger. For greater accuracy, the software calibrates the current on small and large currents.
Current.
If the current to be measured is greater than 100A, it is possible to connect an external shunt resistance through the connector.
through the connector.
Measuring battery voltage

The device measures the battery voltage every second. Good precision is achieved by calibrating the two voltage measurements, large and small.
Measuring temperature

The monitor can measure an external temperature. In this case, a "thermistance" must be plugged into the "THERMISTOR" connector.
communication

Several means of communication are integrated into the SOC Monitor:
Insulated CAN Bus (2.5kV)
I2C
LED display (SOC information only)
PWM (SOC information only)
Port series:
RS232 (switch to position 232/485).
RS485 (MODBUS switch on position 232/485).
Bluetooth (switch on the BLE position).
TTL (switch on TTL position).
size
Characteristics
Battery type
consumption
5.6mA - 17mA
Current measurement range

0 - 100A with internal Shunt
>100A with external Shunt

Tension measurement range
5.5V - 60V
Tension resolution
20mV
Power resolution

10mA (0-10A) and 100mA (10A-100A)

Time information range

0 minute - 255 hours 59 minutes

Message delivery period

1s: TTL / RS232 /Bluetooth /CAN_ISO
(The settings can be changed)
On request: MODBUS

Time between messages

10ms: TTL / RS232 / Bluetooth
1s: CAN_ISO (Parameter can be modified)

Timer calculates the capacity used
Power connector

2 M8 connectors welded to pcB

Power connector

1 connector with 2 contacts "ALIM

Port RS232

1 "RS232" 3-contact connector.

Port RS485

1 "RS485" 3-contact connector.

Isolated PORT CAN (2.5kV)

1 connector with 3 "CAN" contacts

Port TTL

1 connector with 3 "TTL" contacts

Port I2C

1 connector with 2 "I2C" contacts.

Thermistance entrance

1 connector with 2 "THERMISTOR" contacts.

Input external shunt resistance

1 connector with 2 "SHUNT EXT" contacts.

bluetooth
dimension
56 × 113 mm
Specifications
| | |
| --- | --- |
| Type de matériel électrique | Porte-fusible DC |