Display all pictures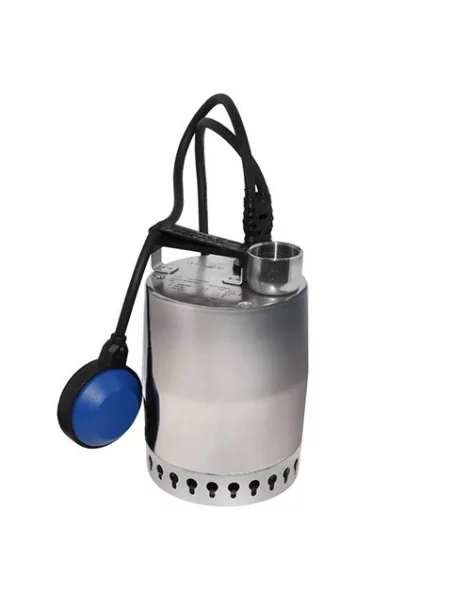 Grundfos pump Unilift KP
Grundfos
More info

" Lift pump Grundfos KP "
Unilift KP pumps are submersible pumps designed for the pumping of clean, non-aggressive water and lightly loaded (gray) wastewater such as domestic effluents from septic tanks and sludge treatment plants.
Unilift KP pumps are submersible drainage pumps for pumping drain water or grey wastewater. The KP is suitable for both temporary and permanent free-standing installation or installation in collecting tanks.
All Unilift KP pumps can be supplied with or without a level switch for automatic or manual operation. The strainer is clipped onto the pump housing and can easily be removed for cleaning and maintenance.
The robust design – all metal parts in contact with the pumped liquid are made of stainless steel - makes it ideal for rough environments. The outer casing is made in one piece. The motor is a canned motor with liquid-filled rotor chamber and water-lubricated bearings.
The motor incorporates automatic overload protection which cuts out the motor in the event of overload. When it has cooled to normal temperature the motor restarts automatically.
---
KP 150 A1
KP 250 A1
KP 350 A1
KP 150 M
KP 250 M
KP 350 M
KP 150 AV1
KP 250 AV1
KP 350 AV1
Liquid temperature
0 °C => +50 °C
Protection class
IP 68
Insulation class
F
Wheel Type
Semi-open
Maximum cross section
10 mm
Cable
with Schuko plug
Cable (m)
5 ou 10
5 ou 10
5 ou 10
10
10
10
5 ou 10
5 ou 10
5 ou 10
Delivered with non-return valve
No
No
No
No
No
No
Oui
Oui
Oui
Output
Rp1 ¼
Inom [A]
1,3
2,3
3,2
1,3
2,3
3,2
1,3
2,3
3,2
Float switch
Yes
Yes
Yes
No
No
No
Yes, vertical
Yes, vertical
Yes, vertical
Voltage
1x220-230V
Material
Stainless steel
---
Applications
The Unilift KP pumps are designed for the pumping of :
Water from rivers and lakes
Rainwater, drainage water and water from flooding
Water for filling/emptying containers, ponds, tanks, etc.
Effluents from showers, washing machines and sinks below sewer level
Pool water
Ditch drainage water
Lowering groundwater
Domestic effluents from septic and sludge-treating systems
Effluents from viaducts, underpasses, etc.
---
---
---
Example
With a KP pump 250, for a lifting height of 4m, the drawn length would be 80m with a flow rate of 7,3m³/h.
The heights and lengths given in this diagram are given for information only. The liability of Wattuneed and Grundfos can not be incurred.
Data sheets and documentation