Display all pictures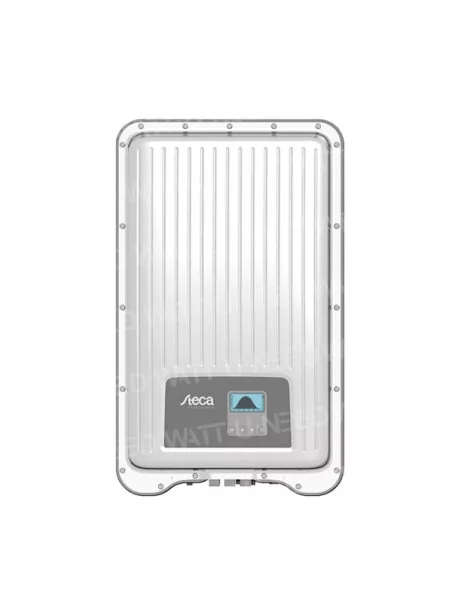 Inverter Steca coolcept fleX 3kVA StecaGrid 3011_2
Steca
More info
COOLCEPT FLEX | 2 MPP TRACKER
Reliable technology – even more versatile

With coolcept fleX, KATEK Memmingen presents the successor generation to Steca's established coolcept topology. Coolcept fleX offers a creative energy concept for any modern home.
What is coolcept fleX?

The all-new electronic platform is being used as the technological heart of the next generation of solar electronics and connects photovoltaic-based power generation, load management and even e-mobility for the very first time. The coolcept fleX platform is open about its future use, it is always implemented on a single card. This extremely small and compact format allows the use of affordable standard components on the printed circuit board. Thus, it is possible to use the same device
for various different applications.
Coolcept fleX inverter

Coolcept fleX is the centerpiece of the new generation of inverters.
As usual, with rated powers of 1.5 to 5.0 kW, they achieve particularly high peak efficiencies.
The advantages of coolcept flex inverters

Coolcept fleX is flexible.
Several MPP trackers allow you to manage simple or even complicated module fields.
Coolcept fleX is robust and simple.
Indoor and outdoor installation is made possible by a robust IP65 housing. However, the product range is not only one of the lightest in its class, but it is also very easy to install.
Coolcept fleX is scalable.
KATEK Memmingen offers an integrated and scalable concept for the production, consumption, storage and supply of energy for the modern home of tomorrow.
WORLD PREMIERE

One for all
This all-in-one solution at an incomparable price offers functions for very different applications and is even scalable depending on the power required. Whether you need one or more MPP trackers, high or low voltage storage, a solution with or without backup power, anything is possible. KATEK Memmingen has already thought of and prepared the charging of an electric vehicle directly from a PV generator. The new components and adjustment options allow use in many countries.
Maximum efficiency at all input voltages and reliable cooling concept
The maximum efficiencies of the topology of the state-of-the-art power electronics guarantee minimal losses, thus guaranteeing a very long service life thanks to extremely low self-heating levels.
Characteristics
StecaGrid 3011_2
DC input side (PV generator)
Maximum input voltage
750V
Operating input voltage range
125V ... 600V
Operating input voltage range at rated power
230 V ... 600 V
Number of MPP trackers
2
Maximum input current
2 x 13.0 A
Maximum short-circuit current
15 A
Maximum input power at maximum active output power
3070W
AC output side (Network Connection)
Grid voltage
185 V ... 276 V (depending on locale)
Nominal grid voltage
230V
Maximum output current
14.0 A
Maximum active power (cos phi = 1)
3000W
Maximum apparent power
3000 VA
Rated power
3000W
Rated frequency
50 Hz and 60 Hz
Frequency
45 Hz ... 65 Hz (depending on locale)
Loss of power at night
< 3W
Feeding phases
Phase
Total harmonic distortion (cos phi = 1)
< 3%
Power factor cos phi
0.8 capacitive ... 0.8 inductive
Characterization of operational performance
Efficiency
97,0 %
European efficiency
96,3 %
MPP Efficiency
> 99.7% (static), > 99% (dynamic)
Self-consumption
< 20W
Power downgrading to full power of
45 °C (T amb )
Security
Insulation principle
no galvanic insulation, without transformer
Network Monitoring
yes, integrated
Residual current monitoring
yes, built-in (The design of the inverter prevents it from causing a DC leakage current)
protection class
protection class 2 (RCD typ A sufficient)
Operating conditions
Scope of application
exterior & interior
Climate protection class according to IEC 60721-3-4
4K4H
Room temperature
-25 °C ... +60 °C
Storage temperature
-30 °C ... +80 °C
Relative humidity
0 % ... 100%, non-condensing
Noise emission (typical)
31 dBA
Assembly and construction
Degree of protection
IP 65
Surge category
III (CA), II (CC)
DC input side connection
Phoenix Contact SUNCLIX (2 pairs)
AC output side connection
Wieland RST25i3 jack, corresponding connector included
Dimensions (X x Y x Z)
399 × 657 × 222 mm
Ballast
14.0 kg
Interface de Communication
RS-485 (1 x RJ45 socket; connectable to Meteocontrol WEB'log or Solar-Log™, Ethernet interface (1 x RJ45), Modbus RTU (1 x RJ45 socket: connectable to the energy meter)
Built-in DC circuit breaker
yes, VDE 0100-712 compliant
Cooling principle
temperature-controlled fan, variable speed, internal (dustproof)
Test Certificate
see download the certificate on the product page