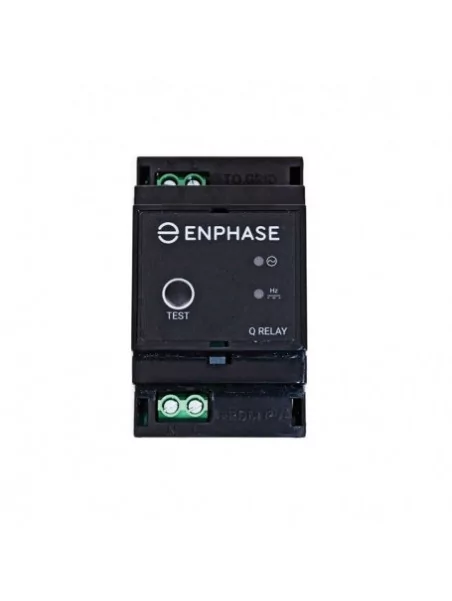 Enphase relay Q (multiphase)
Enphase
More info
Enphase relay Q (multiphase)
Enphase IQ facilities, the Relay Q multiphase works as a device monitoring and disconnection of the network.
The relay Q isolates physically the microonduleurs of the series IQ of the network when anomalies are detected or according to the regulations of the network, and it will automatically reconnect when valid network conditions are re-established.
The relay Q Tetrapolaire allows you to isolate all phase conductors and the neutral and works with the gateway Envoy-S.
Easy to install
Light and simple
Mounting on DIN rail for quick installation
Fiable
Reliable load control
auto reset when returning to normal network conditions
Smart
Can be configured to monitor 1, 2 or 3 phases
Update remotely possible
Easy to understand by led indication
Technical characteristics
| | |
| --- | --- |
| SPECIFICATIONS Q-RELAY-3 P-INT | Continuous protection of decoupling rcbo (50 Hz) with detection of component injection |
| Overvoltage category (EN 61010-1) | III |
| CAT III | GRID terminal is rated for measurement category III. |
| Pollution degree (EN 61010-1) | 2 |
| Operating voltage AC range | 85 to 265 Vrms |
| Nominal input voltage (vname) | 230 / 240 Vrms |
| Rated frequency | 50 Hz |
| Acquisition time of the values of frequency and voltage in normal operation | 100 ms (5 line cycles @ 50 Hz) |
| Number of entries protected voltage | Up to 3 |
| Number of microinverters IQ 7 by phase | Up to 19 IQ 7 Microinverters Enphase microinverters or 16 microinverters Enphase IQ 7 + |
| Number of relay Q per system | Limited to 20 relay active Q by system |
| Electric output type | Tetrapolar relay normally open (L1, L2, L3 and N) |
| Output power | 6 kVA per phase |
| Electric output type | 230 / 240 Vrms, 25A |
| Power consumption at idle | 18 GO |
| LEDs | Four LEDs Red/Green: three for triggers in surge and soutension, one for triggering frequency (min f / f max) and component injection continues (DC) |
| Editing | 35 mm DIN rail (standard) rail |
| Width | 107 mm |
| Power surge - L1 output N | Combination (1kV 2Ω) |
| Operating temperature range | -40 ° C to 50 ° C |
| IP rating | IP 20 (to use in a protected environment) |
| Moisture | 0 to 95 without condensation |
| Compliance | IEC 61010, EN 61010-1 |
| Compliance EMCI | IEC 61326, BS 50065-1 & 2-2, BS IN 61326 - 1 & 2, BS EN 61000-3-11 & 12 |
| Warranty | 5 years |
Product Reviews
Number of Reviews : 2
Average Grade : 4.5 /5
L. Thierry
the 25/09/2021
4/5
Ok parfait
A. Anonymous
the 07/05/2020
5/5
Conforme