Display all pictures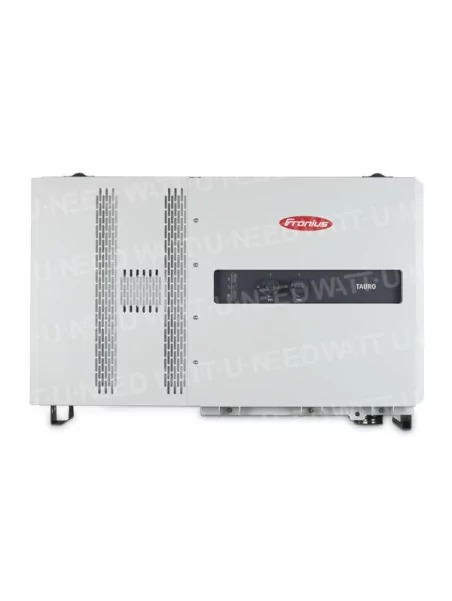 Inverter Fronius Tauro 50 kW
Fronius
More info
TAURO ECO 50-3-D
REDUCE COSTS WITH FLEXIBLE SYSTEM DESIGN

Thanks to its different options and the possibilities of combining the flexible Tauro and the economical Tauro ECO, the project inverter not only guarantees a perfect installation design, but also significantly reduces BOS costs.
• Centralized and decentralized installation design possible
• AC Daisy Chaining enables daisy chain connection of multiple inverters and saves cable lengths and distribution boxes
• Built-in surge protection avoids additional components
• Time saving and easy installation thanks to a large connection area and direct connection flanges
• Flat or suspended mounting possible
---
THE FASTEST SERVICE ON THE MARKET

The Fronius Tauro is not only quick and easy to install, but also to maintain. In the event of a failure, it is possible to exchange only the power stage and not the entire inverter, which saves resources and time.
• No replacement needed of the complete inverter with heavy machinery
• Simple exchange of the power stage (27 kg) by a possible person
• The Fronius Solar.SOS service tool simplifies and accelerates the processing of failure cases
---
MAXIMUM EFFICIENCY THANKS TO INNOVATIVE COOLING TECHNOLOGY

Thanks to its innovative double-walled design and active cooling technology, the Fronius Tauro can be installed in areas of direct sunlight while offering maximum efficiency.
Active cooling technology:
• protects sensitive power electronics from high temperatures
• extends the life of the inverter
• ensures high efficiency at ambient temperatures up to 50°C
---
SUSTAINABLE FROM AN ECONOMIC AND ECOLOGICAL POINT OF VIEW

The Fronius Tauro is an important stop on our way to 24 hours of sunshine. With Tauro, sustainability is at the heart of the entire product life cycle.
The following facts confirm this:
• Exchange of the power stage avoiding having to change the entire device
• Intelligent hardware design reducing the number of additional components required
• Extended service life with active cooling technology and double-walled design
---
SOLAR. START – THE COMMISSIONING APPLICATION

With the Solar.start app, you can set up your device in just two minutes.
• Quick and easy commissioning in just three steps
• Automatic connection to devices
• Complete warranty service for the integration of the inverter in Solar.web
• Links to useful platforms (Solar.web, Solar.SOS, ...)
---
Characteristics
INPUT DATA (CD)
TAURO ECO 50-3-D
Number of MPP trackers
1
Max input current (Idc max)
87.5A
Max. input current per field (PV1 / PV2 / PV3)
75/75/-A
Max. short circuit current (PV1/ PV2/ PV3)
125/125/-
Max. short circuit current (Iscmax, inverter)
178
DC input voltage range (Udc min - Udc max)
580-1000V
Injection start voltage (Udc start)
650V
vMPP voltage switch (Umpp min - Umpp max)
580-930V
Number of DC connections(PV1 / PV2 / PV3)
7/7/-
Peak power PV generator (Pdc max)
75kWc
OUTPUT DATA (AC)
Rated output power AC (Pac,r)
50,000 W
Max output power
50,000 VA
AC Output Current (Iac Name)
76A
Network connection (Uac,r)

3~ NPE 400/230 V; 3~ NPE 380/220 V

Frequency (frequency range fmin - fmax)
50 Hz / 60 Hz (45 - 65 Hz)
Power factor (cos φac,r)
0 - 1 ind. / cap.
GENERAL DATA
Dimensions (height x width x depth)

755 x 1109 x 346 mm (without wall mount)

Weight
74 kg
Degree of protection
IP 65
Protection class
1
Night consumption
< 16 W
Cooling

Active and double-walled cooling technology

Installation
Indoor and outdoor1
Ambient temperature range
- 40 - + 65 °C 2
Certificates and compliance with standards 3

AS/NZS 4777.2:2020, IEC62109-1/-2, VDE-AR-N 4105:2018, IEC62116, EN50549-1:2019 & EN50549-2:2019, VDE-AR-N 4110:2018,IEC 0-16:2019, IEC 0-21:2019

DC CONNECTION TECHNOLOGY
Cable section
4 - 6 mm²
DC cable material
Cu
DC connectors
Direct connection in DC
Stäubli Multi Contact MC4
YIELD
Max efficiency
98.6 %
European efficiency (ηEU)
98.1 %
MPP Performance
> 99.9 %
PROTECTIVE DEVICES
DC Disconnector
integrated
Overload behaviour
Protection against polarity reversals
integrated
RCMU
integrated
DC Isolation Measurement
integrated
DC/AC lightning arrester

Type 1 + 2 integrated, Type 2 optional

DC chain fuse
integrated, 15 A or 20 A
INTERFACES
Wi-Fi

Fronius Solar.web, Modbus TCP Sunspec, Fronius Solar API (JSON)

Ethernet LAN RJ45 4

10/100Mbit; max. 100m
Fronius Solar.web, Modbus TCP Sunspec, Fronius Solar API (JSON)

USB (Type-A plug)
1A @5V max.3
Emergency Shutdown (WSD)
Emergency stop
2x RS485
Modbus RTU SunSpec
6 digital inputs / 6 digital I/Os

Programmable interface for inverter control, power management and devices.

Datalogger and web server 4
Integrated
Data sheets and documentation