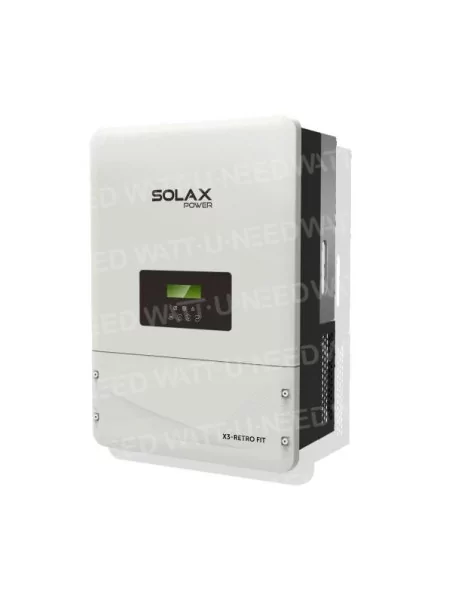 Inverter Solax X3 Retro Fit 10.0 kW
Solax
More info

Solax inverter three-phase 10 kW
SolaX Power is pleased to announce the release of its new X3 Retro Fit charger. Produce energy from your solar panels during the day. Once the satisfactory charge is reached, the SolaX X3 Retro Fit smart charger will direct the excess energy to your battery for later use. This allows you to make the best use of the energy you produce. If your home experiences a power outage, the X3 Retro Fit returns the energy stored at home, so you never stay in the dark, even in the event of a power outage.
---
---
---
REDUCE YOUR ENERGY BILLS
See how it works at home
The Heron Creek site, Cornwall, United Kingdom. A house powered by a SolaX X-Hybrid inverter with two 6.3 kWh Triple Power batteries. Since the installation of the system, they use less than half of the electricity in the grid than before.
---


BACKUP POWER SUPPLY

Never lose power
With the SolaX X-Hybrid, you can be sure that you will never be without power, even in the event of a power outage. A backup power switch (EPS) (available only on E models) allows the X-Hybrid to run completely off-grid, meaning that all the energy you've stored in your batteries will be used in the event of a power outage.
---


CONTROL YOUR ENERGY
X-Hybrid Export Control
With the X-Hybrid, you can easily set your energy export limits according to local requirements. The X-Hybrid has built-in export control that allows you to manage the energy you produce, exactly the way you want.
---
Characteristics
AC output
E version
Rated power AC [VA]
10000
Max apparent power in a.i. [VA]
10000
Nominal network voltage (AC voltage range) [V].
Nominal network frequency/frequency range [Hz].
50/60
Rated current AC [A]
14.5
Rated AC current [A] Apparent AC current max. Current AC [A] Max.
16.0
Displacement power factor

0.8 leading to 0.8 lagging

THDi, rated power [%]
<2
AC INPUT
Max apparent power in AC [VA]
10000
Ac current [A]
16.0
Nominal network voltage(AC voltage range) [V]
400/230;380/220
Nominal network frequency/range [Hz]
50/60
DC OUTPUT. (BATTERY)
Battery voltage range [V]
160-800
Max continuous charging/discharging current.
35(0.5H)
Communication interfaces
CAN/ RS485
Reverse connection protection
YES
OFF-GRID OUTPUT (WITH BATTERY)
MAX Continuous Apparent Power [VA]
10000
Rated Voltage [VAC],Frequency [Hz]
DIRECT CURRENT MAX. [A]
14.5
Peak apparent power [VA] Duration [s]
10000 60
Duration[s] Switching time [s
<1.5
THDv linear load [%]
<2
Switching device
external
Three unbalanced phases
Yes
EFFICIENCY
Battery charging efficiency (GRID to BAT)
96.0
Max efficiency Battery discharge efficiency (BAT to AC)
96.5
ENERGY CONSUMPTION
Standby (Night) [W]

<25 for hot standby, <3 for cold standby

SECURITY AND PROTECTION
Overvoltage and undervoltage protection
YES
Monitoring of protection against earth defects
YES
Network Protection
YES
STANDARD
Security
IEC62477
EMC

EN 61000-6-1 / EN 61000-6-2 / EN 61000-6-3

Certification

VDE 0126-1-1 A1:2012 / VDE-AR-N 4105 / G98 / AS4777 / EN50549/ IEC 0-21

ENVIRONMENTAL LIMIT
Degree of protection (according to IEC60529)
IP65
O Operating temperature range [°C]

20 ~ +60 ( degradation to +45)

Maximum altitude of use [m]
<2000
Humidity [%]
O Storage temperature [°C]
-20 ~ +60
Typical noise emission [dB]
40
DIMENSIONS AND WEIGHT
Dimensions(WxHxD) [mm]
457*654*228
Weight [kg]
38
Cooling concept
Natural
Topology
Non-isolated
Communication interfaces

Ethernet/Meter/Pocket WiFi(optional)/Pocket LAN(optional)/Pocket GPRS(optional)/DRM/USB/ISO alarm/CAN/BMS/NTC

LCD

Backlight 20*4 characters

Standard Warranty [year]
5
Data sheets and documentation
Specifications
| | |
| --- | --- |
| Monophasé / Triphasé | Triphasé |