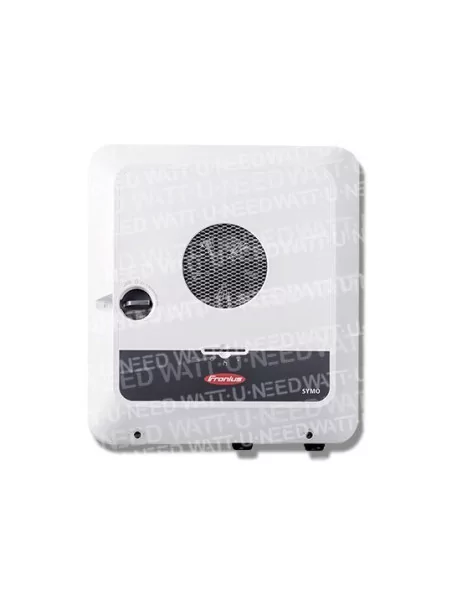 Fronius SYMO GEN24 3.0/3.6/4.0/4.6/5.0/6.0 MORE Single-phase
Fronius
More info
With a power class of 3.0 to 6.0 kW, Fronius Primo GEN24 Plus is the ideal hybrid inverter for home use. Thanks to many standard features, the single-phase device covers all customer needs.
The GEN24 Plus meets all expectations with its many features such as energy management features, a standard connection by WLAN and Ethernet or an ultra-simple integration of components from third-party suppliers. In particular, it guarantees the highest degree of electricity supply security thanks to the PV point - an integrated outlet powered by current backup mode - and the complete backup solution in the event of an industry outage.
It convinces with its compact and light design, its active cooling concept, as well as its simple and fast installation and commissioning. In addition, its concept of after-sales service allowing individual replacement of parts facilitates repair, which contributes to durability.
---

THE INVERTER WITH FLEXIBLE BACKUP POWER OPTIONS
POINT PV

Standard integrated backup power is an electrically powered power outlet in the event of a power outage. It can power loads with a maximum power of 3 kW. PV Point is our low-cost backup power solution.
Automatic and direct activation in the event of a network outage
No extra expensive installation work required
Feeds the household with single-phase loads of up to 3 kW
---
FULL BACKUP
The Advanced Backup (Full Backup) solution works in combination with an energy storage system and powers single- and three-phase charges, such as an electric stove or heat pump, as soon as there is sufficient energy.
Feeds the entire fireplace (even three-phase loads)
Automatic switching on backup power in the event of a power grid failure
Efficient and fluid energy flow with Multi Flow technology, even in the event of backup power.
Full Backup is available with Symo GEN24 Plus 6-10 kW and Primo GEN24 Plus 3-6 kW
---
ACTIVE COOLING

Thanks to active cooling, the Fronius GEN24 Plus offers greater flexibility in terms of design and installation from the planning stage. Operating costs are lower due to reduced or non-existent maintenance. But it's mostly a longer lifespan and better performance thanks to better performance that makes the case for the active cooling system:
Longer lifespan
Higher yields
Reduced maintenance costs
A simple and flexible installation
Flexibility in system design
---
THE BEST SERVICE ON THE MARKET

Simple installation and service
Save time and money with fast-tightening screws, spring-to-push bollards and a sophisticated wall fastening system. .
Commissioning: Fronius Solar.start
Fast and easy to get into service via your own smartphone or tablet in just three steps.
Upgrades possible at any time
Clear interfaces make it easier to integrate third-party components such as home automation systems.
Smart monitoring with Solar.web
Monitor, analyze and quickly and easily compare different photovoltaic systems on your smartphone, tablet or laptop. Solar.web helps you provide the best service to your customers.
---
WHY CHOOSE THE FRONIUS GEN24 PLUS
Optimizing self-consumption

Integrated energy management features and open interfaces
Excess PV energy is used in the best way possible - this allows for a high rate of self-consumption
Economy

System data for more optimization is visible at all times
Integrated features: backup power, system and energy analysis tool, integrated Dynamic Peak Manager, energy management function, SuperFlex Design, etc.
Open interfaces

Makes it easy to integrate third-party components such as heat pumps or Smart Home systems
Modbus RTU/ATCP Sunspec, Sola API, digital IOs, LAN/WLAN
Active cooling

Extends the life of the inverter
Fluid concept and easy installation
Helping to optimize performance
Multi-Flux technology

Allows simultaneous energy flows in all directions, as well as ac, DC and AC-DC system coupling of the battery storage system
High self-consumption rate and system flexibility
PV point

Built-in backup battery function
No energy storage system or expensive additional facilities
Feeding single-phase loads in the habitat
Backup mode function

A battery-free and battery-free backup mode option
Basic Basic Relief Mode (PV Point) built-in basic
The full range mode option offers maximum independence
Simple installation

Fast-drying screws, plug-in spring terminals, simple wall mounting system
Simple installation and commissioning
Easy commission via an app on a smartphone or tablet
---
Characteristics
ENTRY DATA
PRIMO GEN24 3.0 MORE
PRIMO GEN24 3.6 MORE
PRIMO GEN24 4.0 MORE
PRIMO GEN24 4.6 MORE
PRIMO GEN24 5.0 MORE
Number of MPP tracker
2
Maximum input current (Idc max MPPT1 / MPPT2)
22 A / 12 A
Short circuit current (MPPT1/MPPT2)
33 A / 18 A
DC entry voltage range (Udc min - Udc max)
65 V - 600 V
Nominal input voltage (Udc,r)
400 V
Injection start tension (Udc start)
80 V
MPP voltage range usable
65 V - 530 V
65 V - 480 V
Number of DC connections (MPPT1 / MPPT2)
2 / 2
Max. power crest PV generator (Pdc max)
4.5 kWpeak
5.5 kWpeak
6.0 kWpeak
6.9 kWpeak
7.5 kWpeak
9.0 kWpeak
EXIT DATA

AC rated output power (Pac,r)

3,000 W
3,680 W
4,000 W
4,600 W
5,000 W
6,000 W
3,000 VA
3,680 VA
4,000 VA
4,600 VA
5,000 VA
6,000 VA

Maximum output current (Iac max)

19.40 A
23.70 A
25.80 A
27.50 A
27.50 A
27.50A
Network connection (voltage range)
1-NPE 220 V / 230 V (up 20% / - 30%)
Frequency (frequency range)
50 Hz / 60 Hz (45 Hz - 65 Hz)
Harmonic distortion rate
< 3.5%
Power factor (cos φ ac,r)
0.8 - 1 ind. / cap.
Emergency power
1-NPE 220 V / 230 V
PV POINT OUTPUT DATA / FULL BACKUP MODE
Exit power name. PV Point / Full backup mode
3,000 VA / 3,000 VA
3,000 VA / 3,600 VA
3,000 VA / 4,000 VA
3,000 VA / 4,600 VA
3,000 VA / 5,000 VA
Pv Point network connection (voltage range)
1 - NPE 220 V / 230 V
Connection to the network (voltage range) full backup mode
1 - NPE 220 V / 230 V
Tipping time
< 40 seconds
BATTERY CONNECTION
Number of DC connectors
1
Maximum input current (Idc max)
22 A
DC entry voltage range (Udc min - Udc max)
150 V - 455 V
Entry power /maximum output 1)
3,170 W
3,890 W
4.230 W
4,860 W
5,290 W
6.340 W
AC max charging power.
3,000 W
3,680 W
4,000 W
4,600 W
5,000 W
6,000 W
GENERAL DATA
Dimensions (height x width x depth)
528 x 474 x 164 mm
Weight (inverter / with packaging)
16.6 / 19.2 kg
Degree of protection
IP 66
Protective class
1
Loss of night power
10W
Power category (DC/AC) 2)
2/3
Inverter design
No transformer
cooling
Cooling by regulated air
installation
Indoor and outdoor installation
Room temperature range
40 - 60 degrees Fahrenheit
Humidity allowed
0 - 100 %
Maximum altitude.
4,000m
DC Connection Technology
4 DC and 4 DC plug-in spring terminals 2.5 - 10 mm2
DC battery connection technology
1 BATT and 1 BATT plug-in spring terminals 2.5 - 10 mm2
AC Connection Technology
3 poles AC plug-in spring terminals 2.5 - 10 mm2 - 5 PE screw terminals 2.5 - 16 mm2
Certificates and compliance with standards
IEC 62109, IEC 62909, AS/NZS 4777.2, CEI 0-21, ABNT BNR 16149 und 16150, IEC 62116, IEC 61727 4)
Rescue mode functions
PV Point or full backup mode
Compatible batteries
BYD Battery-Box Premium HVS/HVM 3)
Data sheets and documentation
Specifications
| | |
| --- | --- |
| Weight | 19,2 kg |
| Nombre de MPPT | 2 MPPT |
| Width | 528 mm |
| Height | 474 mm |
| Thickness | 164 mm |
| Inverter power | 3000 VA |
| Inverter power | 5000 VA |
| Inverter power | 4600 VA |
| Inverter power | 3600 VA |
| Inverter power | 6000 VA |
| Inverter power | 4000VA |
| Protection IP | IP 66 |