Display all pictures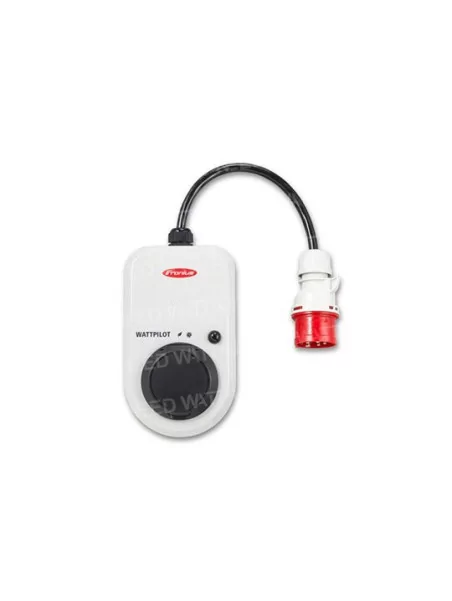 Car charger Fronius WattPilot
Fronius
More info
FREONIUS WATTPILOT
THE SMART AND FLEXIBLE CHARGING SOLUTION FOR ALL ELECTRIC VEHICLES

With the Fronius Wattpilot, you offer your customers a flexible and intelligent charging solution for all electric cars. It is therefore suitable for all owners of electric vehicles.
Both models offer practical features and configuration possibilities that allow for flexible charging, which is particularly affordable and sustainable.
With flexible rates, in this case the possibility of charging with excess solar energy and with two convenient charging modes, the Wattpilot offers maximum independence to all electric car drivers and meets all expectations.
WATTPILOT HOME
The fixed charging solution at home.
Can be mounted in a fixed way indoors and outdoors, suspended vertically.
Smart charging station.
WATTPILOT GO
The flexible charging solution, at home and on the go.
Can be mounted indoors and outdoors, suspended vertically. Removable and transportable.
Available in two power categories.
---
AFFORDABLE CHARGING WITH VARIABLE RATES
The Wattpilot allows your customers to recharge their electric vehicle in a particularly economical way, thanks to variable rates. Flexible electricity rates follow current exchange prices and are applied to the customer with a minimal increase. Electricity prices are generally lower at night, and when a significant amount of solar and wind energy is available. It is therefore a good idea to charge electric vehicles during these periods.
This is possible with Fronius' smart charging solution: thanks to the Solar.wattpilot app, customers can easily set up the maximum amount in Eco mode to which they want to recharge their electric car. The Wattpilot then always recharges when the price is less than or equal to the defined value.
* This feature is currently only available in Austria (aWattar Hourly) and Germany (Lumina.Strom). It is planned to be deployed in other countries.
---
SMART CHARGING MODES FOR MORE FLEXIBILITY

Two charging modes are available, configurable via the app or directly on the Wattpilot:
MODE ECO
Eco mode is the ideal charging mode for owners of photovoltaic installations. This mode allows to recharge first with the surplus solar energy of the photovoltaic installation and for the rest, if necessary, to use electricity at variable rates. This combination allows for affordable recharging.
MODE NEXT TRIP
Next Trip mode allows you to recharge the car for a defined journey (in kWh) that will be completed at a specific time. The configuration of the amount of energy needed for the planned journey as well as the time is simply done in the application. The Wattpilot recharges the electric car with the necessary amount of energy up to the desired time. Recharging is done primarily by using excess solar energy and when electricity rates are most flexible. The defined load is thus always guaranteed and in the most economical way possible.
---
RECHARGE YOUR CAR WITH SOLAR POWER THROUGH CHARGING - WITH EXTRA SOLAR ENERGY
It is a good idea to charge the electric car with the current from a photovoltaic installation for several reasons:
Increase in the maximum self-consumption rate of a photovoltaic installation
Faster amortization of photovoltaic installation
Cheaper current for electric car
With the surplus of solar energy, the Wattpilot takes full advantage of these advantages.
Switching between single-phase and three-phase currents and regulating in intervals of 1 amp allow optimal use of excess energy from 1.38 kW to 22 kW. Switching is fully automatic and significantly increases the rate of self-consumption.
Another advantage of charging with excess solar energy is the ability to completely avoid peak consumption when charging.
'PV surplus' - Electric car
---
SOLAR, SOLAR. WATTPILOT - EVEN MORE FLEXIBLE WITH THE APP
The Solar.wattpilot app ensures maximum flexibility and optimal insight for all users of the smart charging solution.
Very simple commissioning of the Wattpilot with the application
Clear representation of all load data
Changing charging modes possible anywhere
Lots of configuration possibilities
DOWNLOAD THE APP AND LET'S GO
---
Characteristics
Wattpilot Go
11 J
Wattpilot Go
22 J
Wattpilot Home
11 J
Max charge power.
11 kW
22 kW
11 kW
Connection to the network
Red CEE16
5 poles
30 cm with neutral conductor
Red CEE32
5 poles
30 cm with neutral conductor
cable
5 poles
200 cm with neutral conductor
Optional adapter kits
Red CEE32 plug with fuse
Blue CEE Camping Take
Taken with land 16A
Red CEE16
Blue CEE Camping Take
Taken with land 16 A
Nominal tension
230 V (1-phase) / 400 V (3-phase)
Nominal current (configurable)
6 - 16 A
1 phase or 3 phases
6 - 32 A
1 phase or 3 phases
6 - 16 A
1 phase or 3 phases
Frequency of network
50 Hz
Residual current differential protection device
30 mA AC, 6mA DC
Wire section of the power line
At least 2.5 mm2
At least 6 mm2
At least 2.5 mm2
PV optimization
Dynamic PV surplus load of 1.38-11 kW
(automatic switching 1/3 live)
Dynamic PV surplus load of 1.38-22 kW
(automatic switching 1/3 live)
Dynamic PV surplus load of 1.38-11 kW
(automatic switching 1/3 live)
Connecting to the network
WLAN
usage
Inside or outside
Protective class
IP54
Dimensions (L x l x h)
251 x 146 x 96 mm
weight
1.6 kg
1.9 kg
1.9 kg
Specifications
| | |
| --- | --- |
| Charge power | 22kW |
| Monophasé / Triphasé | Triphasé |
| Width | 146 mm |
| Height | 251 mm |
| Thickness | 96 mm |
| Protection IP | IP 54 |