Display all pictures
WKS opti-C 3000 inverter
WKS
More info
Increase your self-consumption simply!
Store your solar production
Your browser does not support this video.
---
Mode EPS
Your browser does not support this video.
---
Flexible solution
Provides a complete solution for energy consumers to optimize the use of the solar energy generated.

Increases the rate of self-consumption (from 20% to 70%).

The user-adjustable battery charging current is suitable for different types of batteries.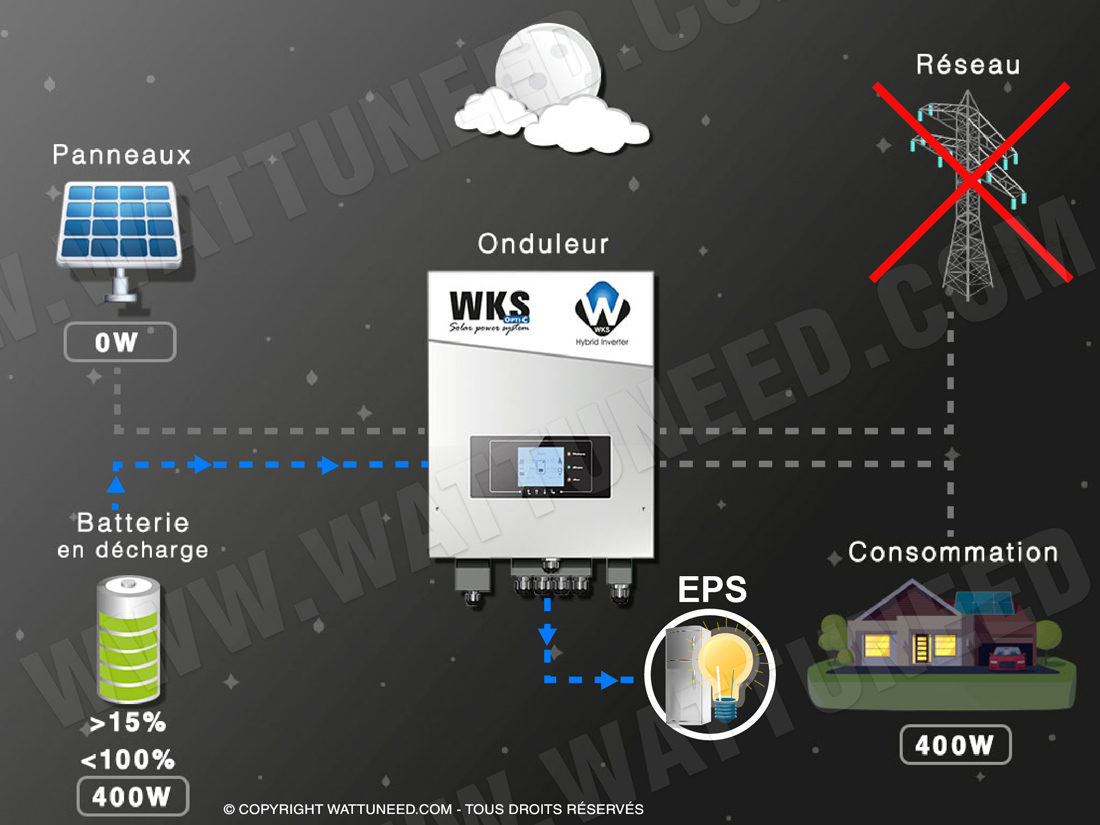 µ
---
Consume your solar production when you need it
There is an asymmetry between our electricity needs and the production of our solar installation.
As can be seen from the graph below, the WKS opti C allows via batteries, the storage of unused production during the day (on yellow line).
So you benefit in the morning and evening from the energy produced throughout the day (red highlighted line)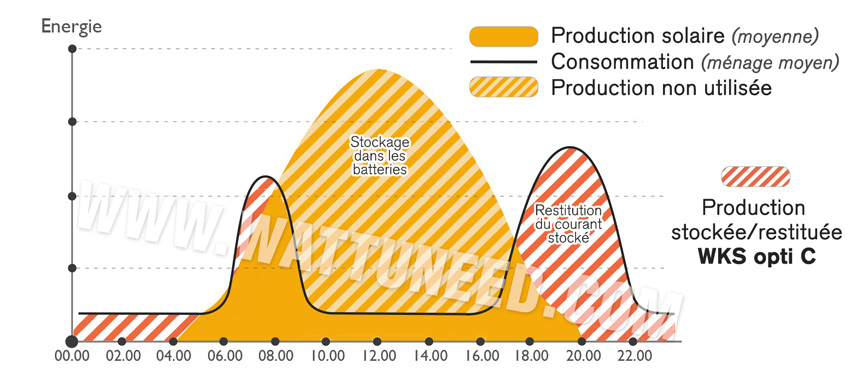 ---
Simple and Reliable
Energy exchanges via the power grid, no coupling with the photovoltaic inverter, mature, simple and reliable technology.

Can integrate with all grid-related renewable systems, including solar, wind, fuel cell systems, etc.
---
A clear and complete mobile application (Wi-Fi)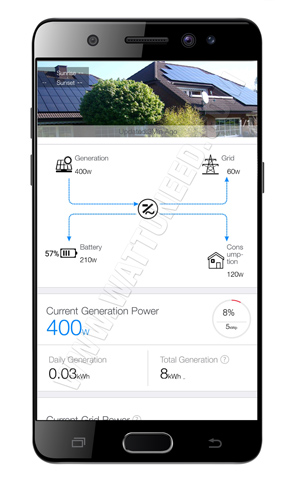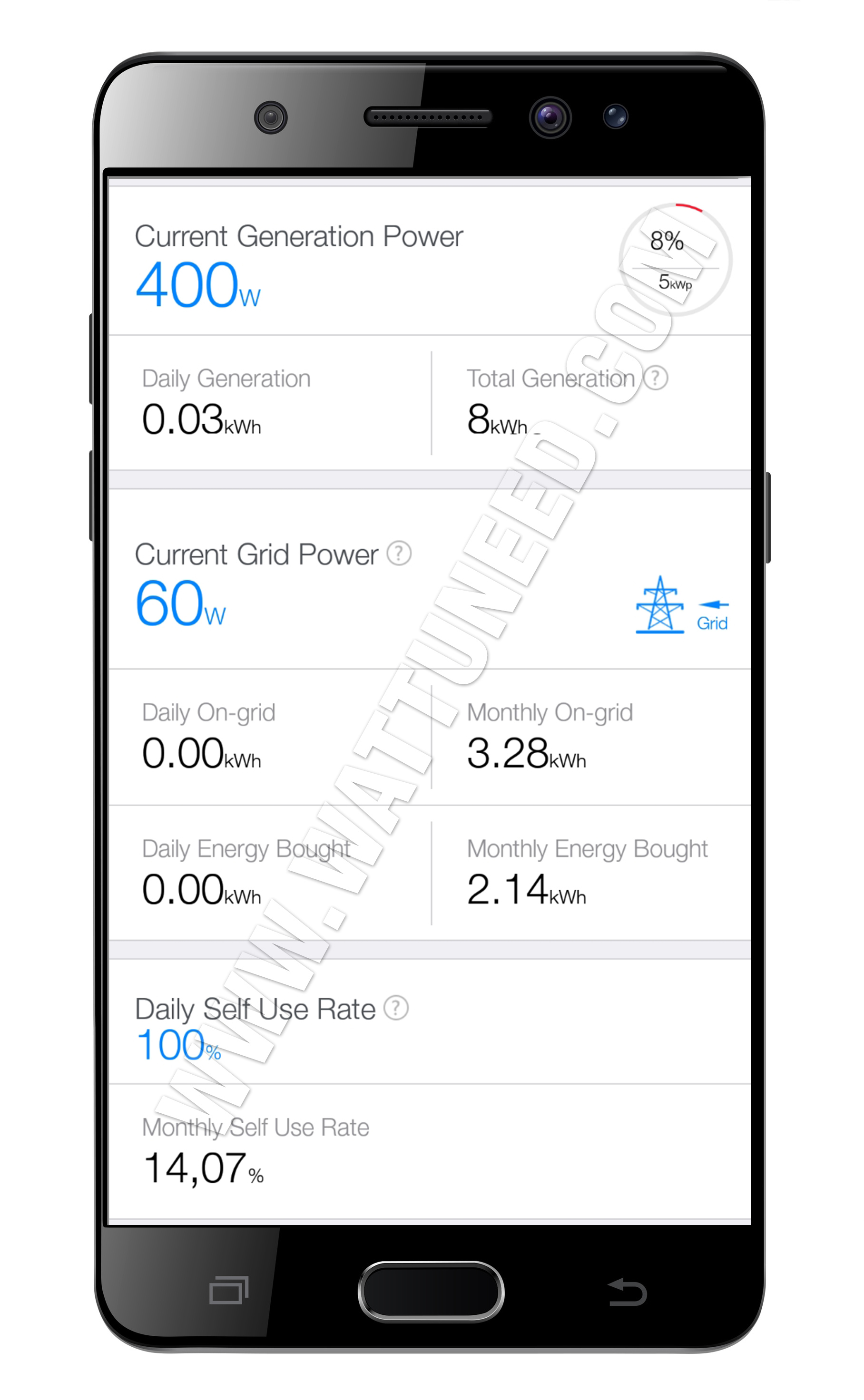 ---
Easy installation
No changes to your electrical panel are necessary.

Uses a dual-core CT scanner, no need to disconnect the power grid.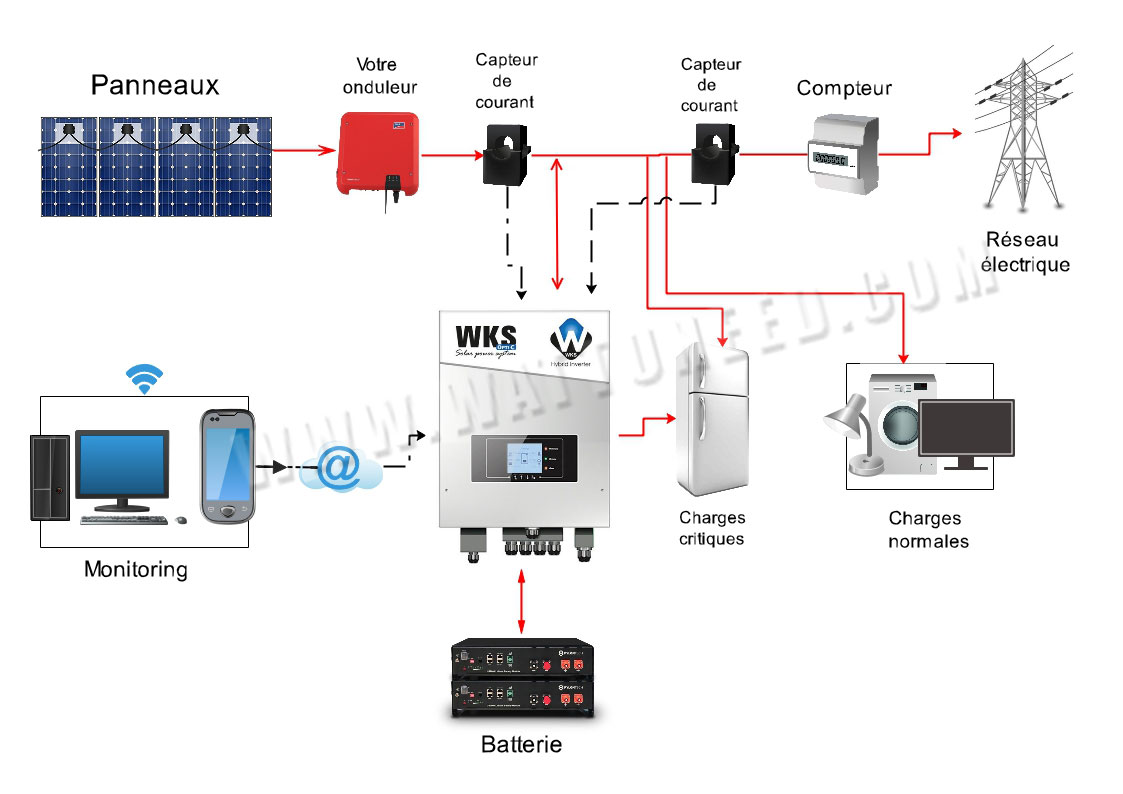 ---
Technical data
Battery settings

Battery type

Lead, Lithium-ion

Rated battery voltage

48

Battery voltage range

42-58V

Recommended battery capacity

200Ah (100~500 Ah optional)

Recommended storage capacity

9.6kWh

Maximum charging current

60 A

Charging current range

0-60A(programmable)

Load curve

3 floors Adaptive with maintenance

Maximum Discharge

60 A

Electronic protection

OCP OTP OVP

Pcircuit rotection

Fuse (100 A)

Discharge time (Time)

Po = lkVA9.6 h

PO = 3kVA3.2 h

Depth of discharge

Lithium : 0~80% Adjustable DOD

Lead-acid: 0~50% adjustable DOD

AC settings

Maximum power power

3KVA

Input/output voltage

230 V

Current Input/Output

13 A

AC Input Voltage Range

180V-270V

Network frequency range

44~55Hz / 54~66Hz

Thd

< 3%

Power factor

l (adjustable +/-0.8)

Connection phase

unique

Protection against maximum output overcurrents

13 A

System Settings

Maximum load efficiency

94,1 %

Maximum efficiency discharge

94,3 %

Standby fatigue

< SW

Technology

High frequency insulated transformer

Degree of Protection

IP65

Protective Measures

Anti-islanding, RCMU

Certification

CEI 62116, CEI 61727, IEC 61683, CEI 60068 (1, 2, 14,30), AS4777 IEC62109-1/2,VDE 0126-1-

1, G83/2, Cl0/11, RD1699, UTEC15-712-1, EN50438,VDE-AR-N4105

Communication

WiFi, RS485, CAN2.0

Environment

Temperature range

-25°c...+ 60° c


Allowed Relative Humidity Range

0 ... 100%, non-condensing

Protection class

Class I

Altitude Max.

2000m

Connecting current sensors

External

General data

Noise

< 25dB

Weight

16kg

Type of cooling

Natural

Dimensions W x H x D

532 * 360 * 173 mm

Display

Liquid crystal display

Guarantee

5 years


Emergency power supply

EPS rated power

3000VA

Distortion total harmony

< 3%
Product Reviews
Number of Reviews : 8
Average Grade : 4.9 /5
L. Jean-michel
the 25/07/2022
5/5
Très bien emballé et fonctionne parfaitement
P. Jean Michel
the 23/03/2022
5/5
Produits très bien Mais manque de tuto en français Que j'ai du télécharger ailleurs.
C. Jacques
the 19/01/2022
5/5
La photo est trompeuse, ce n'est pas WKS mais Sofar
M. Laurent
the 08/11/2021
5/5
Onduleur de bonne qualité.
M. Mathieu
the 12/04/2021
5/5
SUPER ONDULEUR REPOND A MES ATTENTES FONCTIONNE PARFAITEMENT.
A. Anonymous
the 17/09/2020
5/5
Bon packaging et design produit. La lecture de la documentation un peu "franglais" mériterait un complément d'explications de la connexion détaillée à réaliser mais je pense trouver sur internet ce que confirme les premiers tuto de clients. la mise en service n'est pas faite pour l'instant. Qualité/prix rien à dire.
S. Mickael
the 22/09/2019
4/5
c est un produit peu répandu conforme a mes attente mais la notice incomplète notamment le wifi ;le mode basic etc.… mais correspond pour la plus part des utilisateur lambda
A. Anonymous
the 10/03/2019
5/5
Je ne l'ai pas encore installé