Display all pictures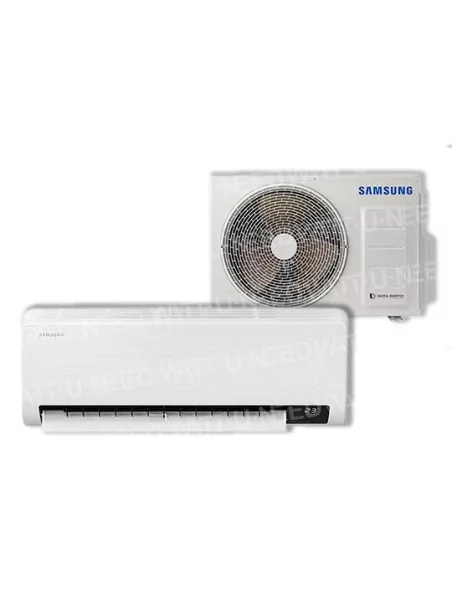 Samsung RAC Luzon heat pump of 2.5 and 6.5 kW
Samsung
More info
Stay cool comfortably with Wind-Free™ technology.
---

Designed to cool faster, wider and farther

Quick cooling
Cool the pieces quickly from one corner to the other, so you're always comfortable. Digital Inverter Boost technology cools the air 43% faster. Its advanced design also has a 15% larger fan, an 18% wider input and a 31% wider blade. The fresh air is scattered further and wider, reaching up to 15 meters.
---

Simply cleans up - automatically

Automatic cleaning
When the air conditioner is turned off, Auto Clean automatically operates a fan to remove dust and moisture from the heat exchanger. It therefore remains clean and dry, which prevents the growth of bacteria and mildew.
---

Easy-to-clean antibacterial filter

Easy Filter Plus
Make your air conditioner work efficiently with less effort. The Easy Filter Plus is located outside, on top, so it can be easily removed and cleaned. Its dense mesh keeps the heat exchanger clean and an antibacterial coating protects you from dangerous air contaminants.
---

Prevents corrosion for long-lasting cooling

DuraFin ™ More
Stay comfortably cool for longer. The Ocean Fin is made of a corrosion-resistant material to protect the condenser from rust, which helps maintain the optimal performance of the heat exchanger. Its superb corrosion resistance has been proven by using the salt mist (SST) test for 480 hours.
---

Ecological chiller

Refrigerant R32
Protecting the planet by reducing the impact of climate change. The air conditioner uses the next-generation R32 refrigerant, which helps conserve the ozone layer and has a low impact on global warming compared to conventional R22 or R410A refrigerants. So it's much greener.
---

Saves energy and money, cools efficiently

Ecological mode
Save energy, but stay cool. ECO mode uses less compressor capacity than Normal mode, which reduces energy consumption. It allows you to cool down more efficiently when it's not too hot outdoors or save energy and money at all times, so you don't have to worry about electricity bills.
---

Sleep much better all night

Good sleep
Good sleep mode creates the perfect climate for a good night's sleep. Thanks to its temperature control, it keeps you at ease, so you fall asleep quickly, sleep soundly and wake up fresh.
---
Characteristics
Kit name
LUZON 09
LUZON 12
LUZON 18
LUZON 24
Inner unit
AR09TXHZAWKNEU
AR12TXHZAWKNEU
AR18TXHZAWKNEU
AR24TXHZAWKNEU
Outdoor unit
AR09TXHZAWKXEU
AR12TXHZAWKXEU
AR18TXHZAWKXEU
AR24TXHZAWKXEU
Ability
Ability
Cooling (nominal)
Kw
2.5
3.5
5.0
6.5
Cooling (Min-Max)
Kw
0.9-3.4
0.9-4.0
1.6-6.7
1.4-7.6
Heating up -7 degrees Celsius
Kw
3.2
3.5
6.0
7.4
Heating (Min-Max)
Kw
0.9-4.5
0.9-5.0
1.3-8.0
1.2-9.4
Heating up --5C
Kw
2.74
03:09
4.84
6.00
Heating - 10 degrees Celsius
Kw
02:48
2.87
4.57
5.55
Heating - 15 degrees Celsius
Kw
2.29
2.58
4.58
5.66
Benefit
Energy-efficient cooling
SEER
W/W
6.7/A
6.5/A
6.8/A
6.4/A
Energy consumption
kWh/a
131
188
257
355
Pdesignc
Kw
2.5
3.5
5.0
6.5
Era
W/W
3.57
2.87
3.60
3.33
Energy-efficient heating
Scop
W/W
4.0/A
4.0/A
3.8/A
4.0/A
Energy consumption
kWh/a
735
770
1400
1.511
Pdesignh (medium)
Kw
2.1
2.2
3.8
4.1
Cop
W/W
3.81
3.72
3.51
3.15
Dehumidification
L/h
1.0
1.5
2.0
2.5
Maximum air volume (cooling)
Inner unit
m3/min
10.5
10.9
16.5
17.2
Outdoor unit
m3/min
28.0
28.0
50.0
50.0
Acoustic power
Inner unit
dB(A)
54
56
58
62
Outdoor unit
dB(A)
63
64
65
68
Acoustic pressure
High/silent inner unit
dB(A)
37/19
38/19
41/25
45/26
High exterior unit
dB(A)
46
47
51
54
Operating range
Cooling
℃
-10-46
-10-46
-10-46
-10-46
Heating
℃
-15-24
-15-24
-15-24
-15-24
Installation data
Voltage
Φ, V, Hz
1st, 220-240V, 50 Hz
1st, 220-240V, 50 Hz
1st, 220-240V, 50 Hz
1st, 220-240V, 50 Hz
Type of compressor
Outdoor unit
Type
BLDC Rotary
BLDC Rotary
BLDC Rotary
BLDC Rotary
Energy consumption
Cooling
W
700
1220
1390
1950
Heating
W
840
94
1710
2350
Running
Cooling
Has
3.6
5.6
6.4
8.8
Heating
Has
4.0
4.5
7.8
10.5
Size
Net Dimensions (LxHxP)
Inner unit
Mr
889x299x215
889x299x215
1055x299x215
1055x299x215
Outdoor unit
Mr
790x548x285
790x548x285
880x638x310
880x638x310
Net weight
Inner unit
Kg
9.1
9.1
11.5
11.6
Outdoor unit
02/06/20
22.6
22.6
39.7
43.2
Refrigerant
Refrigerant
Type
R32 (these products contain R32. GWP-675)
Pre-filling (for 5m)
Kg
0.70
0.70
1.30
1.30
Co2 equivalent pre-fill
tCO2e
0.47
0.47
0.88
0.88
Recharging of refrigerant
g/m
15
15
15
15
Connecting the piping
Liquid piping
Mm (inch)
6.35(1/4)
6.35(1/4)
6.35(1/4)
6.35(1/4)
Gas pipeline
Mm (inch)
9.52(3/8)
9.52(3/8)
12.70(1/2)
12.70(1/2)
Length of wiring
Min/Max (inside to outside)
Mr
3/15
3/15
3/30
3/30
Wiring height
Max
Mr
8
8
15
15
Connecting the piping
Evacuation line
Mm
16.3, 550mm
16.3, 550mm
16.3, 550mm
16.3, 550mm
Data sheets and documentation