Display all pictures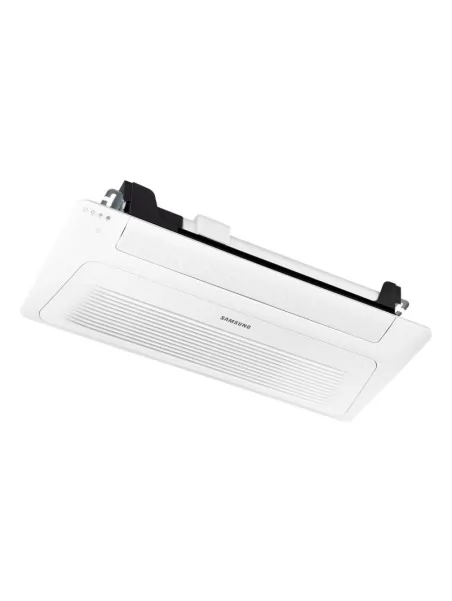 Samsung Wind Free 2.6 and 3.5kW heat pump
Samsung
More info
Wind-Free 1-way Multi split cassette 3.5 kw

Wind-Free refreshment™ is a new state-of-the-art technology for Samsung's new walls and cassettes. The Wind-Free 1-way cassette™ diffuses the air through the 10,000 micro-perforations of its façade, producing a subtle air flu, defiant or as "calm air". Micro-perforations and technology Wind-Free™ maintain a freshness without the usual unpleasant feeling of drafts
---
Comfort without draught
Wind-Free technology™
The cooling by Wind-Free™ technology allows to maintain a freshness without the usual unpleasant feeling of air current: the fresh air is subtly diffused through the thousands of micro-perforations of the façade.
---
Better air diffusion
A broader strand
The wider and longer the flap, the faster the surface is cooled, evenly. The interior unit can broadcast fresh air up to 8 m (based on a 7.1 kW unit) with a wider operating angle, as well as a quick and regular refreshment.
---
Compact design

The height of the samsung 1-way cassette is only 135 m. the unit can be installed in a false low-rise ceiling and responds to many installation constraints.
---
Lighter interior unit
Samsung is the first manufacturer to have designed its ABS chassis to make them the lightest units on the market.
Thus, thanks to compact dimensions and a reduced weight, the installation will be simpler and more flexible.
---
No overflow
Thanks to the lift pump's back valve, the water level of the recycling tray is kept to a minimum, the water does not stagnate and the risk of overflow is avoided.
---
Characteristics
Model

Inner unit

AJ026TN1DKG/EU

AJ035TN1DKG/EU

Ability
Cooling
Kw
2.6
3.5
Chauffage@ 7c
Kw
2.9
3.8
Performance
Airflow
m3/h
372/312/252
456/396/336
Acoustic power
Cooling
dB(A)
50
55
Acoustic pressure
H/M/B
dB(A)
32/29/26
37/33/30
Installation data
Voltage
Φ, #, V, Hz
1st, 220-240V, 50 Hz
1st, 220-240V, 50 Hz
Absorbed power
Cooling
W
45
50
Heating
W
45
50
Nominal current
Cooling
Has
0.23
0.25
Heating
Has
0.23
0.25
Size
Dimension (LxHxP)
Mr
970X135X410
970X135X410
Weight
Kg
10
10
Refrigerant
Piping connections
Liquid
Thumb
1/4
1/4
Gas
Thumb
3/8
3/8
Evacuation hose
Mm
VP20 (OD 26, ID 20)
VP20 (OD 26, ID 20)
Other
Panel
Model Code
PC1NWFMAN
PC1NWFMAN
Dimension (LxHxP)
Mr
1198x35x500
1198x35x500
Weight
Kg
4,3
4,3
Accessories
Condensate pump
Included
Included
Max. Water Column/Transport
mm/Litre/h
750/24
750/24
Data sheets and documentation
Specifications
| | |
| --- | --- |
| Weight | 10 kg |
| Width | 970 mm |
| Height | 135 mm |
| Thickness | 410 mm |