Display all pictures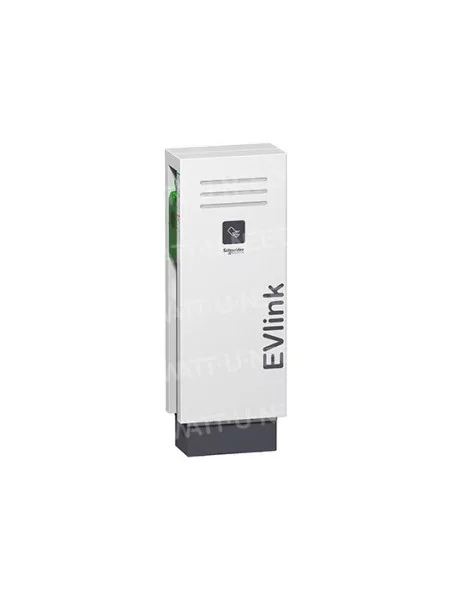 EVlink Parking 2 Sol Charging Station for ground mounting
Schneider Electric
More info
Charging stations for semi-public car parks and street charging
Ideal for unsecured parking, EVlink Parking offers the energy measurement capabilities and connectivity you need to authenticate users, generate reports, allocate costs to individual users, and perform remote maintenance.
Everything you need to make EV load easier than ever!
A complete range to cover the entire market of secure car parks: car parking for fleet of vehicles, car parking for private companies, car parking in shopping malls, car parking in residential environment.
This offer is dedicated to charge mode 3 (IEC 61851)

Parking EVlink consists of:

- Offer with wall attachment
You have the option to give users free access to the terminal or the opposite to regulate access to the load with RFID control
You can install an EVSE on a standalone configuration, or you can set up an infrastructure with different coordinated charging terminals. Our energy management and supervision solutions (EVlink management services) have been developed to help you manage a station with multiple terminals and/or multiple stations

---
Technical features
Power: 7kW or 22KW
Number of outlets: 1 or 2 plugs per EVSE
Type of power outlet: Type 2 or Type 3
Degree of protection: IP54
External mechanical impact resistance: IK10
Cable management; cables enter the lower part
Color: white caps, green closure, black base
Flood-resistant (height relative to soil): 50 cm
Certifications: LCIE Certificate, CB Certification, CE Compliance Statement
---
Benefits

Your EVSE for your secure parking!
You can choose to set up your solution with:
2 power supplies available
2 types of power outlets
Identification or not with RFID control
Weather-resistant
Solidity
Energy management and supervision
Accessories: cable carrier, cable hood
---
Solutions

All car parks with secure systems!
Car car parks for fleets of vehicles,
Car car parks for private companies,
Car parks for shopping malls,
Shared car parks in residential areas, etc.
---
Characteristics
Model

EVF2S22P22

EVF2S22P22R

EVF2S22P2F

EVF2S22P2FR

Range
Evlink
Product name
Parking Evlink
Product or component type
Charging station
Short device name
EVF2
Description of the poles
3P - N for power circuit
1P - N for remote control
How to install
On the ground
Type of offer
Standard
Nominal power voltage
230 V c.a. 50/60 Hz remote control
380...415 V c.a. 50/60 Hz power circuit
Earth-linking scheme
Tn
Tt
IT
Number of takes
2
Type of power outlet
right: T2 / left silver-plated contacts: T2 / silver-plated contacts
Maximum power current
32A for T2
32 A for T2
10 A for TF
Nominal output power
22kW for T2
22 kW for T2
2.3 kW for TF
Complementary
Type of command
2 RED push button, function: stop 2 green light push buttons, function: start/unlock the hatch
Local signage
In charge: 2 LEDs (green) (flash) on the side
Available: 2 LEDs (green) on Front
Booked: 2 LEDs (orange) on Front Front
Non-operational: 2 LEDs (RED) on Front
Communication port protocol
OCPP 1.6
Configuration/Architecture
Autonomous
Cluster architecture
How it works and how it works
Breaker status
Diagnostic Capabilities Delayed Charge
Load management
Setting up user privileges
Detailed billing records
Detailed billing records
Diagnostic capabilities
Load management
Setting up user privileges
Breaker status
Deferred charge
Diagnostic capabilities
Breaker status
Setting up user privileges
Load management
Detailed billing records
Deferred charge

Web server

Incorporated

Service Ethernet
Setting up via web server
Standards
IEC 61851-22
IEC 61851-1
Product certifications
Cb
This
Ready for ZE
Pret for EV
Pret for EV
This
Cb
Ready for ZE
Height
1146mm
Width
413mm
Depth
220mm
Product weight
50 kg
Color
Front: White (RAL 9003)
Side: grey (RAL 7016)
Environment
Degree of IP protection
IP54 charge disabled compliant with IEC 61851-1
IP54 on charge compliant with IEC 61851-1
Degree of IK protection
IK10 IEC-compliant charging station 61851-22
IK10 IEC-compliant electrical outlet 61851-22
Operating temperature

-30... 50OC compliant with IEC 61851-22

Room soaking for storage

-40... 80 degrees Celsius

Operating altitude

0...2000 m compliant with IEC 61851-22

Relative humidity

0... 95 %

Environmental features
Environmental status of the offer

Green Premium product

Without SVHC REACh

Yes
RoHS EU Directive
Compliant
RoHS EU Statement
Mercury-free
Yes
Information on RoHS exemptions
Yes
RoHS China Regulation
RoHS Statement for China
Produced outside the RoHS perimeter for China. Statement on substances for your
Information.