Display all pictures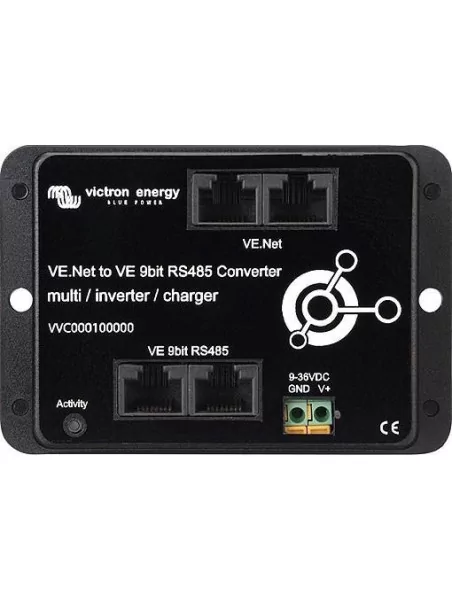 Ve.Net to Ve.Bus converter Victron
Victron energy
More info
VE.Net stands for Victron Energy Network. It allows all VE.Net compatible devices to communicate with each other. This means that the charger for example can get information from the battery controller to optimise the charge current. It is possible to control and monitor all your VE.Net devices from a single VE.Net compatible control panel. This saves space and allows you to control all your devices from one place.
The VE.Net to VE.Bus protocol Converter (VVC)
The purpose of the VVC is to combine the powerful control of the VE Configure software, with the simple interface of the VE.Net Panel. With the VVC, you can configure the advanced features, and view status information of your VE.Bus device from a VE.Net Panel.
Supported Devices
The VVC works with all VE 9-bit RS485 devices with software version 17xx130 and higher, and 18xxxxx; and all VE.Bus devices with software version 19xx111 and higher.
This includes the following products:
Phoenix Multi
Phoenix Multi Plus
Phoenix Multi Compact
Phoenix Inverter
Phoenix Inverter Compact
Phoenix Charger
Quattro
Data sheets and documentation