Display all pictures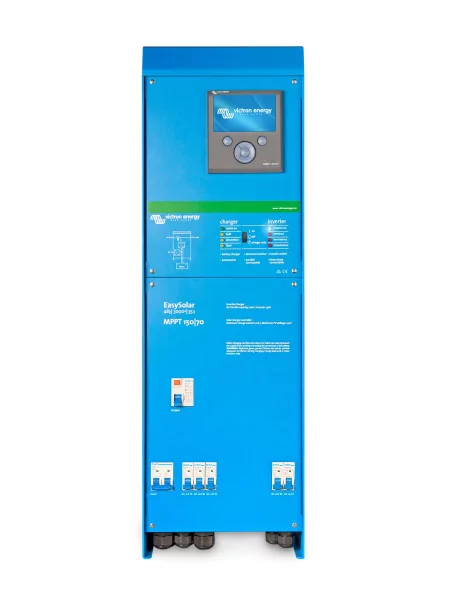 Victron EasySolar 24V /48 V 70A - 3000VA MPPT 150/70
Victron energy
More info

EasySolar 24V / 48V: a complete solution for photovoltaic installation
Easy Solar, multiple features:
The device brings together:
- a BlueSolar mppt charging controller,
- A charger/converter,
- A CA distribution
- A display provided by the Color Control GX
A complete solution that allows for easier installation and less wiring


---
Mppt charge controller
A Blue Solar mppt 150/70
Up to 3 solar panel chains can be connected via 3 sets of mc4 connectors
---
Converter/charger
MultiPlus Compact 12/1600/70
The charging controller and MultiPlus share the CC battery cables (included). The batteries are either charged via solar energy (BlueSolar -linkpopup id'mppt') or charged by the public grid or a generator via the converter/charger. Both modes can take turns or work at the same time.
---
Digital display
Color Control
The GX color control panel provides intuitive control and monitors all devices it is connected to. It is compatible with the entire Victron range.
It prioritizes the charge of the battery by the MPPT charging controller and connects to the internet, allowing for remote supervision and control.

---
PowerAssist
PowerAssist's unique technology protects grid or generator power from the risk of overload by adding additional converter power if necessary.


---
Distribution CA
The CA distribution consists of one RCD (30 mA/16 A) and four CA exits protected by two 10A circuit breakers and two 16A. An output of 16 A is controlled by the CA input: it will only be switched on if a CA source is available.
---
Technical features
EasySolar
EasySolar 24/3000/70-50
EasySolar 48/3000/35-50

INVERTER / CHARGER
Transfer switch
50 A
50 A
inverter
exit
Output voltage: 230 VAC ± 2%
Frequency: 50 Hz ± 0.1%
Power voltage range
19 - 33 V
38 - 66V
Continuous output power at 25oC
3000 VA / 2400 W
3000VA / 2400W
Continuous output power at 40oC
2200 W
2200 W
Peak power
6000 W
6000 W
Maximum capacity.
94%
95%
Zero charge power
20 W
25 W
Zero charge power in search mode
10 W
12 W
charger
CA Entry
Entry voltage: 187-265 VAC / Entry frequency: 45 - 65 Hz Power factor: 1
Absorption load voltage
28.8 V
57.6V
Float Load Tension
27.6 V
55.2V
Sleep mode
26.4 V
52.8V
Current charge battery service
70 A
35A
Battery temperature sensor
Yes
Programmable relay
Yes
SOLAR CHARGE CONTROLLER
model
MPPT 150/70-MC4
MPPT 150/70-MC4
Max output current
70 A
70 A
Max PV power
2000W
4000W
Maximum open circuit PV voltage
150V
Maximum efficiency
98%
Self-consumption
10mA
"Absorption" charge voltage, default configuration
28.8V
57.6V
Float charge voltage, default configuration
27.6V
55.2V
Load algorithm
multi-step adaptive
Temperature compensation
-16 mV / C
-32 mV / C
protection
a-g
Features

Operating temperature
-40 to 65oC (cooling per fan)
Humidity (without condensation)
max 95%
package
materials
aluminium (blue RAL 5012)
protection
IP 21
weight
28 kg
size
810 x 258 x 218 mm
Battery connection
Four M8 bolts (2 more and 2 minus connections)
PV connection
Two sets of PV MC4 connectors
Connection 230 VCA
13 mm2 (6 AWG) screws
---
Configuration software and Victron utilities for the EasySolar

Several software programs are available to effectively configure and manage the system.
Please download them via these links:
Data sheets and documentation
Specifications
| | |
| --- | --- |
| Charge power | 70A |
| Nombre de MPPT | 1 MPPT |