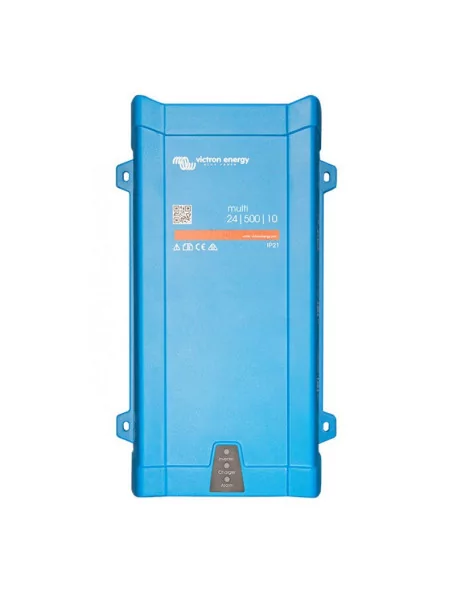 Victron MultiPlus 12V / 24V / 48V - 500VA to 1600VA
Victron energy
More info
"Multifunction inverter, with intelligent energy management"
The new MultiPlus style is designed to replace the old MultiPlus Compact range. It brings together a powerful sinusoidal converter, a sophisticated charger with adaptive charging technology and a high-speed AC transfer switch.
Power Assist
The Victron Energy MultiPlus works in parallel with a generator or network connection and increases the available electrical power. Do you suffer a temporary lack of power? If the demand exceeds the capacity of the generator set, the MultiPlus will draw additional energy from the batteries and add it to the output. When the requested power decreases, the MultiPlus will use the excess to recharge the batteries. The MultiPlus allows you to use almost any device, despite the low 4A that offers for example the "network" of a campsite.
---
Remote monitoring and control
Supervise and control your MultiPlus and system or systems locally (LAN) or remotely across the Internet, from anywhere in the world, using the free VRM portal website and the free VRM application. You can access it from a phone, tablet, laptop or PC with different operating systems. With the required Color Control GX or Venus GX, there is no limit to the control: whether it's adjusting your MultiPlus or setting up geo-location for rented vehicles, and much more ...
---
Powercontrol
The control panel Multi Control limits the power to be supplied by the dock or the generator. The MultiPlus then takes into account the power demand of other output AC loads and will only use the excess for the load, thus avoiding any overloading of the shore or generator power supply.
---
Strong starting power
Required to start loads with a high inrush current such as power converters for LED bulbs, halogen bulbs or power tools.
---
Search mode
If the Search mode is in the "on" position, the power consumption of the converter is reduced by approximately 70% if no load is available. With this mode, when the Multi is operating in converter mode, it is stopped when there is no load or very low load, and then turned on every two seconds for a short time. If the charging current exceeds the set level, the converter continues to operate. Otherwise, the converter stops again.
---
Programmable relay
By default, the programmable relay is configured as an alarm relay, that is, the relay is de-energized in the event of an alarm or pre-alarm (converter almost too hot, input ripple almost too much high, battery voltage almost too low).
---
On / Off Remote / Charger On
Three-pole connector.
Characteristics
Data sheets and documentation
Specifications
| | |
| --- | --- |
| Inverter power | - de 1000VA |