Display all pictures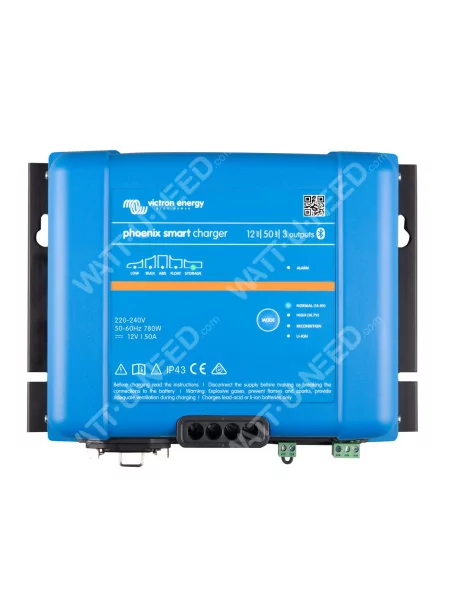 Victron charger Phoenix smart IP43 12/24V
Victron energy
More info
"Victron Phoenix smart IP43 charger"
---
Bluetooth smart enabled


Any Smartphone, Tablet, or other device with Bluetooth enabled can be used to monitor the ch argeur, modify settings and update it if new software features are available.
---
Phoenix smart (1 + 1): two outlets for charging 2 battery benches


Intended for the maintenance of a starter battery, the second output is limited to about 3 amps under a slightly lower voltage.
---
Phoenix smart (3): three full power outlets for charging 3 battery benches


All outputs can power the entire nominal output current.
---
Automatic voltage compensation

The charger compensates for voltage drops occurring on the DC wiring by slightly increasing the output voltage if the DC current increases. Please refer to the manual for further details.
---
The correct amount of load: variable absorption time


When the battery is not in demand (e.g. on a boat connected to the dock) the absorption load phase is shortened to avoid overloading. After a deep discharge, the absorption time is automatically increased to ensure that the battery is fully charged.
---
Prevention of damage due to gassing: BatterySafe mode


If a high charge power is associated with high absorption voltage to charge a battery quickly, the Phoenix charger will prevent deterioration due to excessive gassing by automatically limiting the progression of the voltage, as soon as the gas pressure has been reached.
---
Less maintenance and aging when the battery is not in use: storage mode


Storage mode fires when the battery has not been solicited for 24 hours. In standby mode, the float voltage is reduced to 2.2 V/cell (13.2 V for 12 V battery) to minimize gassing and corrosion of positive plates. Once a week, the voltage is raised at the absorption level to "equalize" the battery. This function prevents the stratification of the electrolyte and sulfation, the major causes of premature ageing of the batteries.
---
Possibility to also charge lithium-ion batteries (LiFePO4)


An on-off control function of the charger can be implanted by connecting a relay or an optocoupler outlet open from a BMS lithium-ion to the remote control port. Otherwise, the full voltage and current control can be performed by Bluetooth.
---
Remote ignition/shutdown

The remote ignition/shutdown of the system has two terminals: the remote Terminal H, and the remote Terminal L. A remote ignition/stop switch or relay contact can be connected between terminals H and L. Otherwise, the H-terminal can be pulled up, or the L-Terminal down. See the manual for more details.
---
VE interface. direct

For a wired data connection to a color control control panel, a PC, or other devices. Please refer to the VictronConnect app in the downloads/software section on our website).
---
Load curves
---
Characteristics
Phoenix smart IP43 charger
12 V, 2 outputs-12/30 (1 + 1)/12/50 (1 + 1)
12 V, 3 outputs – 12/30 (3)/12/50 (3)
24 V, 2 outputs-/24/25 (1 + 1)
24 V, 3 outputs-24/16 (3)/24/25 (3)
Input voltage
230 VAC (range: 210-250V)
DC supply voltage range
290 – 575 VDC
Frequency
45-65Hz
Power factor
0.7
Absorbed return current
AC disconnected: < 0.1 mA AC connected and remote charger shutdown: < 6 mA
Power consumption without load
1w
return
12/30:94%-12/50:92%
12/30:94%-12/50:92%
94.00%
94.00%
"Absorption" load voltage
Normal: 14.4 v high: 14.7 V lithium-ion: 14.2 V
Normal: 28.8 v high: 29.4 V lithium-ion: 28.4 V
Charging voltage "float"
Normal: 13.8 v high: 13.8 V lithium-ion: 13.5 V
Normal: 27.6 v high: 27.6 V lithium-ion: 27.0 V
Storage mode
Normal: 13.2 v high: 13.2 V lithium-ion: 13.5 V
Normal: 26.4 v high: 26.4 V lithium-ion: 27.0 V
Fully programmable
Yes, with Bluetooth and/or VE. direct
Service battery charging current
30/50 A
16/25 A
Low current mode
15/25 A
8/12.5 A
Starting battery charging current
3 A (only for 1 + 1 output models)
Load algorithm
5-step Adaptive
protection
Reverse battery polarity (fuse, not user accessible)/output short circuit/overheating
Usable as a power supply
Yes, the output voltage can be programmed by Bluetooth and/or VE. direct
Operating temperature range
-20 to 60 °c (0-140 °f)
Nominal output current up to 40 º C, linear decrease from 20% to 60 º C
Humidity (non-condensing)
Max 95%
Relay (programmable)
DC output: 5 A up to 28 VDC
Housing
Material and color
aluminium (blue RAL 5012)
Battery connection
Screw terminals 16 mm ² (AWG6)
AC connection
IEC 320 C14 inlet with retaining ring (AC cables for countries with specific outlets must be ordered separately)
Degree of protection
IP43 (electronic components), IP22 (connection area)
Weight kg (lbs)
3.5 kg
Dimensions (H x w x d)
180 x 249 x 100 mm (7.1 x 9.8 x 4.0 inches)
Standards
safety
EN 60335-1, EN 60335-2-29
program
EN 55014-1, EN 61000-6-3, EN 61000-3-2
Immunity
EN 55014-2, EN 61000-6-1, EN 61000-6-2, EN 61000-3-3
Automobile directive
E5-10R
vibration
IEC68-2-6:10-150Hz/1.0 G