Opti-C self-consumption management kit - LITHIUM
This kit includes
1x

Inverter Sofar Solar ME 3000 SP 3 kVA

1x

Pylontech Lithium Battery US3000C +74 - 3.6 kWh

1x

Pylontech battery connection cable
100% secure payments
Select products from the sections below
Customers who bought this product also bought:
Simply increase your self-consumption!
Store your solar production
Your browser doesn't support this video.
---
Flexible solution
Provides a comprehensive solution for energy consumers to optimize the use of the solar energy generated.

Increases the rate of self-consumption (from 20% to 70%).

The user-adjustable battery charge current is suitable for different types of batteries.
---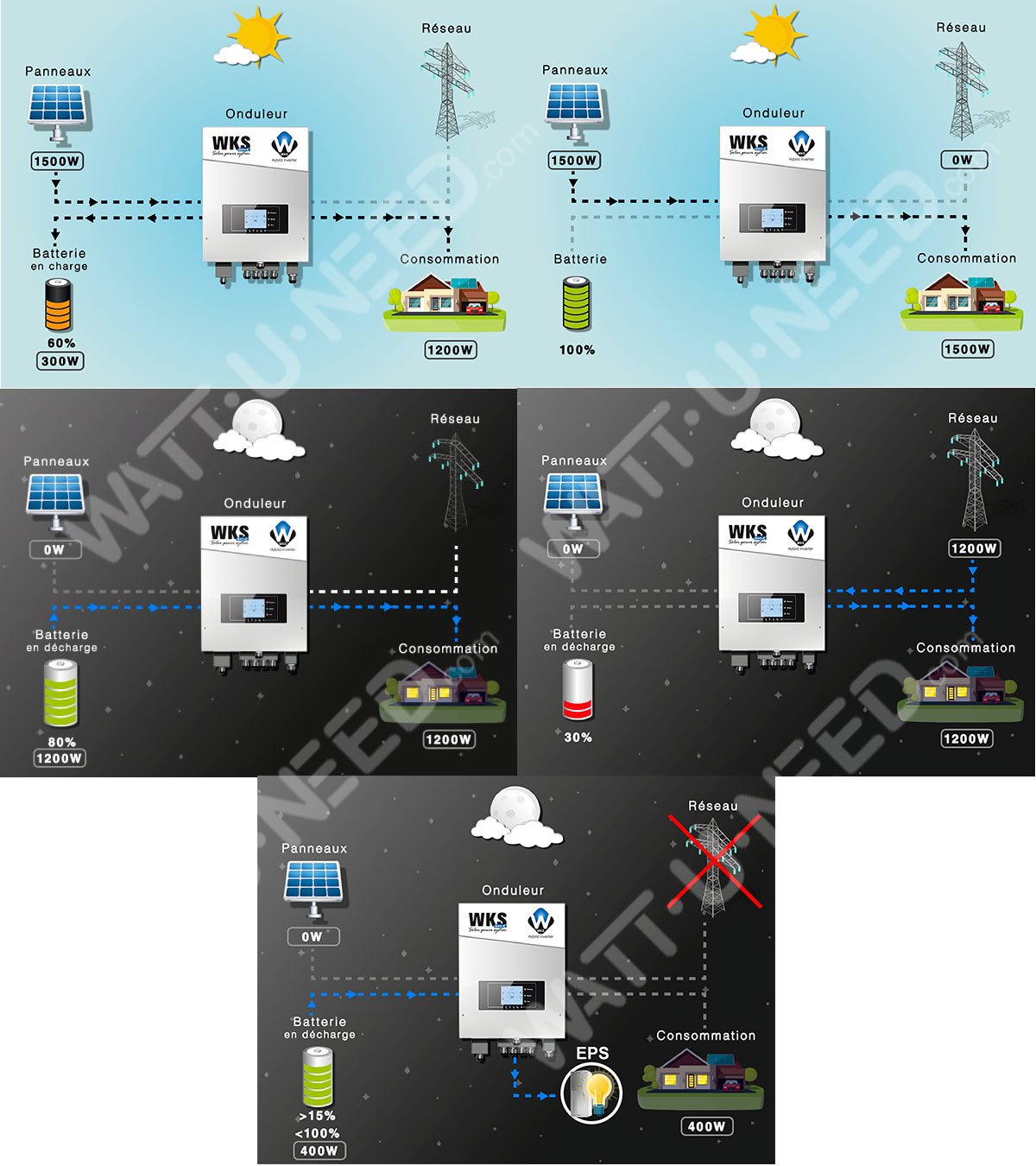 ---
Consume your solar production when you need it 
There is an asymmetry between our electricity needs and the production of our solar system.
As can be seen in the graph below, the WKS opti C allows, via batteries, the storage of unused production during the day (on yellow lined).
So you enjoy the energy produced throughout the day in the morning and evening (red highlighted line)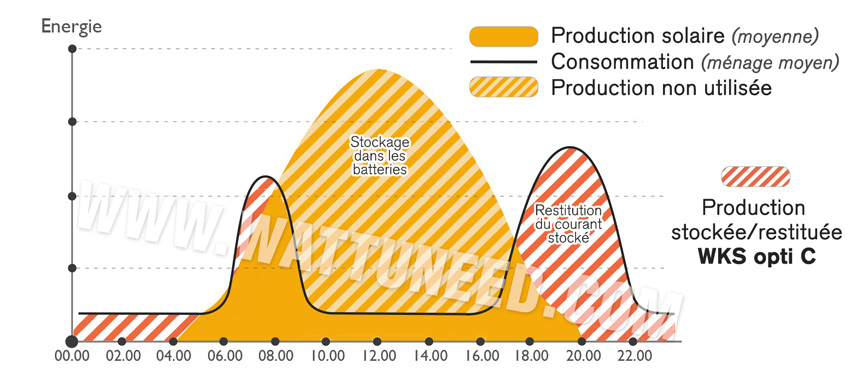 ---
Simple and Reliable
Energy exchanges via the power grid, no coupling with the photovoltaic inundoer, mature technology, simple and reliable. 

Can be integrated into all renewable grid-related systems, including solar, wind, fuel cell, etc.
---
A clear and complete mobile app (Wi-Fi)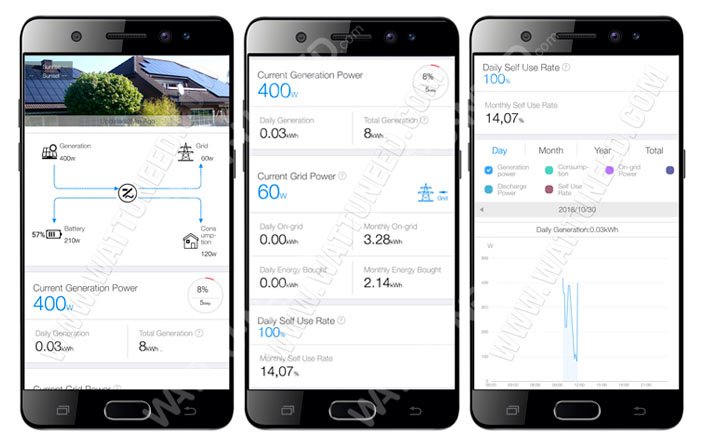 ---
Compatible with 100% network inverters

---
Easy installation
No changes to your electrical panel are required. 

Use a double-core CT scanner, no need to disconnect the electrical grid.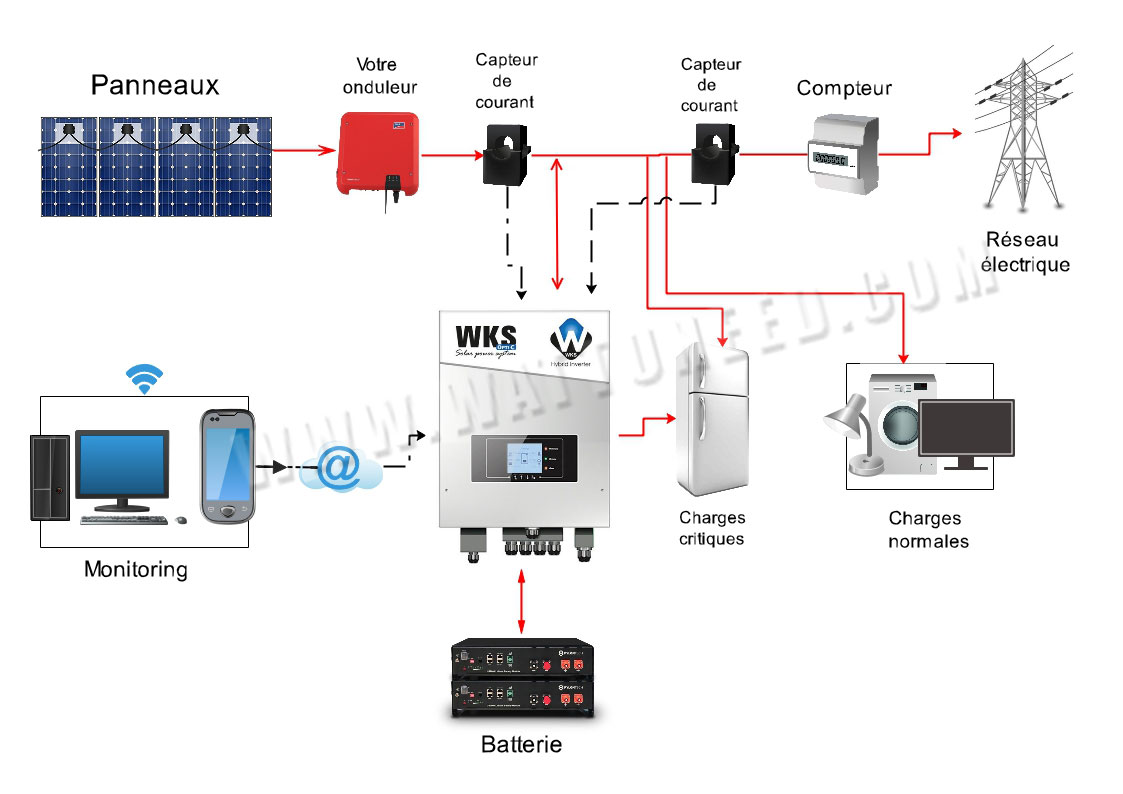 ---
Technical data
Battery settings

 

Battery type

Lead, Lithium-ion

Tension numinal of the battery

48th

Battery voltage range 

42-58V

Recommended battery capacity

200Ah (100 - 500 Ah optional)

Recommended storage capacity

9.6kWh

Maximum charge current

60 A

Charge current range

0-60A (programmable)

Curve de charge 

3 floors Adaptive with maintenance

Maximum discharge

60 A

Electronic protection

OCP OTP OVP

protection of circuits

fuse (100 A)

Discharge time (Time)

Po - lkVA9.6 a.m.

Po - 3kVA3.2 h

Discharge depth

Lithium : 0 - 80% adjustable DOD

Lead-acid: 0 - 50% adjustable DOD

AC settings

 

Power maxi Power

3KVA

Entry/exit tension

230 V

Max.Input/Current Output

13 A

AC input voltage range

180V-270V

Network frequency range

44 - 55Hz / 54 - 66Hz

Thd

3%

Power factor

l (adjustable -0.8)

Connection phase

only

Maximum output over-intensity protection

13 A

System settings

 

Maximum Charge efficacy

94.1%

Maximum discharge efficacy

94.3%

Sleep let's sleep

SW

technology

Isolated Transformer hfrequency

Degree of Protection

IP65

Protective measures

Anti-islanding, RCMU

Certification

CEI 62116, CEI 61727, IEC 61683, CEI 60068 (1, 2, 14.30), AS4777 IEC62109-1/2,VDE 0126-1-1, G83/2, Cl0/11, RD1699, UTEC15-712-1, EN50438,VDE-AR-N4105

communication

WiFi, RS485, CAN2.0

environment

 

Temperature range

-25°c...60 c


Relative humidity range allowed

0 ... 100%, no condensation

Protective class

Class I

Max Altitude.

2000m

Connecting current sensors

External

General data

 

noise

25dB

weight

16kg

Cooling type

natural

Dimensions L x H x p

532 - 360 - 173 mm

posting

Liquid crystal display

Warranty

5 years


Emergency power supply

 

EPS rated power

3000VA

Total distortion harmony

3
Data sheet
Inverter power

3000VA

Output Kit voltage

230V

Type of need

Off-grid
Prosumer
Self-consumption
Uninterruptible power supply

Battery storage

With storage

Wind Turbin

Without

Voltage

230V

Grid reinjection

off-grid

Video Youtube - ID

t69zsnhlqQc
Specific References
UPC

712971127784

EAN13

0712971127784