Display all pictures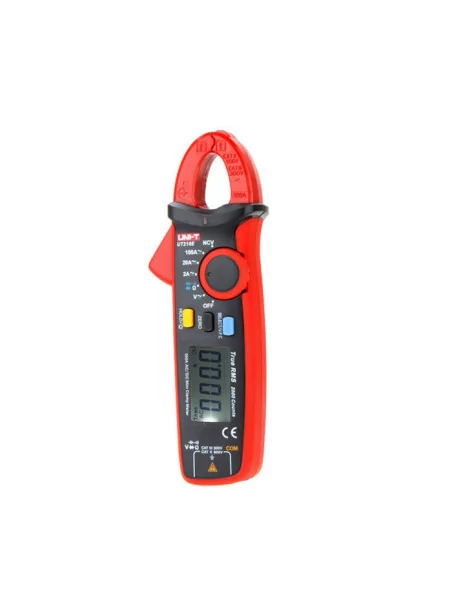 DC amperometric clamp
Outilac
More info
" Compact amperometric clamp for a reliable measurement of AC or DC "
Description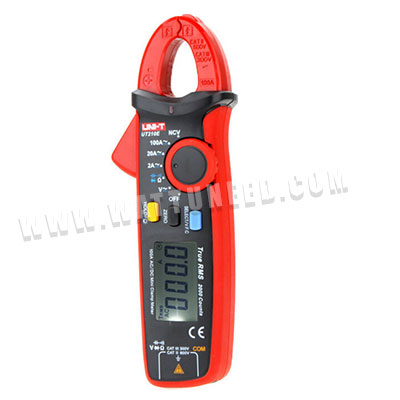 DC current clamp supplied in a protective hard case.
Compact and ergonomic, the clamp is ideal for accurate and reliable measurement of AC and DC current .
Functionalities
- Maintenance of the measure (hold)
- Auto power off

- Only use of one hand thanks to the ergonomic box
- Measured voltage, frequency, resistance and intensity
- Diode test
- Audible continuity test

- Measurement range (AC-DC): 2A/20A/100A

- Measurement range (voltage AC-DC): 200mV/2V/20V200V/600V
Delivery content
- Amperometric clamp
- Case
- Security cordon
- Manual
Characteristic
Specifications
Model
UT210E
AC Current (A)
2A/20A/100A
DC Current (A)
2A/20A/100A
AC Voltage (V)
2V/20V200V/600V
DC Voltage (V)
200mV/2V/20V200V/600V
Resistance (Ω)
200Ω/2KΩ/20KΩ/200KΩ/2MΩ/20MΩ
Capacitance (F)
2nF/20nF/200nF/2μF/20μF/200μF/2mF/20mF
Features
Display Count
2000
Auto Range
Yes
Jaw Capacity
17mm
True RMS
Yes
Diode
Around 3.0V
V.F.C.
Yes
NCV
Yes
Data Hold
yes
Zero Mode
Yes
LCD Backlight
Yes
Auto Power Off
Around 15 Minutes
Continuity Buzzer
Yes
Low Battery Indication
≤2.5V
Input Protection
Yes
Input Impedance for DCV
≥10MΩ
General Characteristic
Power
AAA 1.5V × 2
LCD Size
39.3mm × 26.5 mm
Product Color
Red and Grey
Product Net Weight
170g
Product Size
175mm × 60mm × 33.5mm
Product Reviews
Number of Reviews : 4
Average Grade : 4.8 /5
C. Eric
the 11/08/2022
4/5
Semble correcte à voir à l'usage !
A. Anonymous
the 18/10/2018
5/5
Indispensable !
A. Anonymous
the 23/02/2018
5/5
Usage multiple et surtout défi le temps. Très bonne qualité
A. Anonymous
the 16/11/2017
5/5
très bien comme d'habitude
Specifications
| | |
| --- | --- |
| Types d'outils et d'accessoires | Pince |