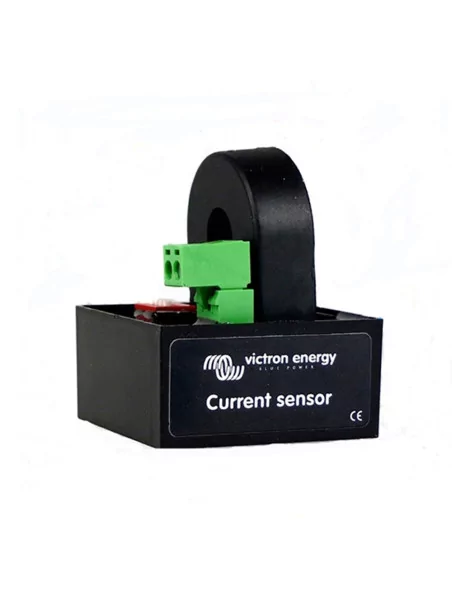 AC Current Sensor for Multi/Quattro
Victron energy
More info
" AC Current sensor for Multi/Quattro - Victron "
The AC Current sensor is a simple external current sensor used to measure AC Current, Power (VA) and calculate energy of a PV inverter connected to the AC input or output of a Multi or Quattro. These values can then be displayed and sent to the VRM-website by the Color Control.
The two measurement wires can be connected to the AUX and/or temperature sense input of a Multi or Quattro.
---
Multi and Quattro hardware requirements
1. The Multi or Quattro needs to have the new microprocessor: make sure that the 7 digit firmware version number, as written on the microprocessor, starts with 26 or 27. Old, and therefore incompatible, control boards will have a firmware version starting with 19 or 20.
2. The TEMP-sense input of all Multi's and Quattro's is suitable for theAC Current Sensor.
3. The AUX-input however is not, see serial number list below to check your hardware.
---
Installation
1. Pull one of the AC wires of the PV inverter through the AC Current sensor.
2. Connect the sensor to the AUX or TEMP-sense input of an Inverter, Multi or Quattro in the same phase as being measured by that current sensor.
3. Configure the power range with the dipswitches. Select the power equal or higher than the maximum expected power. For example, with a 4kW PV installation, the correct dipswitch setting is 5kW.
4. Multi-phase installations: add one AC current sensor for each phase of the PV inverter. Wire it to the Multi in the same phase.
---
Configuration
1. Upgrade the Multi or Quattro firmware to the latest version (2xx).
Instructions are in the VEConfigure3 requirements document.
Download from: www.victronenergy.com/support-and-downloads/software/
2. Parallel and three-phase systems: configure parallel or three-phase operation first.
3. Then use the VEConfigure3 to add and configure the 'AC Current sensor' assistant.
4. Parallel and three-phase systems: add the assistant to each Multi or Quattro that has an AC Current sensor connected to it.
5. Make sure that the Color Control is running firm ware version v1.11 or newer.
6. Select the correct profile on the Color Control: Settings -> System setup
---
Supported models

Data sheets and documentation